From last week's Marvel Comics #1001, full of one-page vignettes that didn't make it into Marvel Comics #1001, but provided the meat for the Masked Raider time-twisting sandwich of that issue. Monark Starstalker by Howard Chaykin.
The one person he knows is his creator, Howard Chaykin himself – who celebrated his birthday yesterday.
Monark Starstalker appeared in Marvel Premiere #32 in 1976, written and drawn by Howard. After a brief appearance in Nova, years later he would accompany Wolverine in the second half of the mini-series Wolverine: The Best There Is from 2011. But he's not the most notable of Howard's creation.
But what's this about Big Hero 6? Well, it's all part of Fred and his father's collection…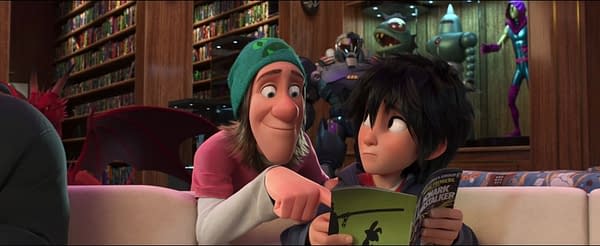 There we go… enough to make Howard tear up briefly. Not sure if the back page cover is kosher though. Howard?
Say, Marvel, you've just brought back The Masked Raider, is there room for a blind intergalactic bounty hunter? Maybe going up against Death's Head? Just a thought…
Enjoyed this article? Share it!