Corinna Bechko, writer of Aliens/Vampirella #6, talks with co-plotter/co-creator Ian Parker about Cage Hero #4, both on sale now from Dynamite. Attached cover and interiors by Renato Rei.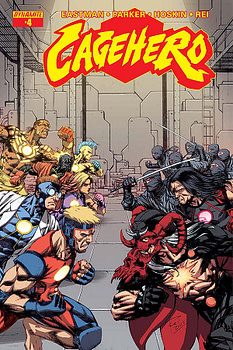 CORINNA BECHKO: Cage Hero has a truly globe-trotting feel. When choosing exotic locations for story events, do you pick places you've been or do you tend to aim for places you're unlikely to visit in real life?
IAN PARKER: Based on this series, I chose to go with locations that I have never been too before. It just seems right to choose locations that seen unfamiliar to most. For me, it just gives the reader another thing to imagine while reading.
CB: The theme of the grandfather/grandson bond that runs throughout the book has only strengthened as the story progressed. What do you think makes that relationship so special, and so universal?
IP: I think as the story goes on, Ryder (grandson) starts to appreciate his grandfather a little bit more. As he learns more about himself, he begins to understand why his grandfather is the way he is, and why his grandfather raised him in a strict manner. The relationship is so special because both Grandpa Stone and Ryder have dealt with loss and obstacles to overcome. As the story goes on, both obstacles become tied in and they have to work together in order to overcome together.
CB: Is it a challenge to convey to the different styles of combat to the art team? Or did you choose collaborators based one their familiarity with the subject matter?
IP: I chose my artist based on his style from his previous work. I felt that his imagination and his portrayal of my Cage Hero characters were very close if not the same as how I saw them. To be honest, Renato and the art team made it very easy to convey the different martial art styles and moves to them. I tried to also make it as easy for them as possible. When I explained what I was looking for, I sent them a picture of every move, submission, strike you could possibly think of. I gave everything to them with such detail that there was nothing left to the imagination. It worked really well and Renato did an incredible job.
CB: This issue seems like it would go great with a really energetic soundtrack. Do you ever have music in mind when writing?
IP: When writing, not only did I have music in mind, but I am able to envision the movie. I can see everything happening in real time and I hope others get that same feeling while reading the entire Cage Hero series.
For more information on Cage Hero #4, click here.