IDW Loses Another $3.7 Million, $1.6 Million from Publishing
IDW Media Holdings has reported its second-quarter financials for 2019, and it doesn't look like good news. Overall, the company had a net loss of $3.7 million, with $1.6 million of those losses coming from IDW Publishing, the branch of the company that publishes comic books. The news comes on the heels of a massive stock offering IDWM undertook in an effort to secure funding to pay off debts incurred largely to fund their various television projects, as well as to raise capital to pay for future television projects, including the much-anticipated fourth season of Wynonna Earp, for which it was said the writers room could open by June (this month). However, despite hitting their $23 million funding goal, statements by IDW Media Holdings Chairman, CEO, and controlling stockholder, Howard Jonas, make no mention of Wynonna Earp whatsoever.
The successful completion of our private placement has put IDW Media on a strong financial footing. We are working together to restore the company to profitability in fiscal 2020 and to realize the full potential of IDW Publishing's extensive IP portfolio.

IDW Entertainment's October Faction and V-Wars are both in post-production and scheduled for delivery to Netflix in the fourth quarter of this year. With the initial seasons of those series concluded, we will pivot to production models that require less capital and minimize downside risk. Locke & Key, which is now in principal photography for delivery to Netflix early in fiscal 2020, is being developed under a production services agreement, for which IDW will receive a percentage of the production budget with limited risk.

IDW Entertainment has also identified a robust pipeline of fifteen potential projects from IDW Publishing's portfolio and is developing pitches and scripts for streaming and traditional broadcast TV networks as well as for feature film platforms. The pipeline represents a targeted array of genres. Looking further ahead, we intend to develop at least two new projects or feature films from our pipeline per year.
Neither was the show mentioned in the highlights section for the quarter:
Following quarter close, IDW Media successfully completed an offering raising $23 million in new capital and reduced long-term debt from $21 million to $9 million. The remaining debt is due to IDW Media's Chairman and CEO;
IDW Entertainment (IDWE) has three series scheduled for delivery to Netflix within the next twelve months. During 2Q19, IDWE:

Completed principal photography on October Faction and V-Wars. Both shows are currently in post-production with deliveries scheduled for Q4 CY2019;
Began principal photography of Locke & Key, which is scheduled to complete post-production in Q1 CY2020;

IDWE has prioritized fifteen projects for early stage development based on IP developed at IDW Publishing (IDWP);
During 2Q19, IDWP added twenty titles to its IP portfolio of over 400 creator-owned or IDWP-owned originals;
Media veteran Allan Grafman, who previously held senior positions at Archie Comics, and Hallmark Entertainment, among others, has joined IDW Media's Board of Directors;
Management is reviewing strategic alternatives with the assistance of advisor, JP Morgan.
Here's the numbers, showing that overall losses are down from last quarter, though losses from the publishing sector are up. A thorough analysis of publishing numbers from Q1 Bleeding Cool published earlier this year, when there was more specific data available about the individual components of the IDW Publishing business, showed that while revenue was down across all other segments, direct market comics revenue remained steady. IDW also recently launched a boutique publishing imprint, Clover Press.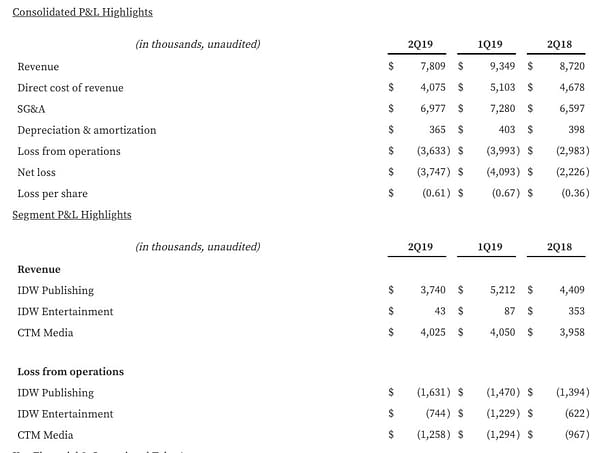 Despite the losses, IDW's "key takeaways" are optimistic:
IDWP expects to counter soft secular comic and graphic book demand with release of strong titles in 2H 2019;
In 4Q19, IDWE expects to deliver October Faction and V-Wars to Netflix;
In 1H 2020, IDWE expects to generate approximately $2.5 million in income from operations upon delivery of Locke & Key to Netflix Worldwide;
CTM's brochure and tourism-driven sales were seasonally soft during winter months. Revenue and profitability are expected to rebound during 2H 2019;
IDW Media's cash balance at April 30th was $9 million.
IDW's recent financial maneuvers follow a tumultuous past 18 months at IDW Publishing. In May, IDW engaged financial firm J.P. Morgan to assist them in considering options for bringing on a strategic partner, A.K.A. a sale, after one of the company's biggest investors, ADW Capital, sent Jonas a public letter urging him to do so. IDW's stock offering followed, with existing investors offered the chance to buy more IDW stock at a discounted rate, with a goal of raising $22.5 million to $25 million.
These financial moves followed a year-and-a-half round of executive musical chairs at IDW. Back in February, we learned that Chairman and controlling stockholder Howard Jonas would replace a departing Kerry McCluggage as CEO of IDW Media Holdings. McCluggage held the role since July 2018, when he replaced Ted Adams as Adams left for a sabbatical. Back in December 2018, Chris Ryall returned to IDW Publishing to take over the triple role of Chief Creative Officer, Publisher, and President, replacing Greg Goldstein, who had taken on the role of Publisher in November 2018 after Ted Adams stepped down from that role. Ryall had previously left IDW back in March of 2018 and in April joined Skybound.
IDW is also facing some legal difficulties. In February of 2019, we learned that IDW Senior Advisor Chris Fenton is suing DMG, the parent company of Valiant Entertainment. Meanwhile, Vice Chairman of the Board Stephen Brown has been charged by the New York Attorney General as part of a fraud case against Cardis, a credit card payments company.
All of this drama is in addition to the loans IDW has taken to finance its television productions as well as the halting of production on Wynonna Earp Season 4 due to a lack of funds. IDW Media Holdings operated at a net loss of $4.1 million in the three-month period from November 2018 to January 2019, which was actually up from the same period a year prior, which saw a $4.5 million loss. For Q4 of 2018, which ended last October, IDW Media Holdings operated at a $28.3 million loss with $41.3 million in cost and expenses. At that time, the company had a comprehensive loss of $35.6 million since October 2017, to which the recent quarter adds an additional $3.7 million.
IDW could not be reached for comment on this story. You can view the full report here.
---
---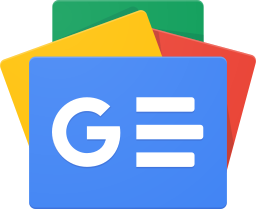 Stay up-to-date and support the site by following Bleeding Cool on Google News today!