Image Comics is launching two new programmes for comic book retailers.
Publisher Eric Stephenson says "We are constantly looking for new ways to support Direct Market retailers, and based on feedback we've received from them over the last year, we believe the best way to do that is by reducing risk without adding conditions or catches to the ordering process".
The "No Risk Number Ones" promotion will allow comic shop retailers to order a selection of new number one issues, under returnable terms. This is not uncommon in comics. Usually, stores will be required to order a certain amount to qualify and to return full copies or stripped covers of any unsold copies in return for a full or partial refund.
However, Image Comics will not require any minimum order. And will allow retailers to fill in a specially supplied signed destruction affidavit that they have destroyed unsold copies in order to receive a full refund.
The first title to qualify–and risk being burnt on a bonfire–is Darcy Van Poelgeest and Ian Bertram's Little Bird #1.
The second promotion, "Double Down Discount" will offer a discount to retailers who maintain a specific percentage of orders from the previous issue on that series. The first to qualify will be Criminal #2 by Ed Brubaker and Sean Phillips.
Stephenson says "Image has thrived for 27 years thanks to the Direct Market. When we do something right, retailers support us. When we get things wrong, those same retailers don't hesitate to let us know. Good or bad, we always welcome feedback from our retail partners, and we've come to trust that even if we don't like what we're hearing, it always comes from a good place. There's no one more invested in the ongoing success and sustainability of the comics marketplace than the people working on the front lines in the stores, and finding new ways to support retailers is always a priority."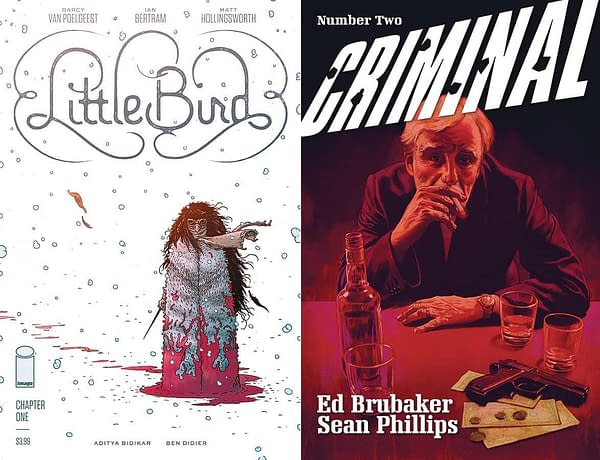 Enjoyed this article? Share it!