Robert Kirkman Sings His 'Oblivion Song' at Image Expo 2018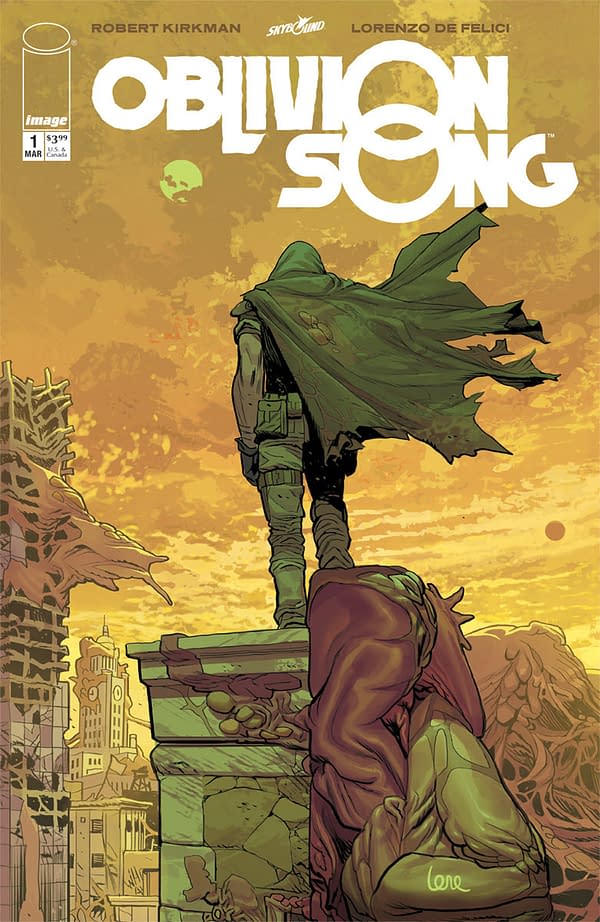 With two weeks left before the new Image/Skybound sci-fi series Oblivion Song hits shelves, Robert Kirkman took to the stage of Image Expo 2018 to not only promote the book, but also to thank those in attendance for their support and explain why working on original material is important for an artist's creative process:
Here are some of the highlights from Kirkman's relatively brief appearance:
● Kirkman started off with a screening of the book's trailer, which apparently Kirkman has seen more than once ("Let's watch while I stand here awkwardly like I haven't seen it before."). Which doesn't mean he's still not impressed with some things, like the logo ("…looks real professional.").
● Kirkman stated that Oblivion Song is a "very complicated, dense sci-fi story" that he, De Felici, Leoni and Wooten have been working on for two years; and it deals with the impact that the event had on those left behind.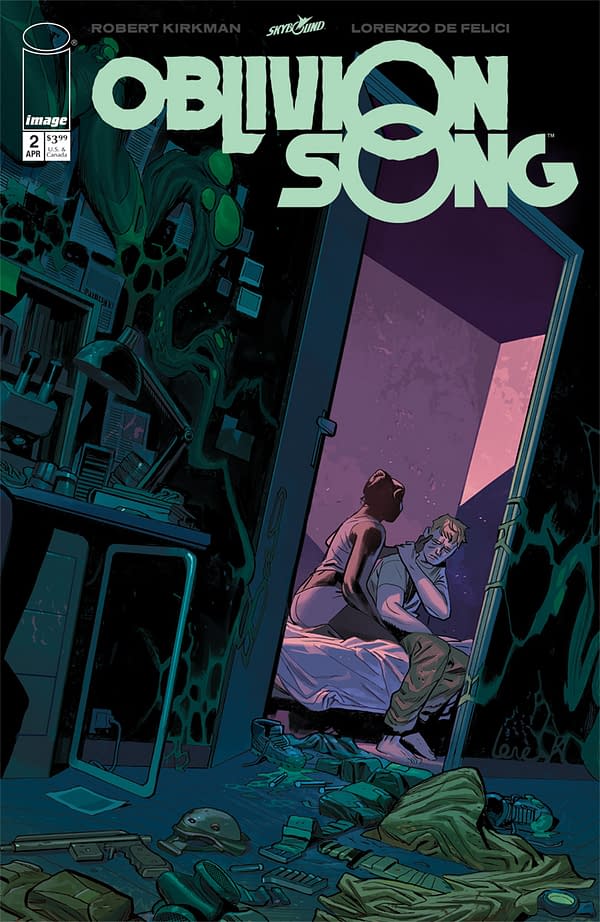 ● After a nice jab at his monster franchise property ("Season 9 of Walking Dead is coming. Season 9 will be great. Season 10 will be better. Yeah, yeah, yeah…"), Kirkman stressed that he's still very much invested in The Walking Dead, but that it's also nice to have new creative challenges to keep his mind fresh and interesting. He appreciates that the comic book retailers' support for The Walking Dead gave him the power to negotiate what he wanted from the television series: "I appreciate the retailers who helped build Walking Dead so when the TV show came I was able to bargain a seat at the table."
● Which doesn't mean that retailers were spared from a joke: when discussing how he's marketed Oblivion Song, Kirkman not-so-subtly called out retailers who made a nice little side profit on eBay with The Walking Dead's initial gallery edition offerings ("Put out the Gallery edition so you retailers could sell it illegally on eBay. It's okay."
● As for sales figures? Kirkman says they're doing fine — and wants "everyone aware of it 'til you're sick of it."
https://www.youtube.com/watch?v=DypwJBINLyk
Oblivion Song stems from Skybound through Image Comics, with Kirkman writing and Lorenzo De Felici handling artwork; as well as colors by Annalisa Leoni and letters by Rus Wooton. Set to release on March 7th, here's an overview of the upcoming series:
A decade ago 300,000 citizens of Philadelphia were suddenly lost in Oblivion. The government made every attempt to recover them but after many years they gave up. Nathan Cole… won't. He makes daily trips, risking his life to try and rescue those lost, alone and afraid, living in the apocalyptic hellscape of Oblivion. But maybe… Nathan is looking for something else? Why can't he resist the siren call of the Oblivion Song?