Image Comics Expo Announcements That Went MIA, Lost and Found
Over the years, Image Expo has showcased plenty of their now-familiar comic book titles for the first time. But some, it seems, never made it from announcement to publication.
Here's a look at what once was — and still could be. Projects get delayed and moved around all the time. This is just an attempt to collate information for those who want it, sourced from all manner of places, ahead of tomorrow's Image Expo 2018 event in Portland.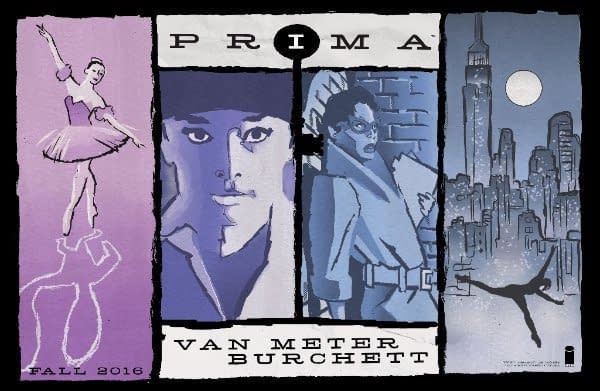 Prima by Jen Van Meter, Rick Burchett, Eric Newsom, edited by Jeanine Schaefer was announced at Image Expo 2016 intended for the autumn of 2016.
Spies. Thieves. Ballerinas. PRIMA. You don't always see who's standing in the spotlight.

Creators Jen Van Meter and artist Rick Burchett team up to tell an all-new story about a dance company—comprised entirely of former spies—righting the wrongs of the Cold War in a series called, PRIMA.

PRIMA follows Sophia Forais and Pauline French are the soloist and Managing Director of a dance company that once served as a front for a Resistance cell in France. Engaged for a long run in New York, the dancers have turned their attention and unique skills to aiding a veteran of the Romanian underground now being blackmailed by her American husband. The small operation should prove simple, but Sophia, Paulina and their colleagues will quickly learn that the war has not really ended, and the world is no less ruthless than it was when they were smuggling information and refugees during the Occupation.
Currently delayed…
https://twitter.com/hopelessjen/status/824105235987636224 Sunset Park and Slave Punk by Ron Wimberly were announced at Image Expo July 2015.
Something's up in Sunset Park, and it ain't just the rent. Are Brooklyn's gentrifiers more than just economic vampires? A cartoonist draws a macabre story from a collection of notes, journals, movies and other ephemera he finds boxed, abandoned in the studio he's recently rented along the latest frontline in gentrification's relentless march over Brooklyn in SUNSET PARK. Among the boxed items are what could be a copy of an old Warhol vampire film and what looks to be a journal belonging to Jean Michel Basquiat. SUNSET PARK is an all-new, limited series by Ron Wimberly coming from Image Comics.

Ron Wimberly teased a second forthcoming project with Image Comics, SLAVE PUNK: WHITE COAL. SLAVE PUNK tells the story of how a genius slave defied the powerful King Cotton and ignited the Civil War in an attempt to end slavery.
This time last year, both series were in development. Heartless by Warren Ellis and Tula Lotay was announced at Image Expo July 2015.
Legendary comics writer Warren Ellis teams up with artist Tula Lotay again for a modern folktale about love, revenge, and the deadly grip of the supernatural in, HEARTLESS. A female musician returns to northern England, where her family owned a little cottage in the middle of a forest. She wrote her first album there, and she's "going back to the countryside," as musicians used to, to write her next one. But the forest doesn't want her there. She's returning to face her demons—one in particular—and put herself back together, but the forest remembers what she did, and the devil wants his due. Ellis said of the new project: "I wrote this for Tula, and it's full of all the stuff we love: the spooky stories, the landscape, the folklore, and the things that haunt us."
In May 2016, Ellis said, "And for those who were asking, Tula and I have broken ground on HEARTLESS, but we're working at our own pace on it, and you'll know when we're ready." Expired by Jimmie Robinson and Richard Pace, announced at Image Expo July 2015.
Written by Jimmie Robinson (THE EMPTY) with art by Richard Pace, Shadowline/Image Comics also announced an all-new, five-issue supernatural crime series, EXPIRED. In EXPIRED, a homeless war vet ends up helping a ghost who is connected to an old coin-operated parking meter. He can only see and communicate with her as long as he feeds the meter. He has to solve the murder before the city replaces the meter with a modern version — and before the killer finds him, but who's going to believe a homeless guy who looks like he's talking to himself?
No sign. Two years ago, I was told the plug was pulled on this after a cash flow crisis. One issue has been completed. But the project has… expired.

Heaven by James Robinson and Phillip Tan. Announced at Image Expo January 2015.
James Robinson (The Saviors) and Phillip Tan (SPAWN, Uncanny X-Men) team up for an all-new space opera series titled HEAVEN. HEAVEN introduces readers to a distant future where the forces or man and alien combined have used religion to conquer this universe and are now ready, about to invade the next one—Heaven itself. The "Good War" between man and angel will span galaxies and dimensions, building to a final conflict that threatens to negate all of reality itself. Along the way many players on both sides of the war will be featured; soldiers, spies and politicians all with different goals and agendas even as their two distinct and differing realities explode around them.
#Heaven #ImageComics #CreatorOwned #manga #anime Winter2015 @JamesDRobinson @ellery3173 Friends, pls share! ThankYou pic.twitter.com/FEXIW1rOzh

— philip tan (@philipsytan) August 18, 2015
No sign. The Ludocrats, by Kieron Gillen, David Lafuente, Jim Rossignol, and Ricardo Venancio.
Today, Image Comics announced THE LUDOCRATS, a new comic by Kieron Gillen (THE WICKED + THE DIVINE, PHONOGRAM), David Lafuente (Ultimate Comics: Spider-man), Jim Rossignol, and Ricardo Venancio. "The Ludocrats is a decade-in-the-making opulent fantastical comedy," said writer of THE WICKED + THE DIVINE and PHONOGRAM, Kieron Gillen, "This is a book which has hyperbole as its baseline, and considers the impossible as an aim only fitting for underachievers. It'll change your life. Primarily by letting you own a comic called The Ludocrats, where BARON OTTO VON SUBERTAN and PROFESSOR HADES ZERO-K are the last defenders of a ludicrous aristocracy against the insipid forces of normalisation."
Announced at Image Expo January 2015, it has been heavily delayed but is now on its way. Recently, Kieron wrote:
Ludocrats is a collaboration between David Lafuente, Jim Rossignol and myself. We announced it a few years ago, and (er) stuff happened which meant it didn't happen. It's not exciting stuff. It's boring stuff. This is ironic, because it's a book about the war against boredom. That we were delayed by the grey quicksand of bureaucracy is a bit like that bit in Brazil with De Niro.

Anyway! That stuff has been sorted out, and David's at work now. We'll be having a formal re-announcement at some point, because we want to be pretty certain of when it's dropping before we get people excited again, but until here's some panels of inks for your delectation.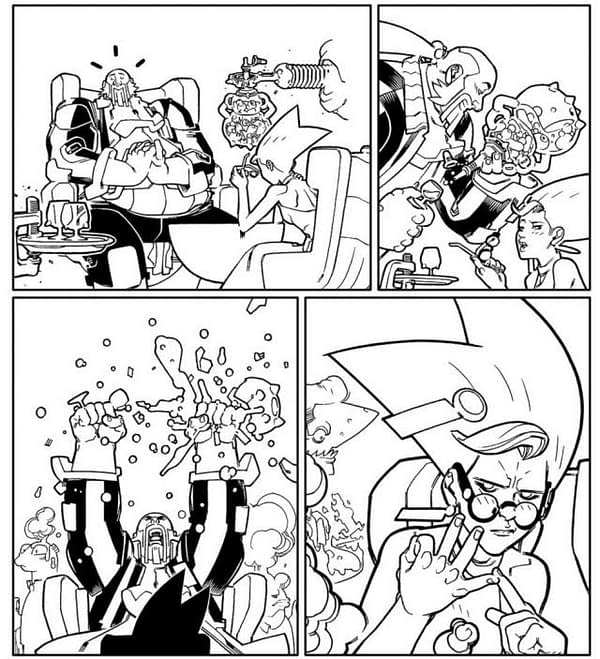 Tadaima by Emi Lenox, announced at Image Expo January 2015, was planned for the end of 2015.
Writer and illustrator Emi Lenox (EMITOWN) takes readers along on her personal journey back to Japan in a touching and in-depth look at Japanese roots and cultural influences in a new graphic novel, TADAIMA. Throughout childhood, Emi visited her Grandmother in Japan frequently. But through the years of high school and after, she hadn't been back in nearly twelve years. Sadly, within those twelve years, both her Japanese grandparents passed away. TADAIMA is a travelogue documenting a trip back to Japan with her mother for a memorial service to renew the sobota, a wooden grave marker, at her grandparents' tomb in Fukushima. Touching on Japanese spirituality and cultural differences, TADAIMA is more than a book about landmarks and foreign cuisine. It's about family.
This has grown in scope and size but has not been released. It is apparently next…
@loudlysilent @ImageComics @debaoki sorry to disappoint. Plutona became priority & I learned many hard lessons. :( Tadaima is next tho!

— emi lenox (@emibot) April 7, 2016
Revengeance announced by Darwyn Cooke at Image Expo 2015 was curtailed by his tragic death. Great Beyond by Nick Spencer and Morgan Jeske was announced at Image Expo 2014.
In the GREAT BEYOND, featuring art by Morgan Jeske (ZERO, SEX) a "post-life community" values the size of your bank account over morals and values—and your place in the hereafter is determined by it. But then polite society is rocked by the apparent suicide of one of its own. – See more at:
As was Paradigms by Nick Spencer and Butch Guice.
A contemporary fantasy epic with a spy thriller aesthetic, PARADIGMS will showcase art by Butch Guice (Captain America, Superman) and explore a world that exists beyond, or more specifically behind, ours. In the shadows where magic is real, warring clans of sorcerers battle for power and the favor of their gods.
As was Cerulean by Nick Spencer and Frazer Irving.
A sci-fi thriller of dead worlds, lost secrets, and hidden dangers, CERULEAN, with art by Frazer Irving (MORNING GLORIES, BEDLAM, Batman), follows the last survivors of the destruction of Earth as they struggle to rebuild civilization on a distant planet full of its own mysteries.
None happened. Spencer tells me they are all on indefinite hold, mostly due to various scheduling conflicts and unexpected things coming up on all sides.
Restoration by Bill Willingham and Barry Kitson was announced at Image Expo 2014. It was to have been written after Fables concluded, but no sign yet.

Alone by J. Michael Straczynski and Bill Sienkiewicz was announced at Image Expo 2013. No sign yet. But he said would not be solicited until all six issues were completed.
A revival of The Book of Lost Souls with JMS and Colleen Doran also announced at Image Expo 2013 didn't happen.
Crime and Terror by Scott Morse and Steve Niles was announced at Image Expo 2012 planned as an ongoing series for release that year.
"It's filled with episodes detailing the events in the life of a detective named Mike Fallon who's going through some serious personal problems. On top of THAT, we'll be smacking you upside the head with a bunch of short, stand-alone stories: noir, horror, sci-fi, whatever we want. All drawn by me, some written by me, some by Steve. On top of THAT, we'll be throwing in new prose stories with spot-illos by me. Seriously, monthly is the plan, and every month, you'll cry with glee as you scream your face off." – Scott Morse.
Some of it was serialised in Creator-Owned Heroes, but the series never happened.
And with that, we're kinda caught up! There was no Image Expo in 2017… though a series of announcements at ECCC may have replaced it. And from that we are still waiting on: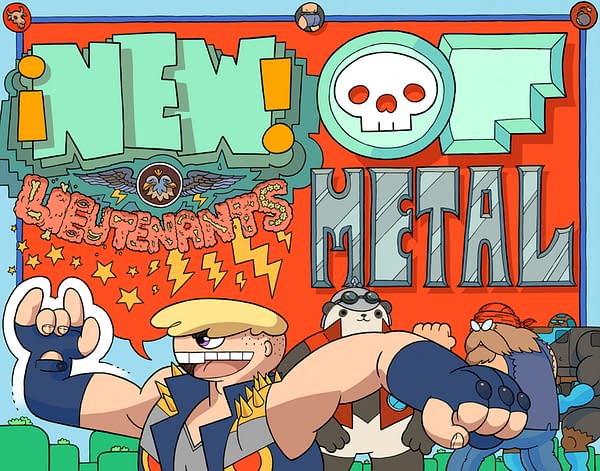 New Lieutenants of Metal by Joe Casey and Ulises Farinas.
From Joe Casey and Ulises Farinas—they are the most kick-ass, head-banging heroes ever assembled! They are a precision strike force, ready to face any threat! They are a metal militia of mayhem and they mean serious business! If you like blood and explosions… or if you like bloody explosions… this is the book you've been waiting in line outside the coliseum to read! Their names are legend: The Mighty Kreig! Vandenborg Riot! Manowarrior! Steppenwulf! Beset from all sides by a growing roster of vicious foes, the New Lieutenants of Metal have arrived to bust down the doors of perception and deliver you to a greater comicbook glory! Featuring the first appearance of Spike!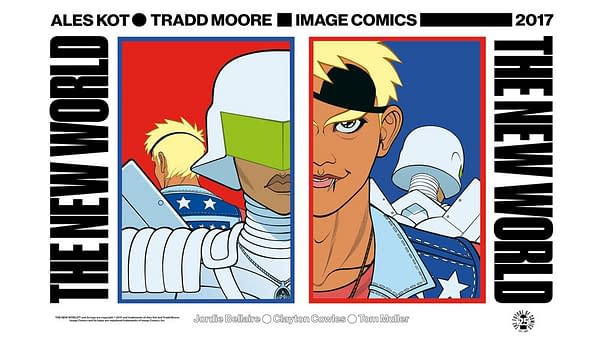 The New World by Ales Kot and Tradd Moore.
THE NEW WORLD is set in the United States of America: decades from now. A war-torn landscape slowly revitalizing itself. What happens when Romeo is a straight-edge hacker and Juliet a messy TV star cop with license to kill? What happens when they meet? What happens when their aims may be opposite but the chemistry too real to deny?
Looks like this is now planned for 2018.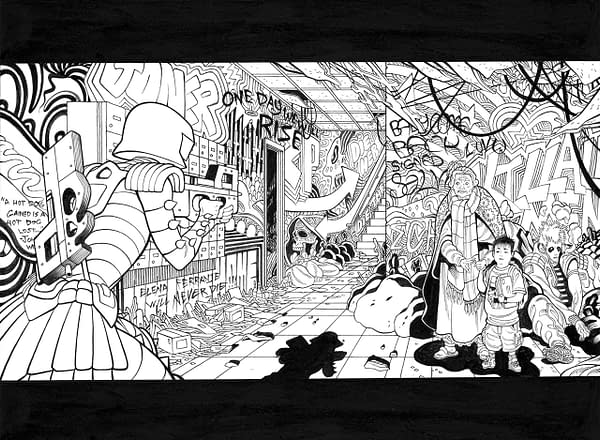 Maybe we'll find out more tomorrow? Stay tuned!