Iron Fist The Living Weapon: Rage – 24 Trades of Christmas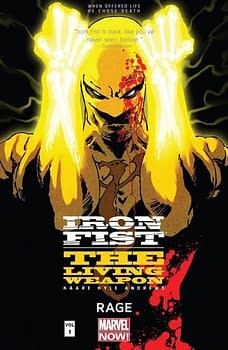 Growing up, I had a special affinity towards Iron Fist. We shared a first name, we were both blond kids and I was the right age to be swept off and trained in the mythical city of K'un Lun. I enjoy his adventures when he's with Luke Cage or anyone else… but I always preferred him in his own series. That's why I'm looking forward to seeing the Netflix series starring Finn Jones. It's also why I'm a fan of the Kaare Andrews' series Iron Fist: The Living Weapon.
Andrews is the writer, artist, and colorist on the series… making this an incredibly focused single vision for the story. Sometimes that is a bad thing, but in rare occasions like The Dark Knight Returns, you get the right creator, with the right character telling the right story. That's what we have here. Andrews obviously knows and loves the character well and dives into his past like a familiar swimming hole from his youth. His Danny Rand is one haunted by childhood traumas that he's never properly addressed. Its in those that the story begins with his past coming to haunt him both in his memories and in the form of cybernetic ninjas attacking his penthouse apartment.
Andrews takes the origin story crafted by Roy Thomas and Gil Kane and breaths new life into it, expanding it. Iron Fist must return to K'un Lun, but the mystical city is under attack and in ruins. And the one behind it is something close to Danny and the why ties into his own origins. The art in this series is very well done and unique. It feels like a kung-fu epic through his panel layouts, his unique style and even his color choices. It doesn't look like any other book on the market and that is a very good thing. If they were to adapt this story for the television series, the could easily take the panels here and make them the storyboards.
This is a great gift idea for fans of the character, fans of Kaare Andrews or fans of kung-fu stories. Also, for anyone trying to get into the character because of the upcoming Netflix series, this gives an expanded version of his origin mixed with modern sensibilities. Andrews gives us a great look at how growing up in K'un Lun really was… and maybe I'm okay with never getting there myself.