Is Johns And Romita's Superman Meant To Be 'Superman IV: The Quest For Peace' Done Right?
It is the lowest point in the Superman film franchise and one that doomed the film series for years, until Superman Returns doomed it all over again.
[youtube]https://www.youtube.com/watch?v=drvoAempNTY[/youtube]
Superman IV: The Quest For Peace. A film in which Superman destroys the nuclear weapons of the world, and then has to fight some nuclear-spawned semi-version of himself created by Lex Luthor. It's not very good.
[youtube]https://www.youtube.com/watch?v=QWNqbqcV4dU[/youtube]
But with today's Superman #35, writer Geoff Johns, who worked as Superman movie director/producer Richard Donner's assistant, seems to be trying to rectify some of the themes in that movie, giving them a different context and presenting a very different solution, courtesy of Superman-alike Ulysses.
So in today' issue, Ulysses not only becomes aware of the weapons around the world, but finds it hard to distinguish them from the weapons of the bad guys they are fighting.
And Superman's equivocation is hardly convincing. He made a much better speech to the UN. So he decides, such as Superman did in that movie, to take it to the world.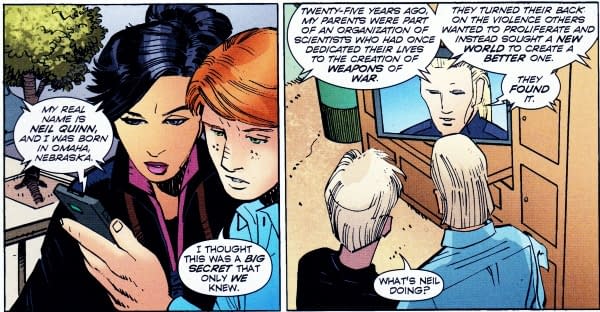 For his very different solution… well, the comic is on sale today.
Comics courtesy of Orbital Comics, London.
Following the release of In Real Life, soon to be published byFirst Second, we'll have the pleasure of receiving Cory Doctorow here at Orbital for a talk on November 12, at 7:30pm.