Dynamite's teen hero book Cage Hero continues and Byron Brewer caught up with writer Rik Hoskin to talk about working in that genre and just who Ryder Stone is.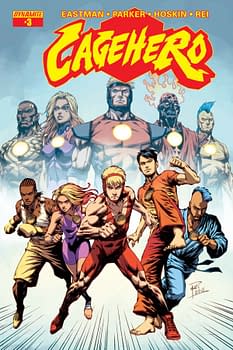 BYRON BREWER: Rik, how has it been for you working in the confines of Cage Hero's genre?
RIK HOSKIN: It's been great. At its heart, Cage Hero is a teen hero book in the vein of Spider-Man or Buffy, and that's a genre I love.
BB: What has been the most surprising part about doing this book?
RH: That we somehow fit the story into four issues! There was a lot of story, a lot of notes and a lot of discussion starting out.
BB: Tell us a little bit about Ryder Stone as a character?
RH: Ryder's a teenager who's kind of adrift and finds himself out of his depth when he gets called on to become a hero. He's not sure he has it in him to be the hero the world needs him to be. The whole story is about having the courage to find the hero within ourselves, and Ryder epitomizes that.
BB: In January, you are near the end of this miniseries' run. Anything you wish you had done different in telling this story?
RH: Not really. When writing, you'd always like more space to explore scenes and characters, of course, but I think the series has come together really well.
BB: Any chance of Cage Hero going on into a sequel? Is this something you would like to write/co-write?
RH: That's a decision that falls to a higher power than me! But if they'll have me back, I'd love to write more. I think we could have a lot of fun exploring Ryder's world and how he balances his school life with saving the Earth.
For more about Cage Hero, click here.
Enjoyed this article? Share it!