DC Comics has always had an issue with male superheroes (which were most of them) fist fighting female villains (which was some of them). Batman may punch the Joker out, but Catwoman he would have to spank at the most. In recent years, Harley Quinn gave as good as she got – and than got as good as she gave as well. That has yet to be tested with her replacement Punchline. We have seen her go up against Harley Quinn, successfully, with Catwoman and barely Quinn coming and in this week's Nightwing, it's Batgirl. Will DC be okay with Batman punching her in the face?
But it won't be Dick Grayson – not yet anyway. He has had a fair few number of looks over the years. Of late, with a knock on his head and a spot of amnesia, going by Ric Grayson, he's found it hard to put his old look back together again. But in Nightwing #72 he does at least seem to have a brand new attitude. And all courtesy of The Joker…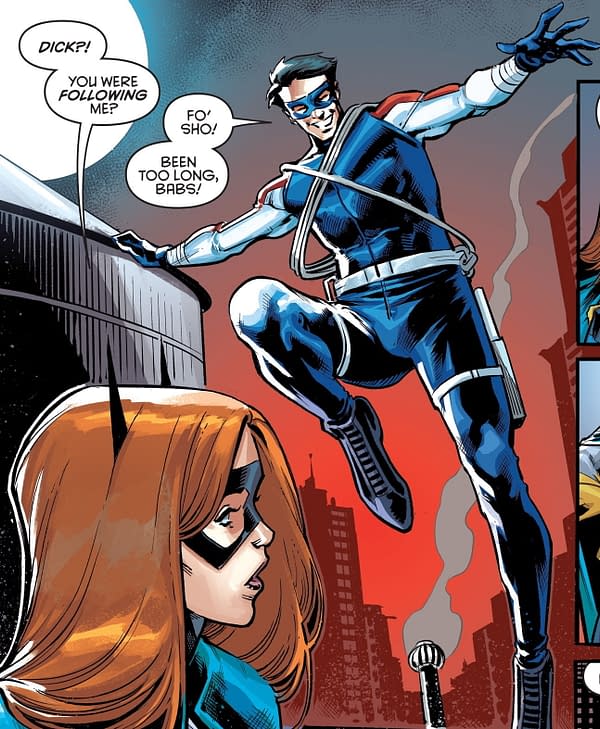 Brainwashing by mystical crystal, you know, the usual. Which means a chance for Batgirl to mess with the Joker's new beau, Punchline. Who is still having fun with her chosen name.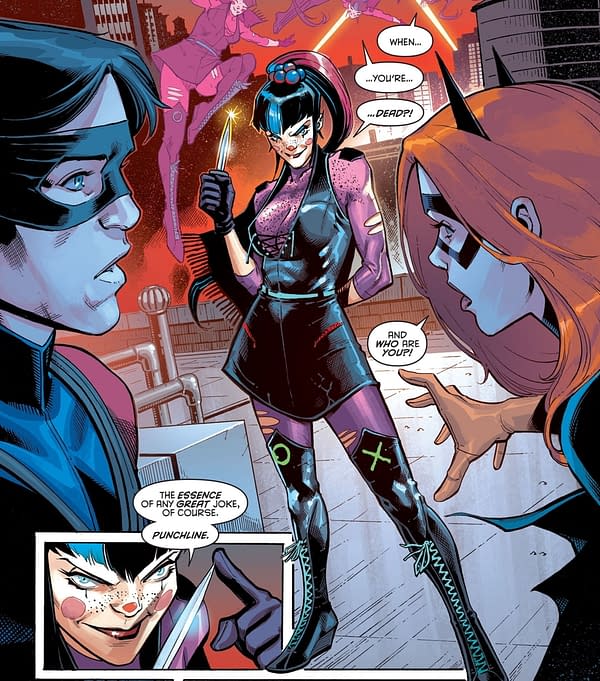 As Catwoman said back in Batman #93…

The shorthand way to establish a character's threat is to have them defeat a character the audience holds in high regard. So we had Punchline cut Harley Quinn's throat over in Batman, referenced here…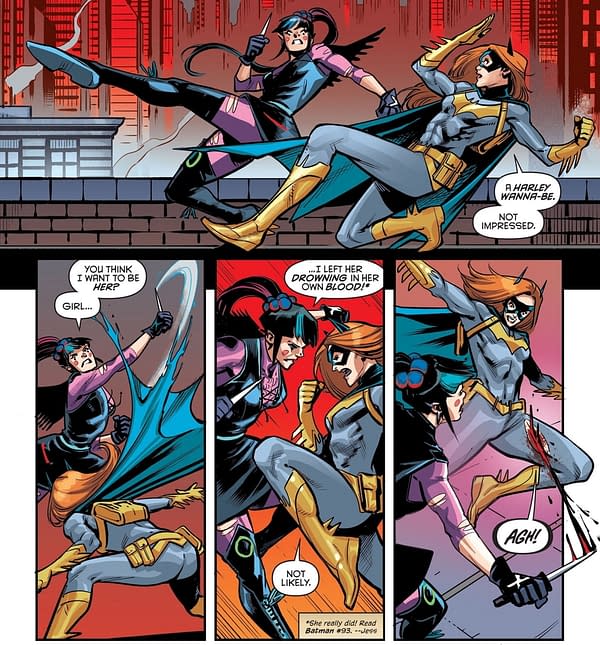 And then for her to take a chunk out of Batgirl's leg – with all the Killing Joke and Oracle suggestions that brings with it. And if there was any doubt as to where this Nightwing's loyalties lie…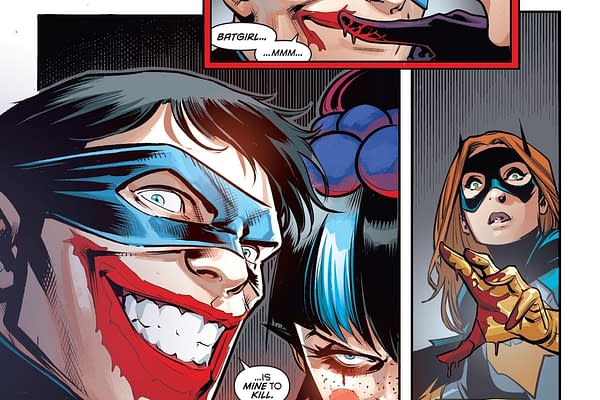 With her own blood? Grayson, that's just nasty… oh, he's going to feel really guilty when he gets his mind back (again). It must be like The Immortal Hulk in there right now.
NIGHTWING #72
DC COMICS
MAR200560
(W) Dan Jurgens (A) Ronan Cliquet (CA) Travis Moore
Dick Grayson has learned the truth: that "fixing" his identity lies with none other than Barbara Gordon. He must go to Gotham to find Batgirl-and runs into The Joker's new henchperson, Punchline. Unlike Harley Quinn, Punchline's deadpan black humor matches the deadly knives she uses on her victims…and for her next joke, Ric Grayson is the punchline.In Shops: May 20, 2020
SRP: $3.99
Enjoyed this article? Share it!