It's Time To Cut Down More Trees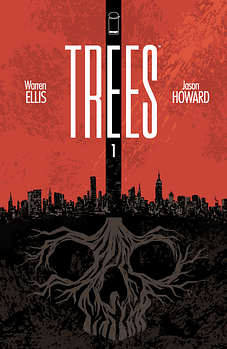 Warren Ellis seems concerned about the sales of his new comic book for Image, Trees.
Though, concerning print runs, it as been pointed out to me that Trees is beating Transmetropolitan in sales significantly. For example, randomly, Transmetropolitan #18, is estimated to have sold 16,445. Whereas Trees #3, say, sold 23,000, half way between Planetary's general sale of around 30,000.
And Planetary was about superheroes. Trees is about alien trees. Or rather, those who live and work around them.
It's also worth pointing out that issue 6 is out, but a trade paperback hasn't been scheduled. It's great that issue 1-8 are the first book, but we haven't even seen a collection of those first eight issues on the horizon yet. That also provides an entry to a series for many.
So, you know. There are plenty of trees being cut down to make… Trees.
It's just that there could always be more.
And Trees is very good.