It can take decades of hard work to make a name for yourself in the comic book industry, rising through the ranks until you finally have a chance to produce stories about one of the industry's prestigious flagship characters. Or, you could just be a famous movie director and his 20-year-old son and skip right to the big time. *cue America the Beautiful*
Marvel has announced that Star Wars filmmaker J.J. Abrams will co-write an eponymously named Spider-Man mini-series in September alongside his son, Henry Abrams, with artist Sara Pichelli providing the artwork, Dave Stewart providing covers, and Olivier Coipel providing the cover for the first issue. The series will pit Spidey against a new villain named Cadaverous, and Abrams' stature has already paid off by getting the comic featured in an interview in the New York Times, a newspaper that President Donald Trump, pal and associate of Marvel Chairman Ike Perlmutter, recently accused of treason.
In that interview, the Abramses discussed the process by which this opportunity came about:
J. J.: This is Henry Abrams's first interview ever.

HENRY: I'm nervous, but I will do my best. Nick Lowe, the editor of this comic, reached out about 10 years ago. More recently we began to develop an idea: a new and different and exciting take on Spider-Man.

J. J.: Nick had been pressing me to do a book with him. A year or so ago, I started talking about it with Henry and it sort of happened organically. And that has been the joy of this. Even though I've been talking to Nick for a long time, weirdly, this feels like it just sort of evolved from the conversations of Henry and I, having ideas that got us excited and Nick being open to the collaboration.
And Henry Abrams copped to the "undeniable privilege" when asked if he'd be interested in writing more comics after this.
Obviously, there is an undeniable privilege here, and I'm not ignorant of that. I think part of creating is creating on your own. My hope and my goal is to do that after this. I can't believe this opportunity was afforded to us. It's been a great excuse, especially during the year when I'm in college, just to call and talk about the story.
The announcement follows a series of teasers that began on Sunday counting down to the big reveal. Check out the cover below, as well as an announcement video from Marvel. Spider-Man #1 hits stores in September.
🕸️ The secret's out! This September, @jjabrams and Henry Abrams team up with artist @sara_pichelli for a #SpiderMan miniseries featuring a deadly new villain: https://t.co/kFXztvCosC #MarvelComics pic.twitter.com/m5Drg3rrq9

— Marvel Entertainment (@Marvel) June 20, 2019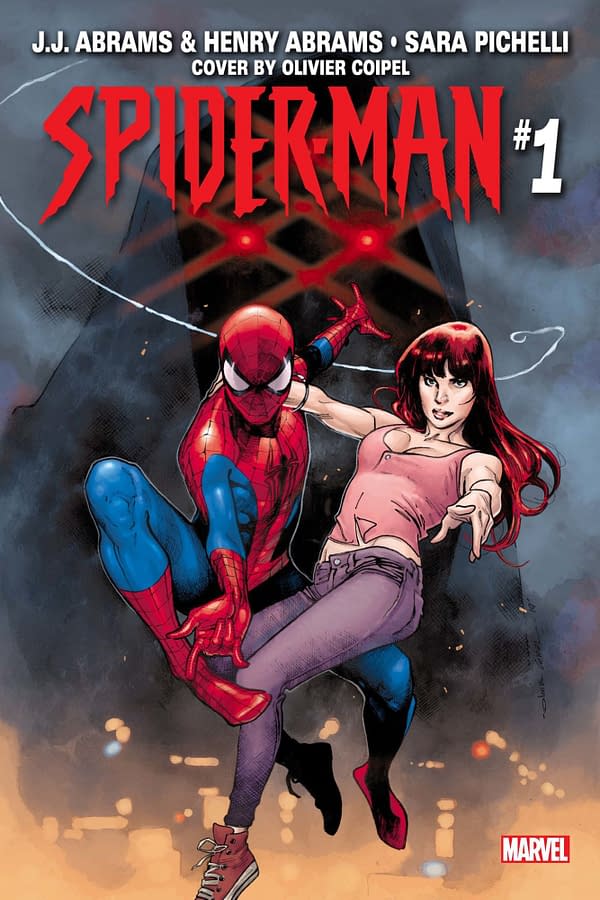 Enjoyed this article? Share it!