James Bond: Casino Royale – An Essay by Van Jensen
In shops this week is the new James Bond graphic novel adaptation of Casino Royale. The book was done by Van Jensen and Dennis Calero with colors by Chris O'Halloran and a cover by Fay Dalton. It is based on the very first James Bond novel written by Ian Fleming, long before Sean Connery, Roger Moore, George Lazenby, Timothy Dalton, Pierce Brosnan or Daniel Craig. Before the ejector seats and exploding pens, there was a secret agent and a mission.
Dynamite has sent us an essay, written by Jensen where he addresses adapting the novel that launched one of the most recognized character in literary and film history.
James Bond: Casino Royale – An Essay by Van Jensen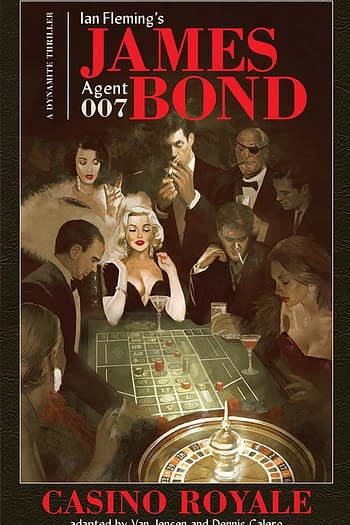 The question I'm always asked about adapting Ian Fleming's novel Casino Royale into a comic book is if I was intimidated to take on the project.
Reasonable enough. After all, Fleming is the master of the spy genre, the creator of one of the world's true icons, The Man With the Golden Typewriter. And this is his first novel, the first appearance of James Bond, the tome that started it all. Plenty of anxiety fuel.
But I'm a foolhardy sort, and so I plunged ahead, signing on with Dynamite and the Fleming estate. Then, upon cracking open the novel for the first time in years, I realized why I should've been scared.
Casino Royale is not the Bond you know, assuming you know Bond from the films and video games. No gadgets. No femme fatales. No action set pieces. The book takes place in post-war France mostly, a bruised setting where grim spies jostle amid a casino, culminating in a game of baccarat, which is essentially a grand game of chance. There is one explosion, though it's basically a pratfall.
There would be no updates. No Texas Hold 'em. No additions. The adaptation needed to be faithful, even including the gross misogyny. (I can not voice strongly enough my disdain for such behavior. The sexism in this book will make your skin crawl. It belongs to a character and to a specific time, yes, but it still should be discussed and judged.)
And Fleming's Bond is no Daniel Craig or Roger Moore or even poor, lovelorn George Lazenby. This Bond is a young man who survived the horrors of World War II and yet remains naive. The novel is deeply interior, Fleming's strong-but-elegant prose mostly exploring the hero's headspace as he comes to oppose the nature of espionage, then is tragically forced to abandon that high-minded self and dedicate his life to a dark craft.
Fleming was a great writer. We don't talk about that, but he truly was. The only problem is that all of that narration is text, and comics are at their best with the least text possible. How then to proceed?
I created a device, which we call "Bond-Vision," to externalize the internal. Text and visuals overlaid on the art to show the reader what Bond is seeing as he analyzes settings and people, judging them, assessing threats. A few other moments of creative license emerged (the gun metaphor you'll know when you see), and thankfully the Flemings gave it their blessing.
I can't say enough what an honor it was to work with them. They had notes on the character of Bond and intentions of Ian Fleming himself, the sort of insights that one takes as if whispered from on high. They also had specific instructions on minutiae like what cut of bath robe Bond wears. They are the guardians of one of literature's great treasures. Bond is in good hands.
On art, my collaborators were Dennis Calero and colorist Chris O'Halloran. Dennis' shadow-draped realism breathed life into my script. In every way, he improved upon the work, capturing expressions so vividly that you imagine the characters must be real people. Chris is a master. The tones convey the mood in ways both subtle and overt. Particularly, the chapter in which Bond swims in the ocean is a story told in colors.
If you have never read Fleming's novels, here it is, your easy gateway. Go ahead. Crack open the cover and discover Bond anew.
The James Bond: Casino Royale HC from Dynamite Entertainment is on sale now!