Jim Lee – 'Rumours Of Reboots Are Ridiculous'
Jim Lee, co-publisher of DC Comics tweeted,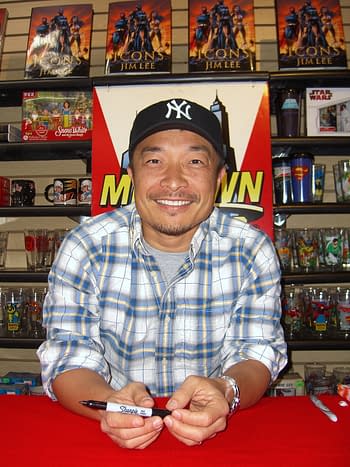 This might possibly be in relation to a couple of stories that ran on Bleeding Cool yesterday. One seeing word of a new CRISIS series at DC Comics being planned, that it may be a reboot and that may impact on the current state of DC Comics marriages.
The original stories were well sourced, but further conversations with other sources who have suddenly come out of the woodwork have muddied those waters. Well-sourced stories can, of course still be wrong.
Firstly, I am told that Crisis has been used a nickname of another project planned for the end of the year, early 2019. Very much as how Panic Room was used internally for Before Watchmen.
Two, it's possible that reboot may be too heavy. After all Jim Lee doesn't like to call anything a reboot. The New 52 was initially referred to by DC executives as a relaunch, not a reboot. And he went out of his way to say that DC Rebirth wasn't a reboot as the New 52 continuity was still there – despite Superman's history-changing radically, removed his relationship with Wonder Woman and Lois Lane's with Jonathan Carroll – and gave them a kid. One man's reboot is another man's retcon is another man's hypercrisis.
And thirdly… someone else asked me why I thought Batman would actually get married. Damn it. I've been reading Tom King's solicitations again. But there we go. Just because Superman is married (though Lois and Jon are currently missing, presumed Bendised) and the marriage of Catwoman and Batman has been announced… odds are it may well not happen. And so have no need of being addressed.
It's fun what comes out of the woodwork when you give it a little squeeze…
So… Grant and Liam still on Green Lantern? Kelly Sue still on Aquaman? Brian still on Suicide Squad? David still on a Flash comic? Matt still off Jimmy Olsen? Creative Refresh? Those, at least have not been denied… not yet anyway.