The Joker and Darkseid Campaign For Donald Trump in Dark Knight Returns: The Golden Child from DC Comics
Today sees the publication of the much anticipated Batman: Dark Knight Returns: The Golden Child from Frank Miller and Rafael Grampa. We pointed out yesterday that there was a certain amount of Trump re-election campaigning going on, and a riot taking place as a result. But that's just a tiny amount compared to the full comic book, published today. Here's a smattering.
Now, Trump is never referred to Trump and, indeed, he is not a Presidential candidate, here but a Governor seeking re-electing. Given Miller's happiness to put sitting Presidents into previous Dark Knight instalments, this suggests that a change may have come down from on high to amend President to Governor. That bloody Batman Damned, still affecting other comics.
With Batwoman in the middle of protestors, anti-Trump Batmen-masked protestors being set upon by Joker-themed thugs. But I'm sure there are good people on both sides. Carrie Kelley, previously Batman and now the new Batwoman, can only see the negative side. But she has to pick one..,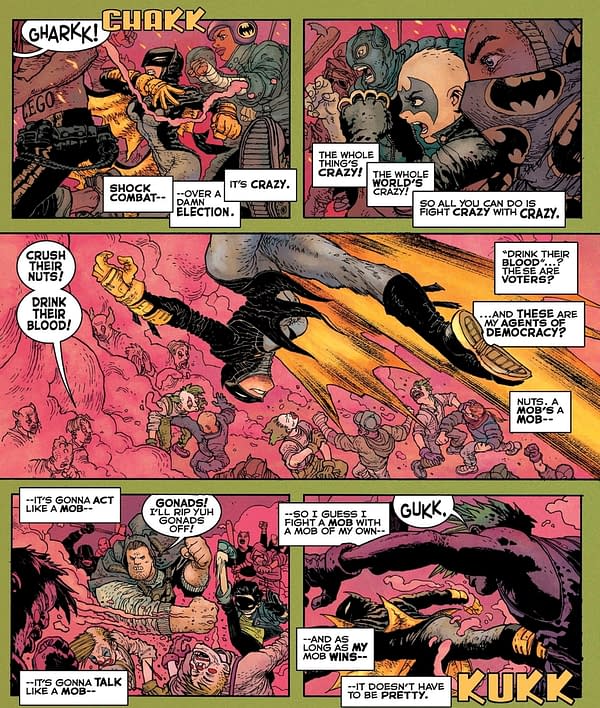 The contrast between these events and the 'No More Hate' anti-Trump posters are clear for Miller and Grampa.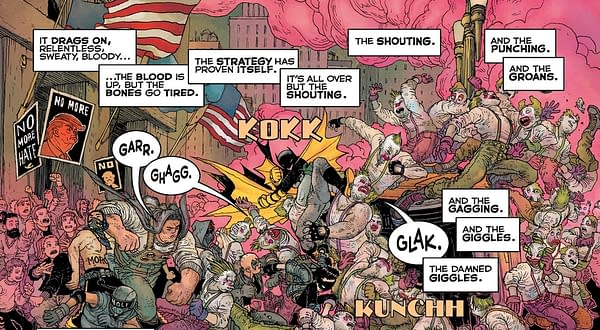 But where is all this chaos coming from? Seems that the people have an out, as back in Trump Campaign headquarters, Steve Bannon and Kelly Anne Conway – I'm sorry, I mean Darkseid and The Joker, are taking stock, with Joker kids working social media.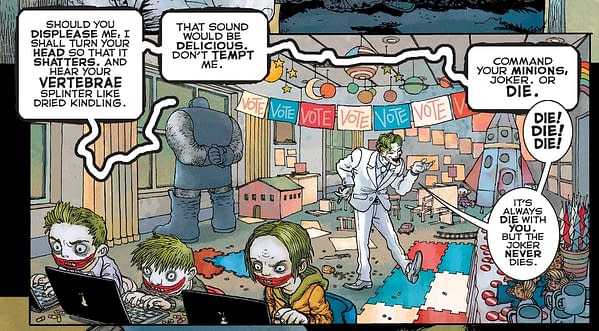 And we get to see some real Trump puppet figures as well.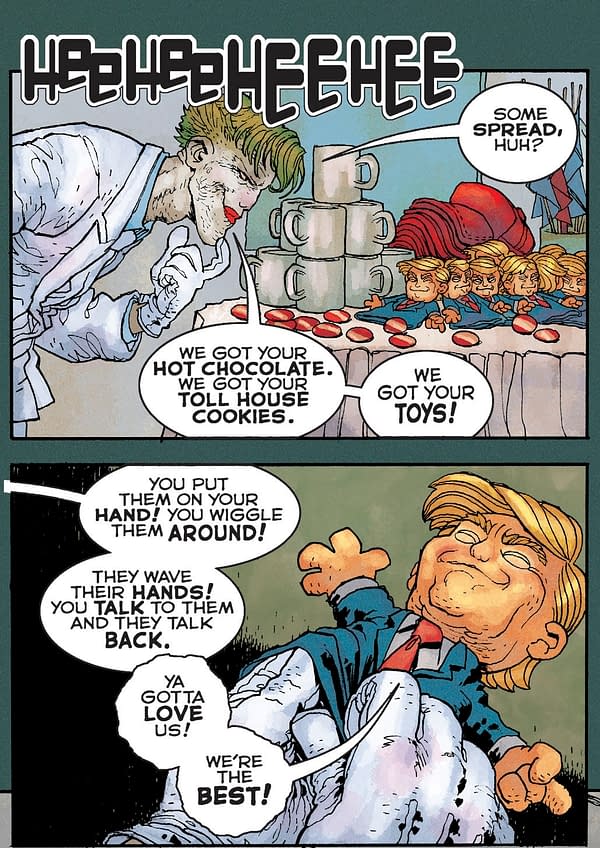 Any chance DC Comics might make these as official Dark Knight merchandise?

I mean, The Joker makes a valid point. Warner Bros, you already make V for Vendetta masks for Anonymous, why not make money from the other side as well?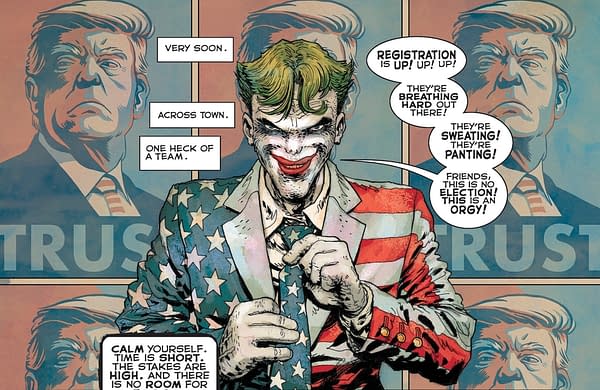 As the Joker dressed up in the red white and blue, behind Trump posters in the Obama mode…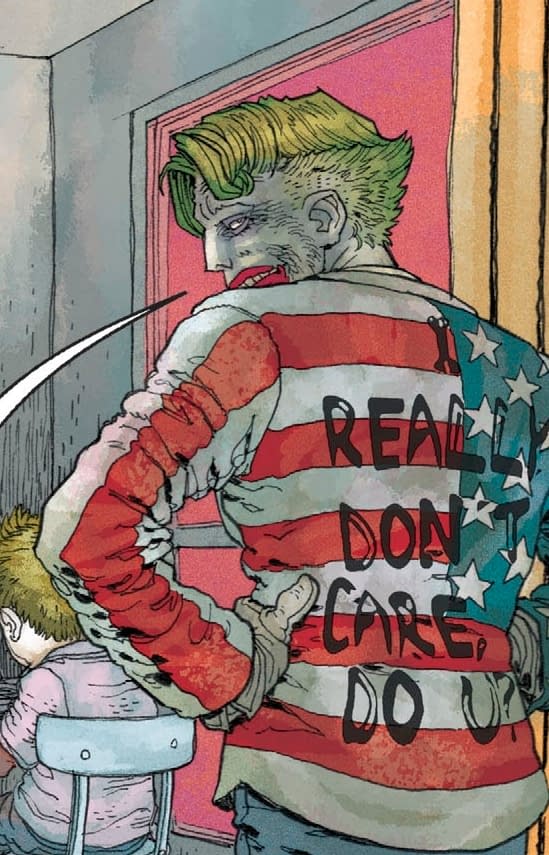 With a familiar message for Melania Trump fans on the back. And even the kids have their own messages to share.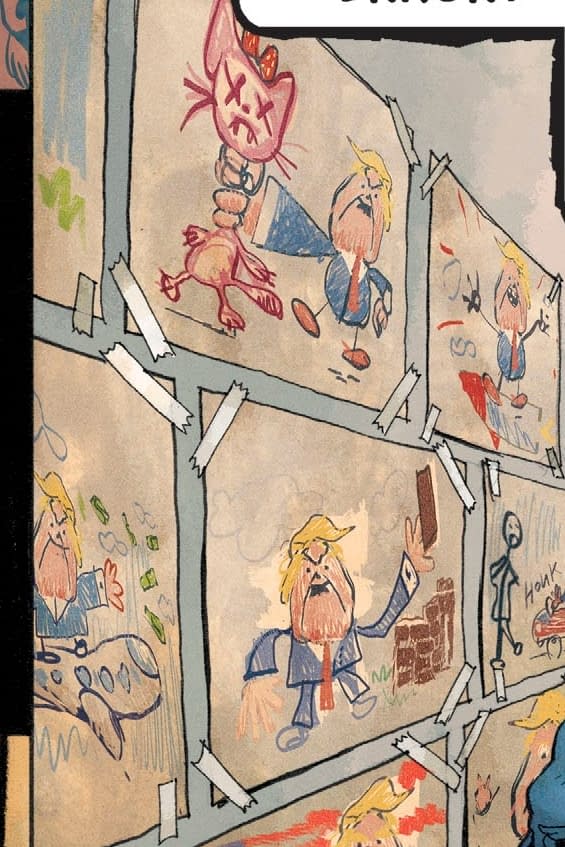 Yes, it's insane. But who is going to tell Miller and Grampa no?Aside from changing President to Governor that is…
DARK KNIGHT RETURNS THE GOLDEN CHILD #1
(W) Frank Miller (A/CA) Rafael Gramp?
Frank Miller returns to the Dark Knight Universe!
It's been three years since the events of Dark Knight III: The Master Race. Lara has spent the time learning to be more human, and Carrie Kelley has been growing into her new role as Batwoman. But a terrifying evil has returned to Gotham City, and Lara and Carrie must team up to stop this growing threat-and they have a secret weapon. Young Jonathan Kent, "the golden child," has a power inside of him unlike anything the world has ever seen, and it's about to be unleashed…
Dark Knight Returns: The Golden Child is Frank Miller's triumphant return to the world of the Dark Knight and joining him is the superstar artist Rafael Grampá, the mastermind behind the groundbreaking Mesmo Delivery. Following work in advertising and film, this incredible collaboration marks Grampá's first comics work in six years, bringing his extraordinary detail and storytelling to the Dark Knight saga, resulting in a Dark Knight story like nothing you've ever seen before.In Shops: Dec 11, 2019
SRP: $5.99
Batman: The Dark Knight Returns: The Golden Child #1 by Frank Miller and Rafael Grampa is published by DC Comics today in all good comic shops. I bought mine from Piranha Comics in Kingston-Upon-Thames. Piranha Comics is a small south London comic store chain with a small south-east store in Kingston-Upon Thames's market centre, which runs Magic The Gathering nights on Fridays, and a larger south-west store in Bromley, which also runs Magic nights and has an extensive back issue collection and an online store. If you are in the neighbourhood, check them out.