This is how Powers Of X #6, the final issue of HOXPOX ends. It says, in fluent Krakoan, NEXT: X-MEN. Today sees Jonathan Hickman and RB Silva – with some pages by Silva and Pepe Larazz repeated and repurposed from previous issues, bring it all to a close and start it up again. And he does so by repeating the same trick from just a couple of issues ago.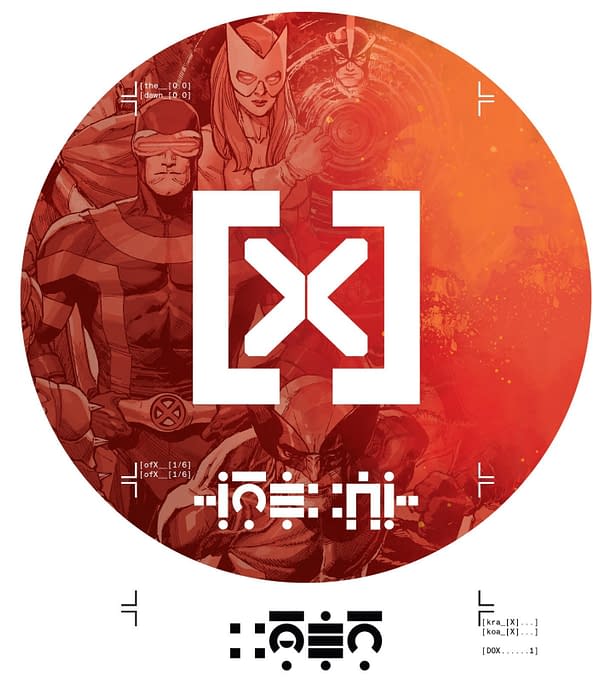 In Powers Of X we have been observing four separate timezones. X0, around the time that Professor Xavier decides to create what would become the X-Men. X1, the present day with Krakoa established as a new base for mutant kind. X2 as a dystopian hundred years in the future, revealed as Moira's past life, her ninth life, as she had been preserved to keep the timeline in existence. And killed by Wolverine to restart the timeline again.
And X3 in a thousand years time, when the Phalanx are coming to take what is left of humanity and mutantity, transformed by technology, and ready to join their collective mind and mass.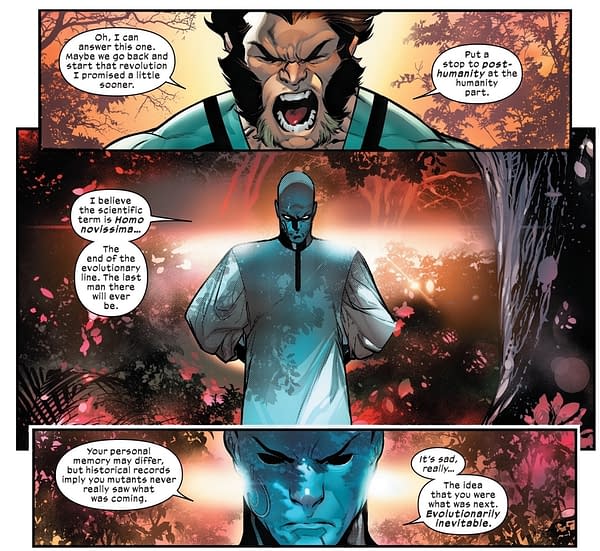 The far-flung future seemed untouched. How could the present day, from X1 possibly provide something that could affect it a thousand years hence? The answer? It couldn't.
But Moira was here with Logan, a thousand years hence. With plans made for her…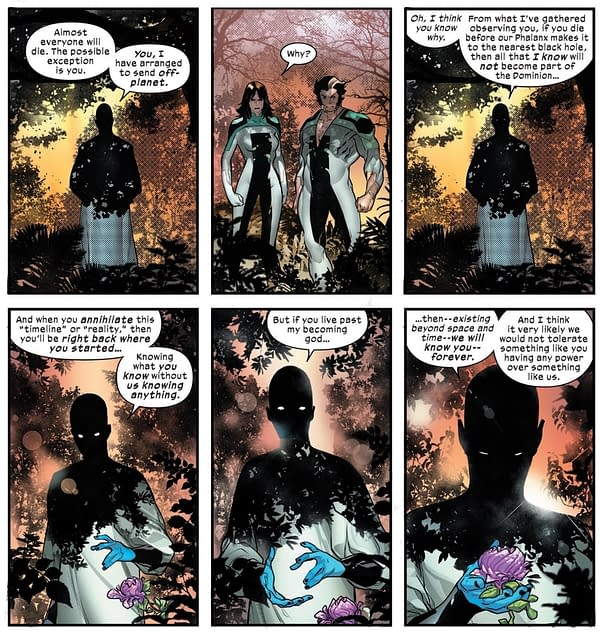 …and yes, it is rather like Legion Of Super-Heroes: Millenium.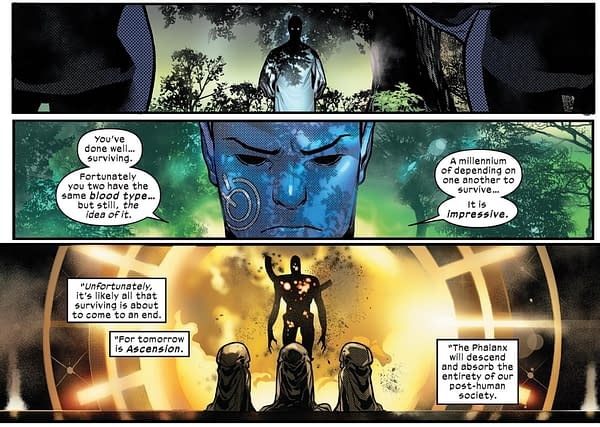 Was there any chance we could get an eleventh life for Moira? No. Because Dammit Jonathan Hickman, you did it again.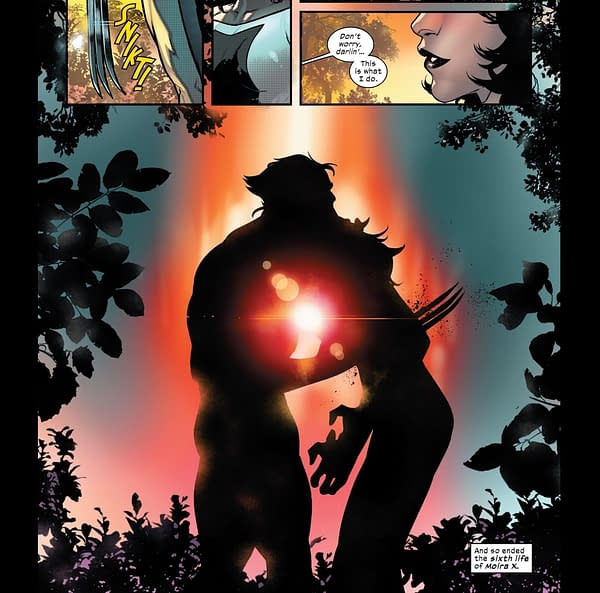 X3 was just her sixth life. The same trick twice. After all since you'd done this once, and X1 had been established as the actual Marvel Universe, there was no way you could do it again. But you did.
And the future now remains completely unwritten. Although Destiny did say she could possibly have an eleventh life if everything went well.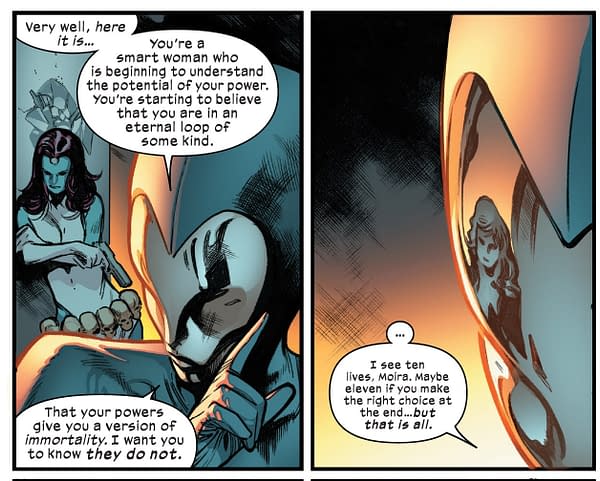 Yes, what about Destiny? Powers reveals the cold heart of Moira…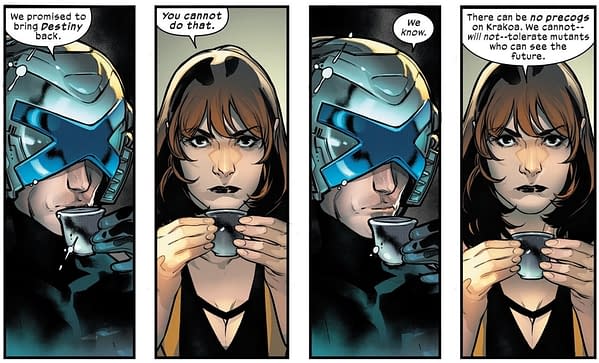 And Charles. Not only here but in her diaries.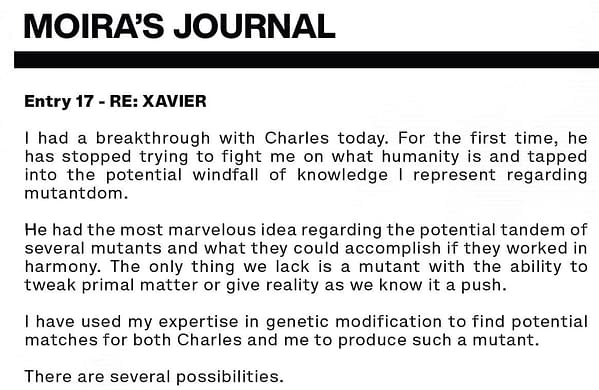 Potential matches. Moira McTaggart's son was Proteus. Professor Xavier's son was Legion. Were they both trying to create such a mutant that would be able to alter reality and keep bringing the mutant race back from the dead as we saw previously? Who might have been able to help with such genetic involvement? Oh and still with the redactions.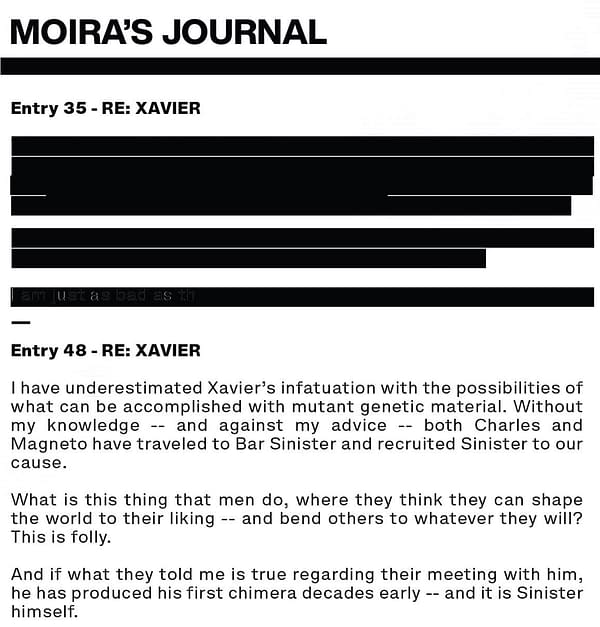 Mister Sinister, a chimera created using the body of Thunderbird? Remember the Bar Sinister gossip sheet…
SINISTER SECRETS REVEALED! Certain people are wondering where the tyrant-dispelling Sinister got his mutant gene. And while that really isn't an interesting story, whom the DNA originally belonged to is.
[John Proudstar/Thunderbird]
The body of Thunderbird used to house the mind of Mister Sinister?
POWERS OF X #6 (OF 6)
(W) Jonathan Hickman (A/CA) R. B. Silva
THE INEVITABLE TRUTH.
The revelatory tale of Mutantkind's fall comes to a conclusion that will lay the groundwork of the X-Men's stories for years to come! Superstar writer Jonathan Hickman (NEW AVENGERS, FF, INFINITY) and rising star artist RB Silva (UNCANNY X-MEN) wrap the series that reveals everything!
Rated T+In Shops: Oct 09, 2019
SRP: $5.99
Enjoyed this article? Share it!