Hot on the heels of this weekend's second annual In Store Convention Kick-Off, I've understand that Jonesy #1 has sold out at the distributor level.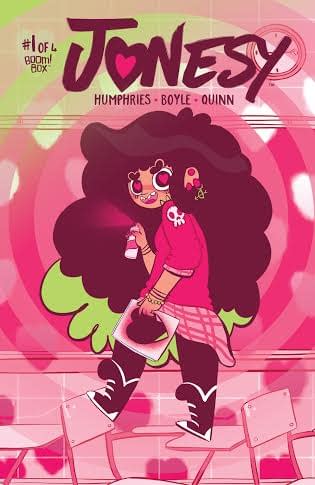 Jonesy is the latest hit from Boom! Box, home of Lumberjanes and Giant Days, written by Sam Humphries (Weirdworld) and Caitlin Rose Boyle (Buck n' Lou & The Night Crew). My sources tell me that the quirky romantic comedy comic has sold 10,077 copies to date. A second printing will be announced soon and issue #2 will be in stores on March 16th.
Boom! offered an exclusive variant cover by Kendra Wells for In Store Convention Kick-Off and had Humphries on their panel promoting the project heavily. This seems to have spurred some reorder activity on the remaining copies at Diamond and wiped the distributor out of their remaining stock. Humphries visiting Portland to talk to retailers at the recent ComicsPRO Annual Meeting may have had something to do with it as well.
Jonesy is about a young girl who has the power to make people fall in love with each other. Instead of using it to put together lonely hearts, Jonesy uses her powers to cause mischief. I've checked it out and it's exactly the kind of comic fans of Lumberjanes or Scott Pilgrim are looking for. Here's a look at the second print cover. Your store might still have a copy of the first printing on their shelf if you hurry.
Enjoyed this article? Share it!