Joshua Williamson & Andrei Bressan's Dark Ride #1 Thank You Hits $125
After the pre-release buzz on Joshua Williamson and Andrei Bressan's Dark Ride #1 from Image/Skybound, which hit stores this week, we told you that the series was showing all the signs of being the next big hit indie series. And it's not like we didn't warn you about the "Bat-Bump" prophecy over a month ago… But once we discovered the existence of a secret Thank You variant to Dark Ride #1, we predicted that speculators and collectors were likely to descend on the series like they did on Boom Studios recent Briar #1. Not that we would be ones to tell you that we were right (we'll let you tell us in the comments), but it looks like the Dark Ride #1 Thank You Variant sold for $125, less than 24 hours after sales went for $30 to $50. That's ungraded, so CGC 9.8 editions will sell for considerably more once they hit the aftermarket since speculators and collectors are clearly jumping on this book.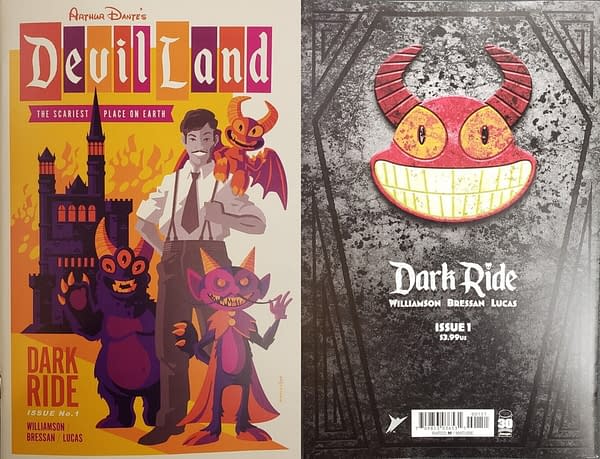 The "Not-A-Disney-Homage-So-Don't-Sue-Us" homage variants overseen by Stray Dogs' Tony Fleecs have already jumped to $69 from $30 in raw form and seem like a solid investment with a new The Little Mermaid film on the horizon. We'd also recommend keeping an eye on Trish Forstner's Mario Kart 64 variant from retailer Bird City that's already popped up to $55 and gives us vibes of her video game variant for retailer 616 Comics to Eight Billion Genies #1, which has exploded with speculators and is currently valued at $360 by our friends at Key Collectors Comics. Right now the main cover to Dark Ride #1 is sitting at $5 but expect that number to jump after this article runs – and if this book sells out, then that jump will be even greater. For those looking to the future, Dark Ride #2 FOCs on Monday, the 17th of October and will hit comic shops on Wednesday, the 9th of November.