Junior Braves of the Apocalypse Role-Playing Game Joins Rick And Morty in Hell in Oni Press May 2020 Solicits
JUNIOR BRAVES SURVIVAL GUIDE APOCALYPSE RP GAME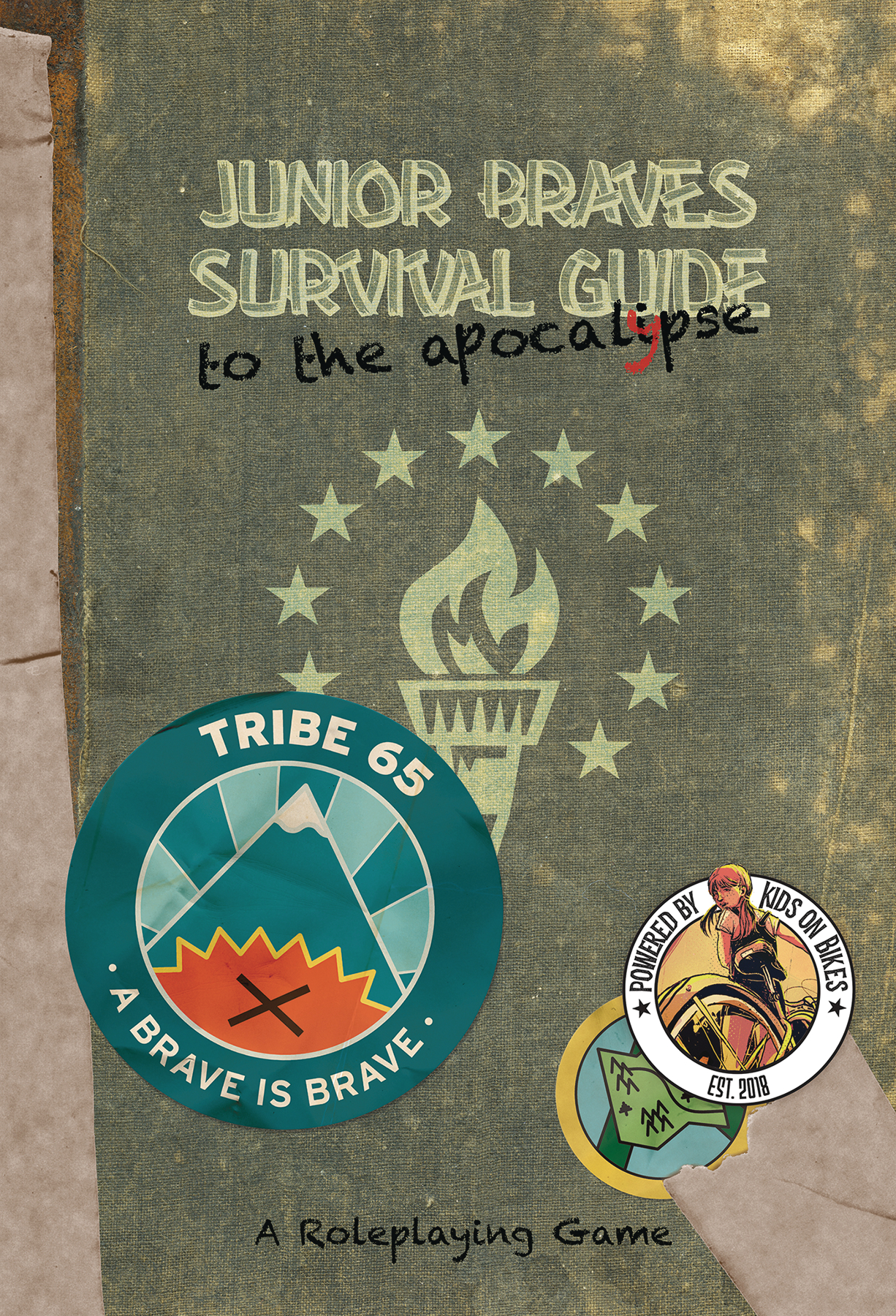 MAR201994
Based on the Junior Braves of the Apocalypse graphic novels and the Kids on Bikes role-playing game, this guide allows you to tell your own stories of kids dealing with the end of the world!
In Shops: May 20, 2020
SRP: $25.00
ACHEWOOD GREAT OUTDOOR FIGHT ONESHOT CVR A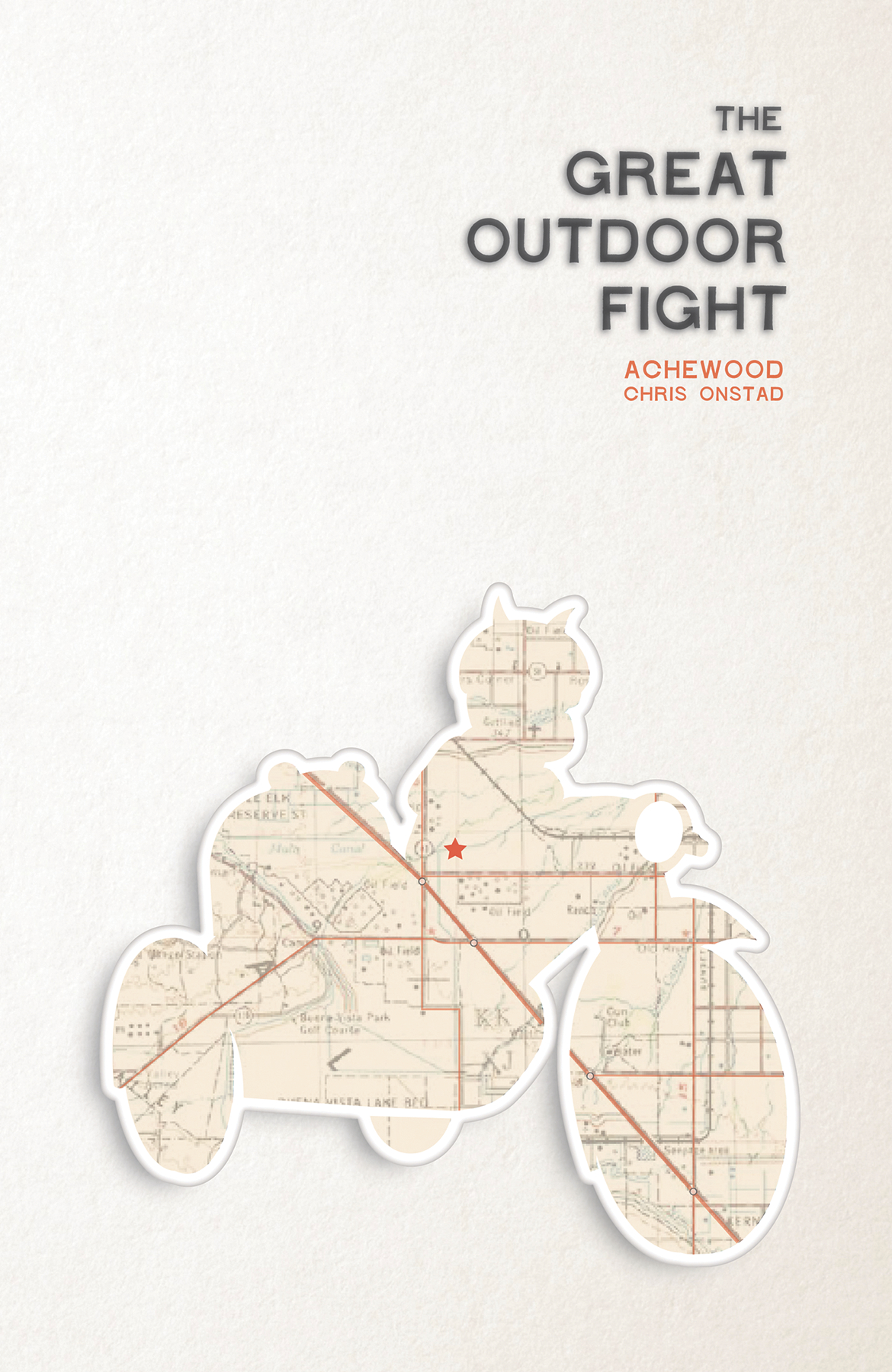 MAR201995
(W) Chris Onstad (A/CA) Chris Onstad
Three Days! Three Acres! Three Thousand Men! The epic spectacle of violence, virility, and valor that helped name Achewood TIME Magazine's Best Graphic Novel of the Year. Join Ray and Beef on the journey through the complete "fight" storyline, from truck-nuts-for-your-smartphone, right through the recumbent tai-chi fighting style, and riding into the boys' return home. Includes bonus features like the History of the GOF, profiles of past winners, and a brand-new look back on the epic storyline by author Chris Onstad himself. PLUS: A brand new cover by the cartoonist!
In Shops: Jul 15, 2020
SRP: $5.00
ACHEWOOD GREAT OUTDOOR FIGHT ONESHOT CVR B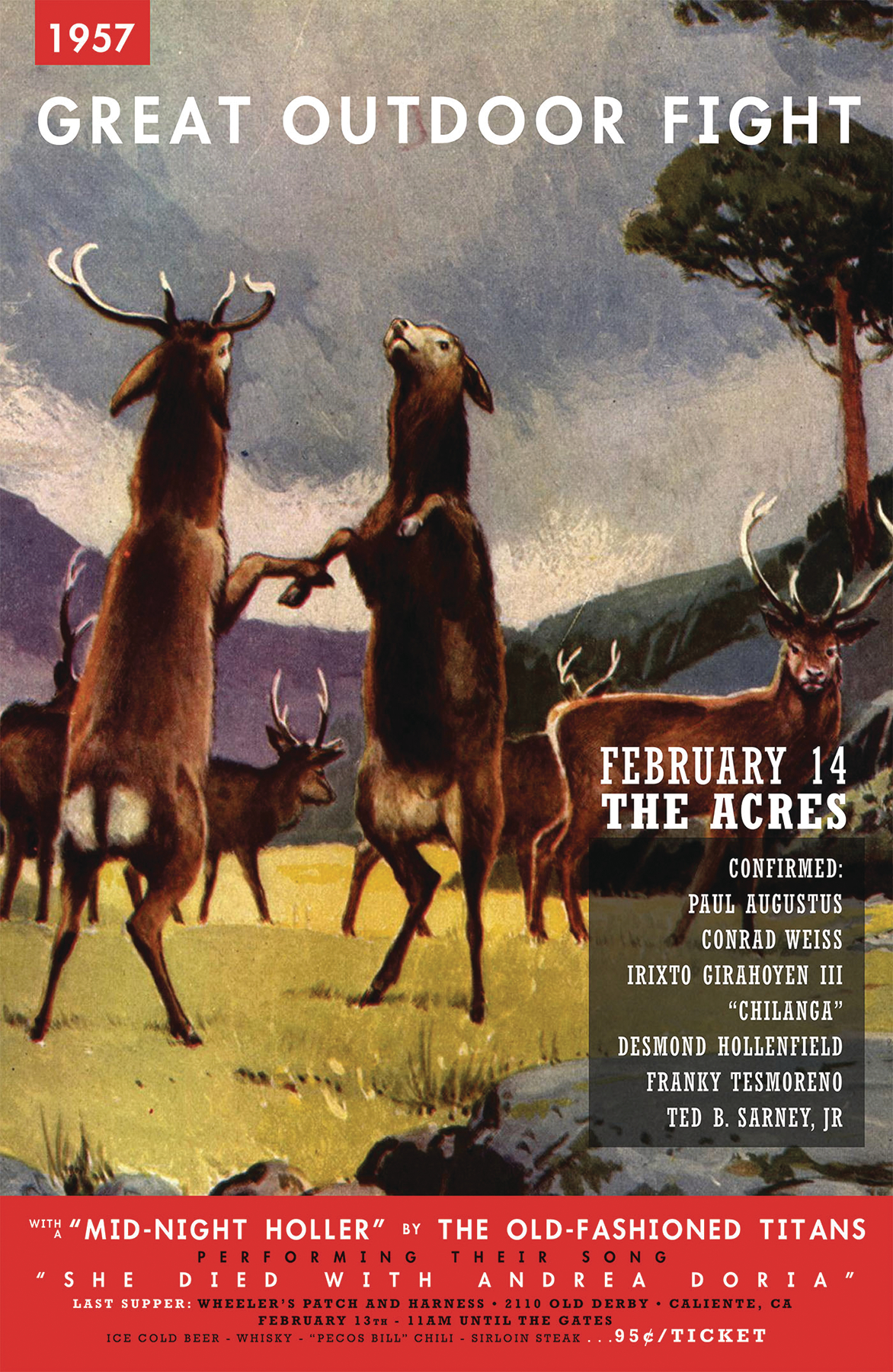 PENG ACTION SPORTS ADVENTURE GN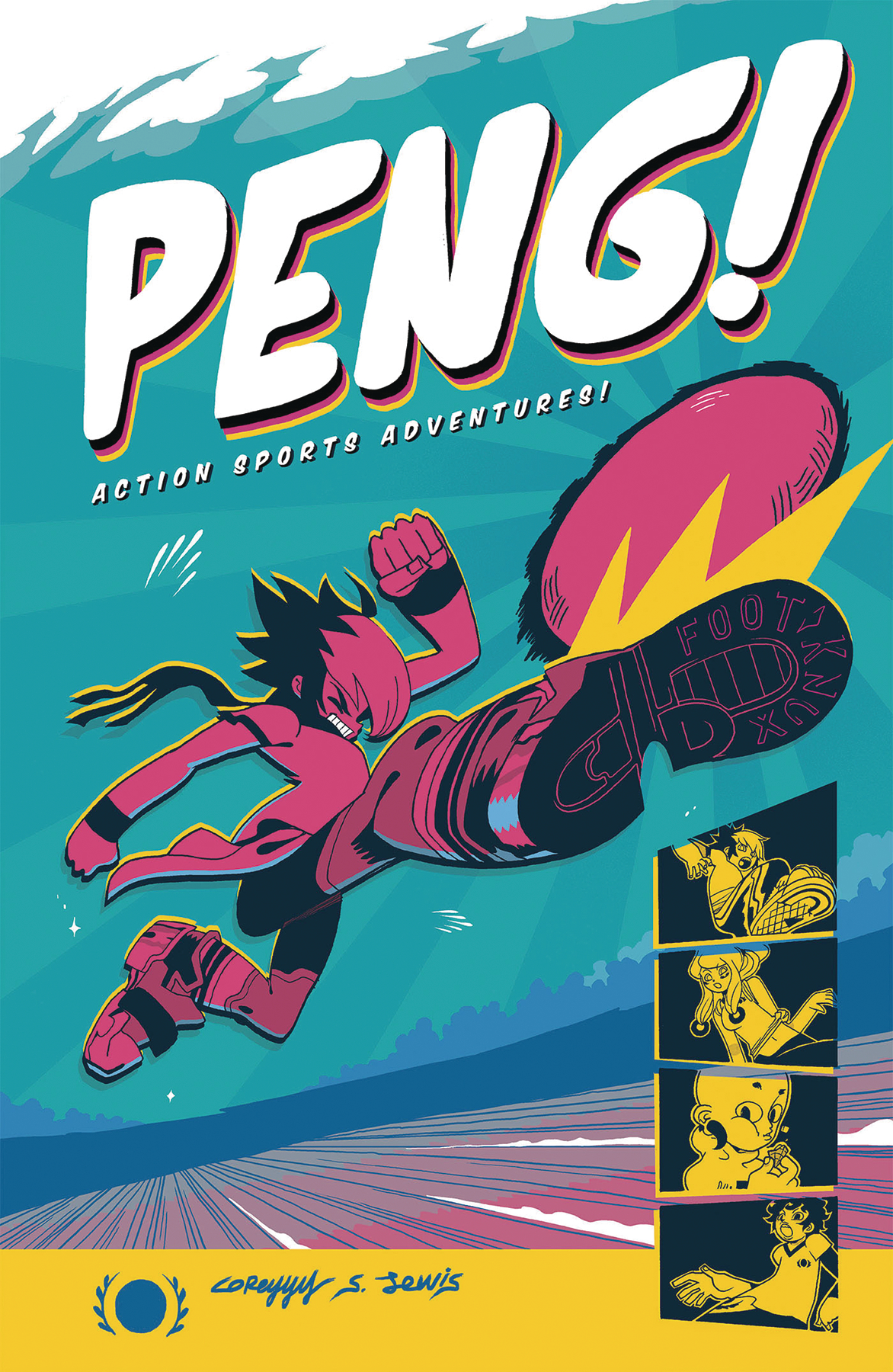 MAR201997
(W) Corey Lewis (A/CA) Corey Lewis
Welcome to the All-World School of Sportsmanship, where kids from all over train to become the best athletes in a world obsessed with even the most marginal sports. PENG! follows students Rocky, Sassy, Ven, and Radley-also known as the FOOT KNUX. Together they will master action-packed "fringe" sports like kickball, breakdancing and hacky sack! Our heroes battle boredom, the sun in their eyes, their own self-doubt, and strange and unusual baddies like the Aurora Skeddos and The Biter, mystical foes who are also vying for victory! With a little love and luck, the FOOT KNUX may just win the game-and your heart!
In Shops: Jul 29, 2020
SRP: $14.99
SCULLION DISHWASHERS GUIDE TO MISTAKEN IDENTITY TP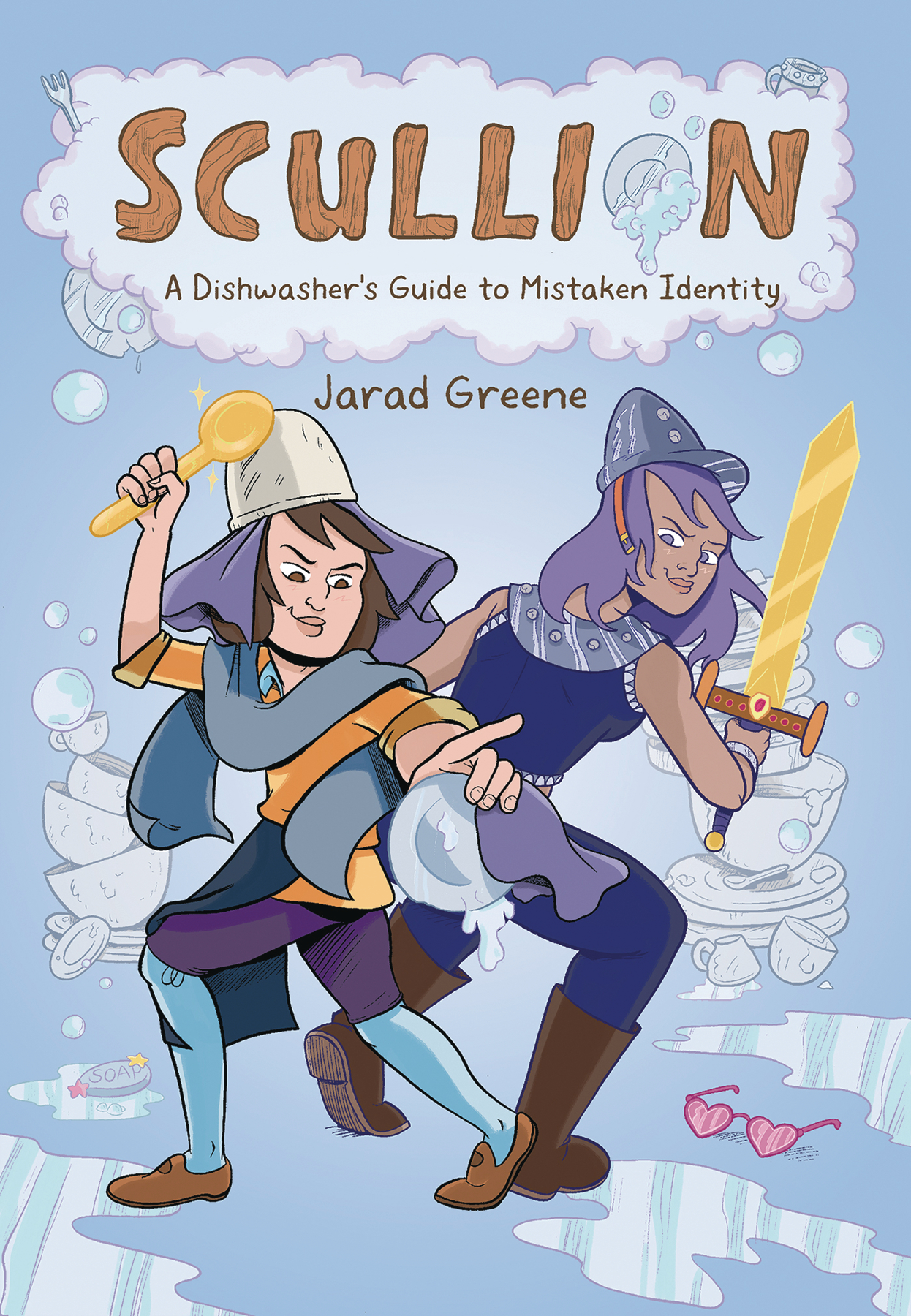 MAR201998
(W) Jarad Greene (A) Jarad Greene
In celebrity-obsessed Timberwood Village, the great warrior Riqa is an icon who's about to throw the wedding of the century, and local teens Darlis and Mae are just two humble dishwashers. Until, that is, Riqa mysteriously disappears and an unsuspecting Darlis is mistaken for her! It seems like an honest mistake, until he realizes that these two troll siblings want to capture and hold him for ransom, with Mae getting caught in the mix-up. To get out of this predicament, these dishwashers will have to get their hands a little dirty. Armed with only their wits and Riqa's book, The Fair Maiden's Guide to Eating Your Captor for Breakfast, can Darlis and Mae give their captors a run for their money?
In Shops: Jul 08, 2020
SRP: $19.99
AGGRETSUKO HC VOL 01 METAL TO THE MAX
MAR201999
(W) Daniel Barnes, Brenda Hickey, Jarrett Williams (A) D.J. Kirkland (CA) CJ Cannon
BASED ON THE HIT NETFLIX SHOW! FROM THE CREATORS OF GUDETAMA & HELLO KITTY! Sanrio and Oni Press join forces to bring Aggretsuko to comics for the first time! Aggretsuko, the hit Netflix show in production for season three, stars Retsuko the Red Panda, a young office worker stuck in a thankless job, whose only stress release is singing heavy metal at the local karaoke joint. With the help of her friends, can she ever find the job satisfaction she craves-not to mention adventure, the approval of her mother, and even… love?! These comics explore all these issues and more, brought to life by today's top talent!
In Shops: Jul 01, 2020
SRP: $9.99
AGGRETSUKO #4 CVR A PATABOT
MAR202000
(W) Michelle Gish (A/CA) Patabot
Retsuko, having broken her arm, is trying to get her mountain of work done…with a cast!! To make matters worse, everyone wants to stop and chat about the injury and offer unsolicited advice, but Mr. Ton won't adjust her deadlines! Time for some RAAAAGE KARAOKE!!!
In Shops: May 06, 2020
SRP: $3.99
AGGRETSUKO #4 CVR B PARKER
RICK AND MORTY GO TO HELL #2 CVR A OROZA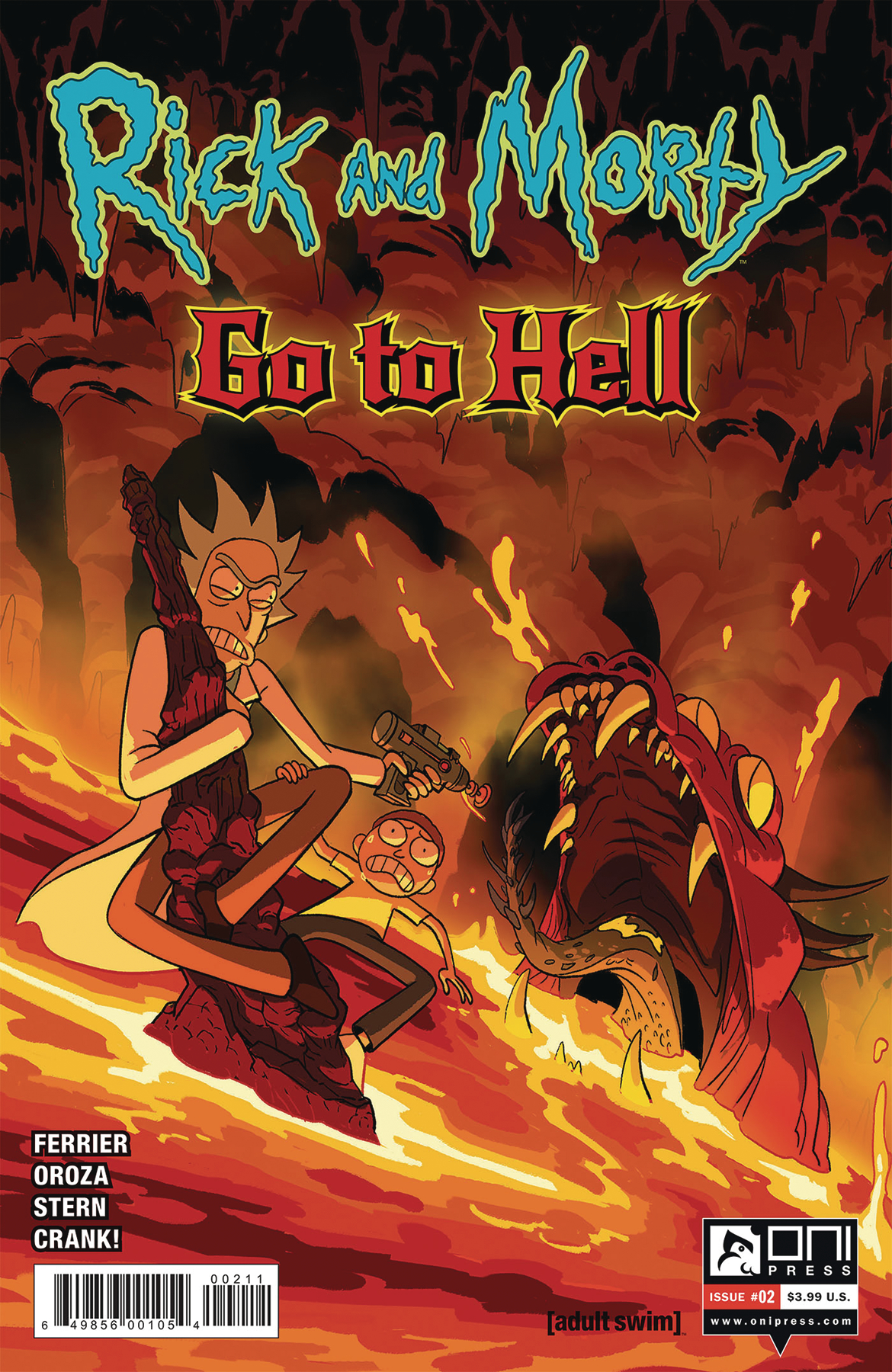 MAR202002
(W) Ryan Ferrier (A/CA) Constanza Oroza
Having filed an appeal with the dark lord almighty, Rick and Morty must begin the treacherous paperwork: enduring circles of Hell leading to the devil himself. First up, Rick and Morty must endure the ultimate regret and shame of a life well-lived…well, lived anyways.
In Shops: May 27, 2020
SRP: $3.99
RICK AND MORTY GO TO HELL #2 CVR B CROSLAND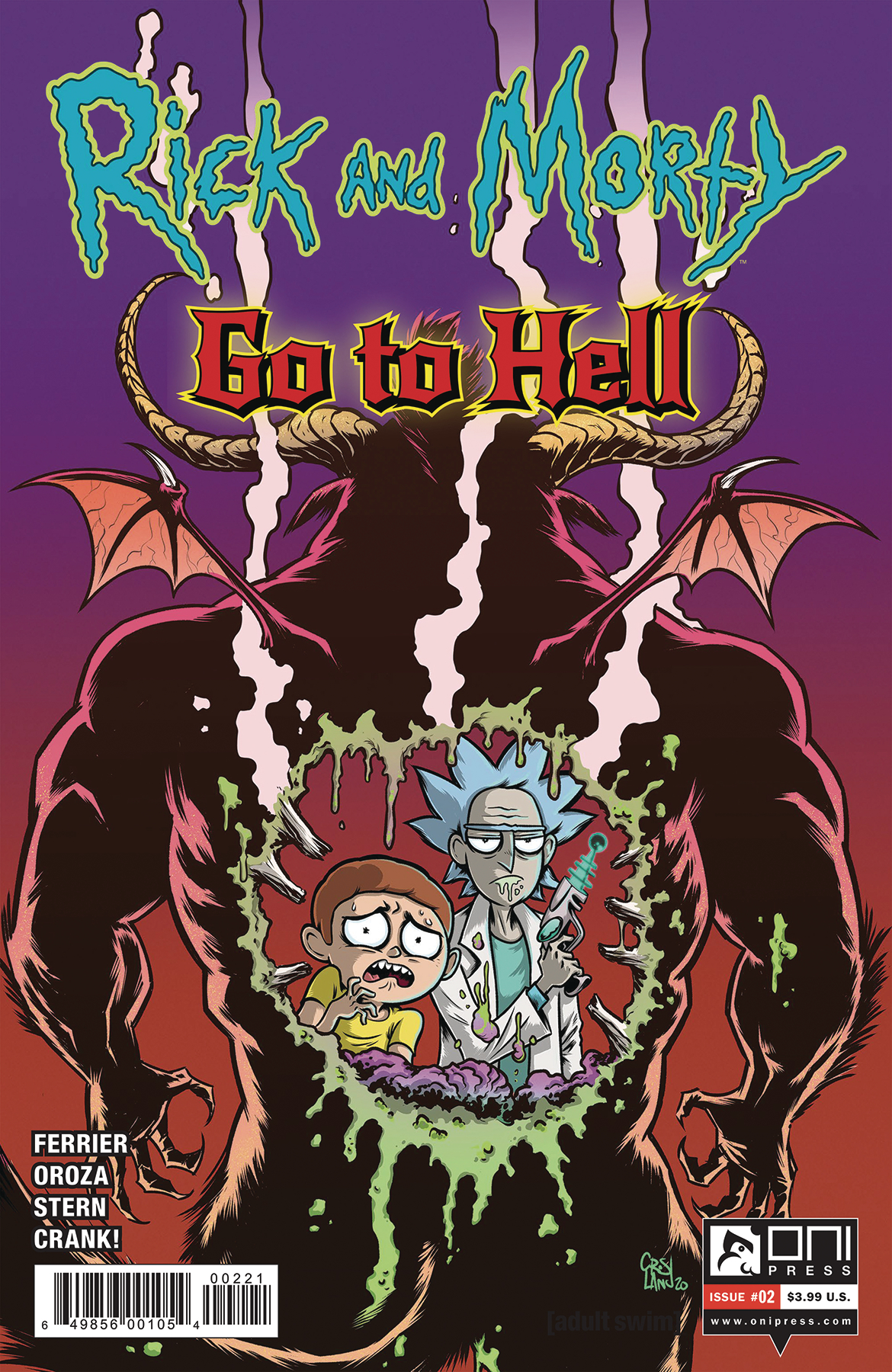 INVADER ZIM HC VOL 04 DLX ED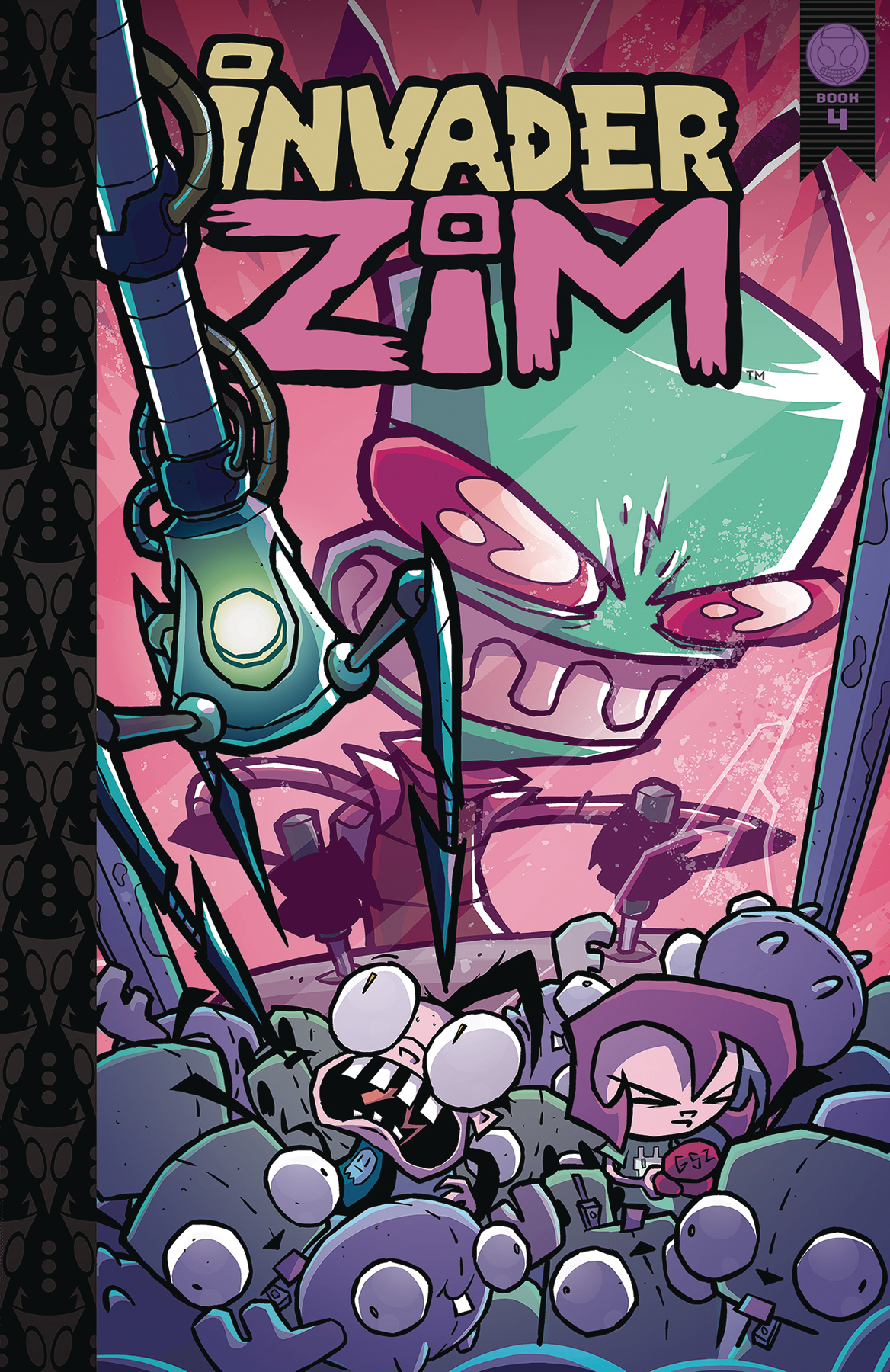 MAR202004
(W) Eric Trueheart, Sam Logan (A) Kate Sherron (CA) Warren Wucinich
This collection of issues #31-40 includes the fabled ZIM Halloween special, as well as the troubling two-part Prison special, the disturbing "Is ZIM actually Dib's brother?" storyline, and the death of GIR! Don't worry, he comes back. These fine comics have been genetically enlarged for your reading pleasure, so toss your glasses out the window and get the bedpan ready!
In Shops: Jul 01, 2020
SRP: $49.99
ROGUE PLANET #2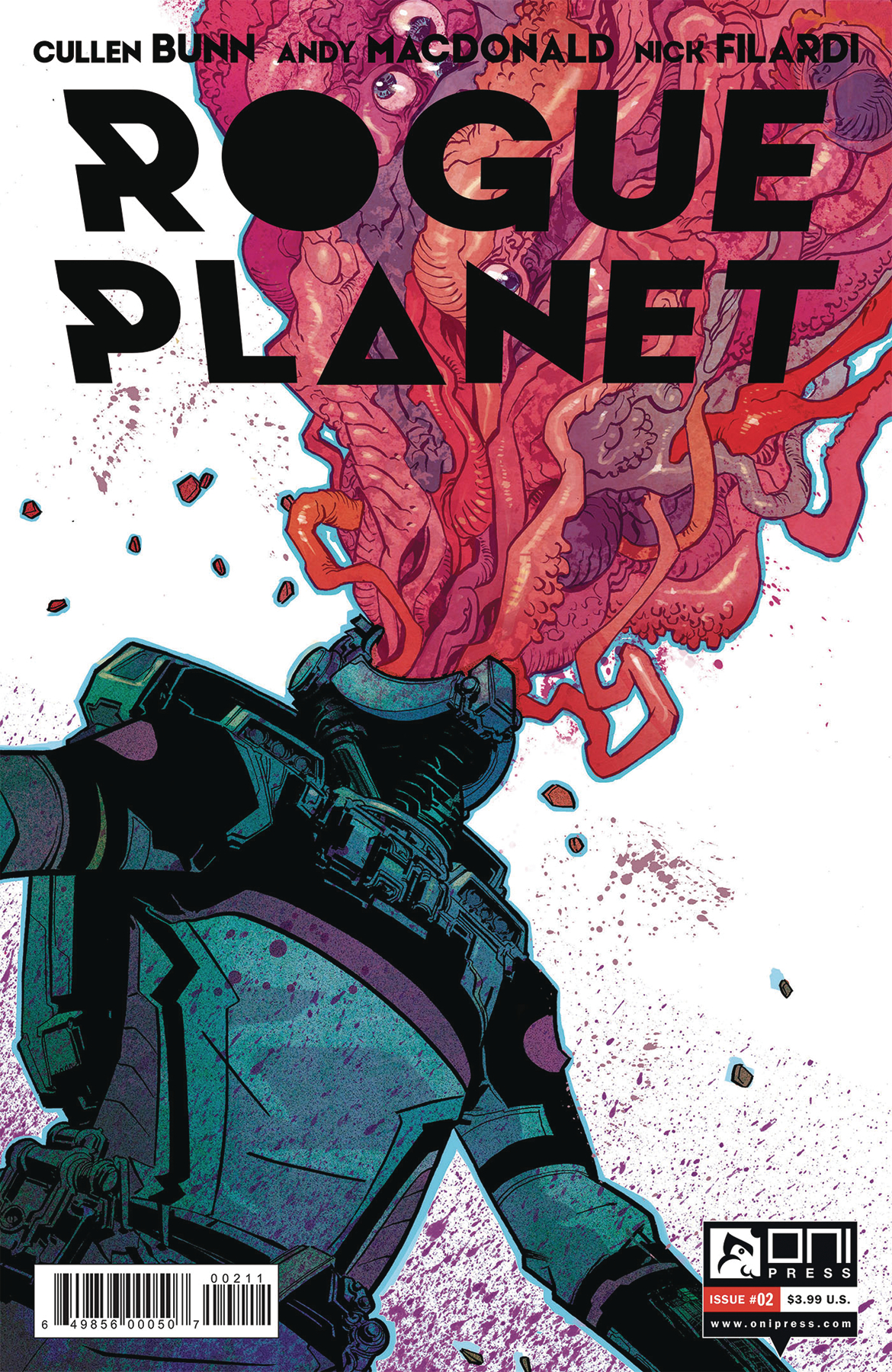 MAR202005
(W) Cullen Bunn (A/CA) Andy MacDonald
The crew of the salvage vessel Cortes set down on Lonely Orphan with dreams of getting rich. Now, they desperately hope to escape with their lives, as the planet itself displays a malicious intelligence-an intelligence that turns the crew's worst nightmares against them.
In Shops: May 13, 2020
SRP: $3.99
DRYAD #3
MAR202006
(W) Kurtis J. Wiebe (A) Justin Osterling (CA) Tomas Oleksak
Things just got personal, and the entire Glass family finds themselves the target of a mysterious attack on Frostbrook. But they're not going down without a fight and it seems that Yale and Morgan have a few tricks up their sleeves, and not to mention, a few secrets that have come back to bite them.
In Shops: May 13, 2020
SRP: $3.99
BACKTRACK #4 (MR)
MAR202007
(W) Brian Joines (A) Jake Elphick (CA) Marco D'Alfonso
Tensions rise as the number of drivers remaining dwindles with each leg of the race. Everyone is on edge, and Eron's health is quickly deteriorating as he succumbs to the plague. But there's little time to knuckle down on anything before the drivers are transported to 1970's Berlin, Germany.
In Shops: May 13, 2020
SRP: $3.99
KAIJUMAX SEASON 5 #4 (MR)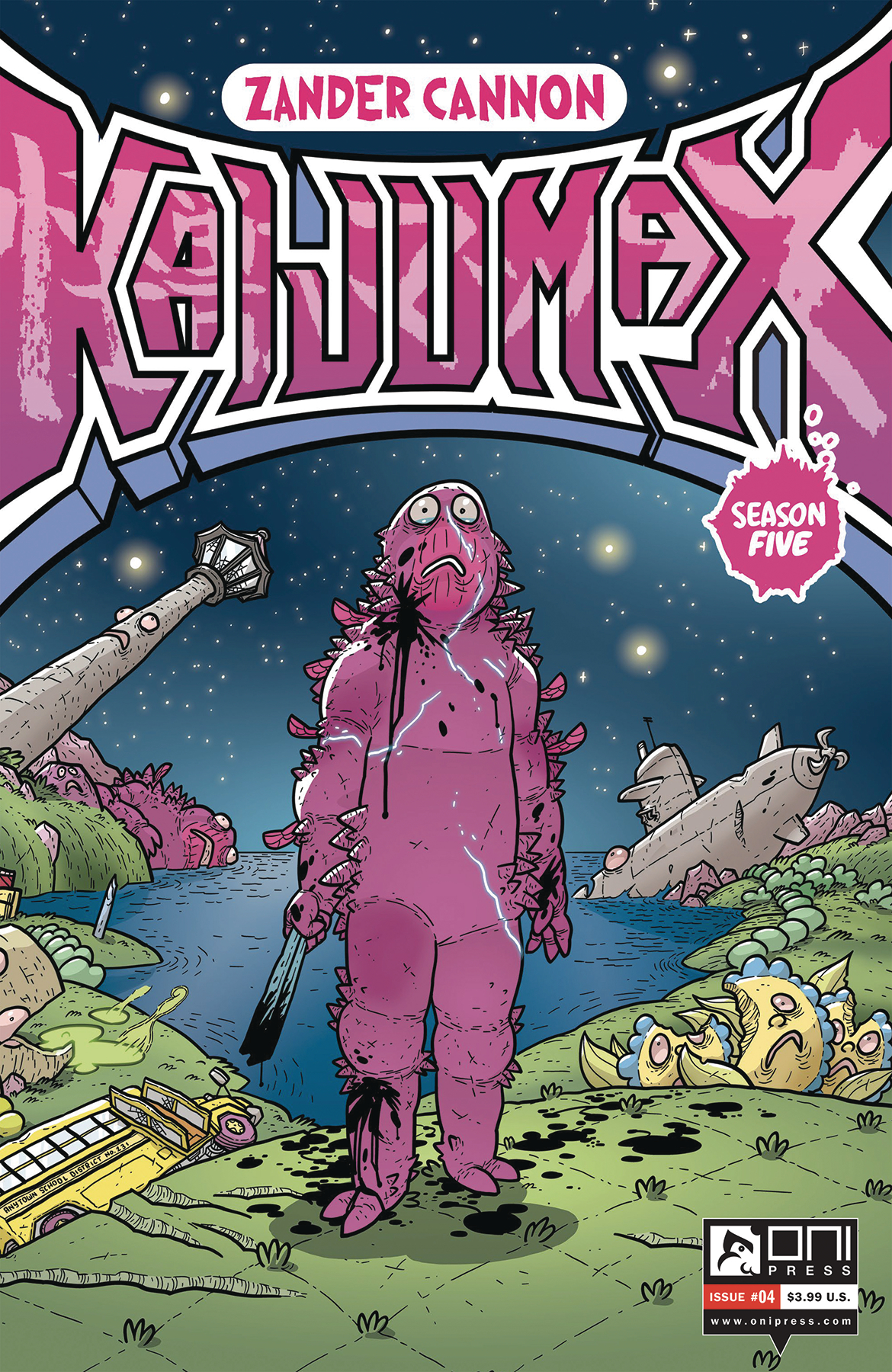 MAR202008
(W) Zander Cannon (A/CA) Zander Cannon
On the eve of crime boss Pikadon's trial, his gang's search for the snitch levels its crosshairs on new inmate Sprinkles and his new friends. Matsumoto's 50-year-old coverup is unraveling fast as she scrambles to silence the Enigmirian's motion to free Hermie, her massive crustacean fall guy.  Plus: Ugly truths! Sinister paperwork! A cheery visit from an ancient evil! And… a bus gets eaten like a burrito?
In Shops: May 27, 2020
SRP: $3.99