Justice League of America #28 Review: They're Here to Save us Ahl
[rwp-review-recap id="0"]
Chronos has Ahl, the God of Superheroes. The Justice League of America are the only one's who can save Ahl. Through a clever ploy from the Atom and the Ray, the JLA snatches Ahl from Chronos and retreat to another position. However, Chronos has an eternity in which to plan, and he has an army of the most vicious warriors in history. Can the Justice League protect Ahl from Chronos?
Justice League of America #28 presents a compelling "final stand" for the team against Chronos, and the meaning behind the God of Superheroes finally begins to take shape.
Also, I can't get past how much Ahl looks like the Sentry.
This issue is evenly split between all-out war between the JLA and Chronos and the two sides planning their next moves. The Atom and the Ray get much of the spotlight, with the former trying to live up to the legacy of his predecessor and the latter speaking with Ahl.
Ahl himself is a return to metanarrative for writer Steve Orlando, with the most recent instance of such being his Milk Wars collaboration with Gerard Way.
The God of Superheroes is a naïve and simple being who only hoped to make Earth a better place. He knows that the idea of superheroics have been perverted and complicated by time, and it shows how simple and altruistic the idea may seem. However, reality complicates event he purest of ideas. This is a nice idea; it's both a send-off to the classic tales while making concessions for how things are. The stories became more complicated because they needed to be.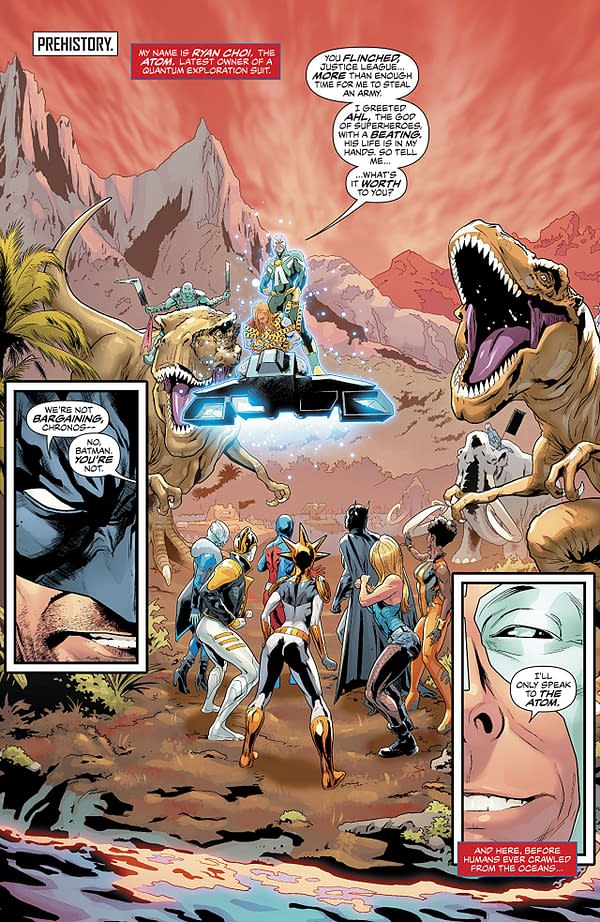 Hugo Petrus' artwork continues to dazzle with its realism and focus on action and movement. It looks great going from panel-to-panel, and the costumes are given impeccable detail. Also, Black Canary gets to punch out someone who looks a lot like Gerard Butler's King Leonidas, so that's great. Hi-Fi's color work keeps things bright and colorful, saturating the pages with lighter tones. It works well and makes the pages really pop.
Justice League of America #28 is another impressive installment from Orlando, Petrus, and Hi-Fi. The story flows well, has a lot of action, and even edges out a couple of thoughts about the superhero genre. Chronos is a great villain, and his dynamic with Ryan Choi is compelling. This one gets a recommendation. Check it out.
[rwp-review-ratings id="0"]
[rwp-review-form id="0"]