Kal-El As Moses In Action Comics #2
*** POTENTIAL SPOILERS FOR ACTION COMICS #2***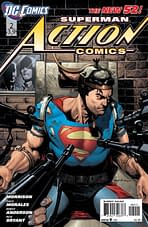 There are a number of things that are surprising about the second issue of Action Comics.
The first is that the story is only twenty pages long, and $3.99. Oh there's back up material, looks at things yet to come, and a preview of Batman: Arkham Asylum in the back, as there is in a number of DC Comics this week… but part of the promise of the $3.99 books was around thirty pages of story. I know, I know, we know the price of something and the value of nothing, but still.
But we also get a look at the design of the crashed rocket ship that brought Superman to Earth. And the new design for Jor El.
In the comic book, while breaking out of his prison, he encounters the rocket ship, also seized by the military, with a familiar colour scheme and covered in hieroglyphics. Oh, and it speaks to him. How is your Kryptonian these days? In the back of the comic, Grant and Rags make for an explanation. And both of them see it as the equivalent of Moses' basket. Given the Jewish mythological origins of Superman, it seems natural and right, but it steps away from the Messiah allegory that Christians have usually favoured.
Action Comics #1 kicked off with a humdinger of a chase, as Superman moved from location to location, pursuing and being pursued. He could go anywhere, do anything until… suddenly he couldn't.
But here is is, trapped. And it's such a different tone and pace. For much of the issue, there is business around Superman but he stays in the chair. The comic also really reminded me ever so of the Dalek episode of Doctor Who a few years ago, the lone, tortured Dalek replaced by Superman, ashe carries out many similar actions in his escape. The escape, the soldiers, the stairs, it feels very familiar. But it's the crashed ship, held close to Superman's cell that provides impetus for action. And it's only when he starts to move in a directional sense that the book begins to pick up its previous pace.
Lex Luthor doesn't just look evil here, he looks oily, skevy, his eylids drooping in a fashion close to Dr Evil in Austin Powers. His humiliation here will only add emotional resonance to his intellectual argument against Superman.
Suoperman however, despite undergoing considerable torture, stays chipper. One moment brings him laughter, another sees him surrounded by bodies in a lift with a smile on his face. He's enjoying this, enjoying the very act of being. It's rather uplifting, albeit shorter than expected.
The conflict between the human and the super, just be existing, seems to be the focus of the book, and we see it explored by different people in different ways – destruction, emulation, empathy and awe. It may not have as much physical direction as the first issue, but it has plenty more thematically.
And also in the back we get Gene Ha's designs on Krypton for an upcoming issue when he'll be filling in on the Krypton scene, Which mean as well we get to see Gene Ha's design for Jor-El as well.
And designs for the big bad at the end… well I have to leave some surprises, don't I?
Comics provided by Orbital Comics of London. Do check out their podcasts.