Kingpin's Debut In Amazing Spider-Man #50 At Heritage Auctions Today

Kingpin is one of the most important characters in the Marvel universe, and thanks to the Daredevil TV show and rumors about the character's theatrical future, his comic appearances are shooting through the roof right now. Take for example his comic debut, in Amazing Spider-Man #50. Always a key book anyway, now it is one of the hottest back issues on the market. Taking bids today at Heritage Auctions is a CGC 9.6 copy of the book, one of the highest graded copies on the census. The price it is currently sitting at, $15,500, is a testament to not only how special this copy of the book is, but just how important Kingpin has become. Check it out below.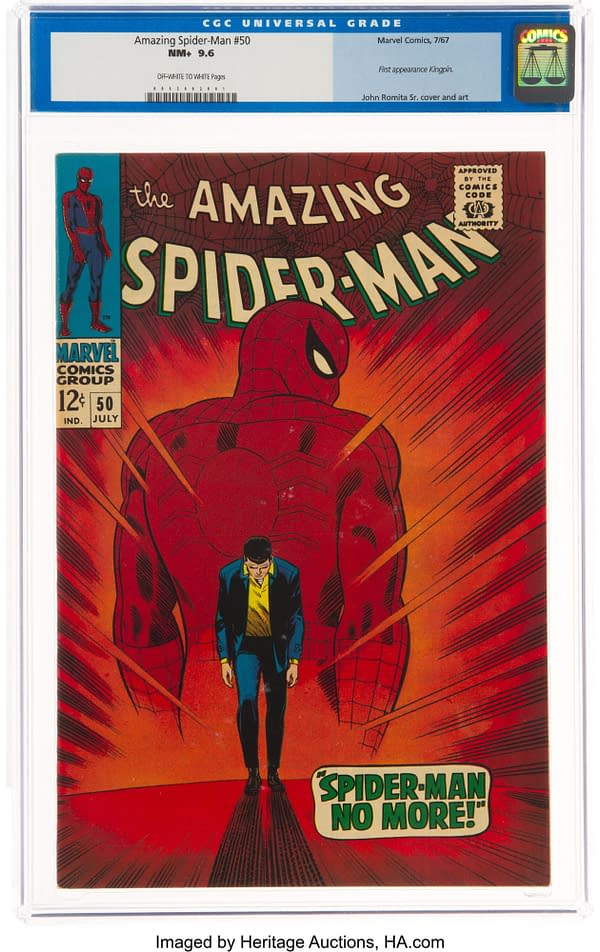 Kingpin Coming To The MCU Will Blow It Up Further
"The Amazing Spider-Man #50 (Marvel, 1967) CGC NM+ 9.6 Off-white to white pages. The first appearance of the Kingpin makes this book a hot commodity, and it also contains a retelling of Spider-Man's origin. Johnny Carson and Ed McMahon make cameo appearances. John Romita Sr. provided the iconic cover (arguably the best of his run as series artist) and story art for the issue. Overstreet 2021 NM- 9.2 value = $4,000. CGC census 9/21: 15 in 9.6, 7 higher. From the #1 Amazing Spider-Man Registry Set Collection."
Not only for Kingpin, but this is also such an iconic cover and story, this just may be one of the five best issues of Spider-Man of all time. And in this condition, one of the best you can add to your collection. Go here for more info, and to place a bid if you are interested. While you are there, check out all of the other Spider-Man books taking bids today, as there are a bunch of pretty special copies of some heavy-hitter issues up there right now. This one is just the tip of the iceberg really.