Last year, Bleeding Cool reported that Image Comics would be publishing a sequel to Kit & Cat Seaton's graphic novel Scottish fairytale Norroway. Today it went all official, with Norroway Book Two: The Queen on the High Mountain.
"I'm really thrilled to showcase an older, wizened, more grizzled Sibylla," said Kit Seaton. "Plus there's a new cast of characters who will add depth, as well as twists and turns to the narrative. We've really taken the story to new heights (pun intended) and can't wait to show readers this widened view of the world of Norroway."
Happiness is an illusion when unfinished business awaits. Seven years have passed since the disastrous events of Norroway, Book One, and now it's time for Sibylla to face her curse-breaking destiny. When Troll Kingdom soldiers arrive in the once-safe town of Fiskeby, she's forced to flee up the Glass Mountain. But the moment she steps foot on Troll lands, she's thrown into a jail cell, where she discovers her amnesiac ex-fiancé is set to wed the Troll Queen's daughter. Using all of her wits, she must convince the princess to turn against her own mother, or else face execution on the day of the wedding—and doom the kingdom to remain cursed forever.
Cat Seaton added: "In this book we really start to break free of the mold of the original fairy tale—most of the set up has happened, and now we're seeing the payoff, and the consequences. Canonically, it's seven years between the lead character's fall down the mountain and her climb back up. In the original fairy tale you have a girl who waited. With Sibylla, she stopped waiting. She moved on. And then her past came knocking."
Norroway, Book Two: The Queen on the High Mountain will be available on Wednesday, August 26th and in bookstores on Tuesday, September 1st.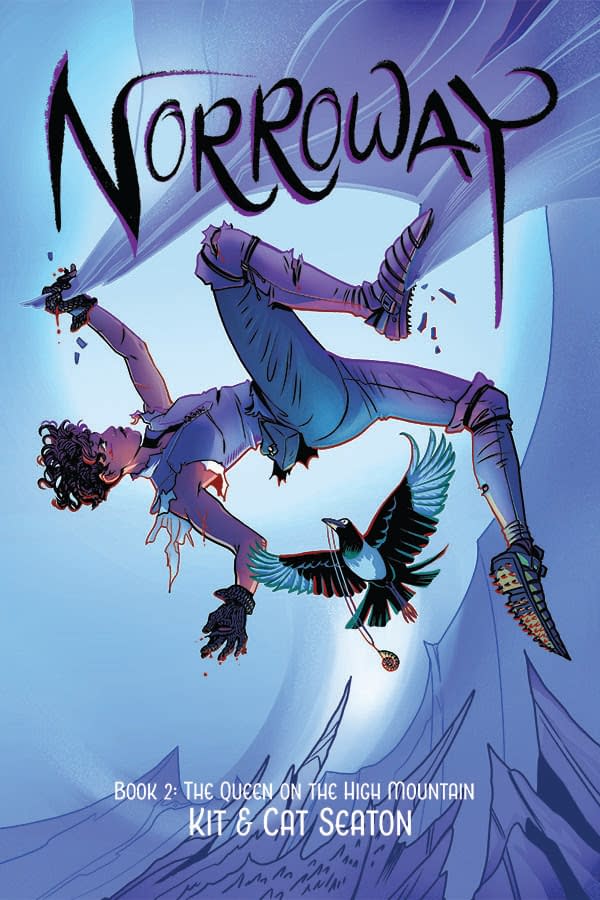 Here's a look at the character design work in progress… and you can get even more by joining their Patreon.
Enjoyed this article? Share it!