Korea's LINE Webtoon Make Presence Known in Ringo Awards 2019 Nominations
The 2019 Mike Wieringo Comic Book Industry Awards are to be presented on the evening of Saturday, October 19th as part of the Baltimore Comic-Con. The Ringo Awards nominations, created by fans and creators alike, will be voted on by just the comics creative community. Here are the nominations for 2019.
One thing is notable is that increase in prominentce of publisher, LINE Webtoon, the Korean-based free digital comics publisher. With nominations for best cartoonist with Echorise and Enjelicious, letterer Archan, colourist YaongYi, best humour publications Bluechair and Love Advice from the Great Duke of Hell, and webcomic work Age Matters by Enjelicious, Lavender Jack by Dan Schkade, Luff by Arechan and Nothing Special by Katie Cook.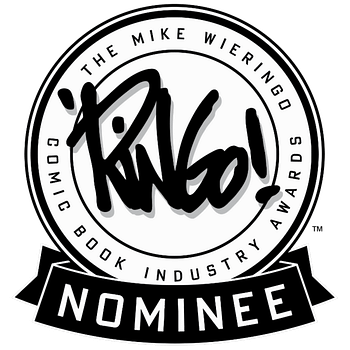 Best Cartoonist
Echorise
Enjelicious
Terry Moore
Sean Murphy
Jim Woodring
Best Writer
Brian Michael Bendis
Richard Dent
Rylend Grant
Jeff Lemire
Scott Snyder
Brian K. Vaughan
Best Artist or Penciller
Joe Bennett
Shawn Daley
Ezra Claytan Daniels
Steve Ellis
Ronilson Freire
Dan Mora
Dustin Nguyen
Ryan Ottley
Sean Phillips
Best Inker
J.P. Mayer
Mark Morales
Ron Randall
Fiona Staples
Sana Takeda
Best Letterer
David Aja
Arechan
Taylor Esposito
Jared K. Fletcher
Todd Klein
Best Colourist
Tamra Bonvillain
Steve Conley
Matt Hollingsworth
Rachel Smythe
Dave Stewart
Matt Wilson
YaongYi
Best Cover Artist
Travis Charest
Nick Derington
Dan Mora
Sara Richard
Alex Ross
Fiona Staples
Jim Woodring
Best Series
Batman: White Knight, DC Comics
Bitter Root, Image Comics
Black Hammer: Age of Doom, Dark Horse Comics
Blammo, Kilgore Books
The Highest House, IDW Publishing
The Immortal Hulk, Marvel Comics
Venom, Marvel Comics
Best Single Issue or Story
Aberrant #4, Danger Zone
Black Hammer: Cthu-Louise, Dark Horse Comics
Champions #24, Marvel Comics
Klaus and the Crying Snowman, BOOM! Studios
Swamp Thing Winter Special, DC Comics
Best Original Graphic Novel
The Ghost, The Owl, Action Lab Entertainment
My Heroes Have Always Been Junkies, Image Comics
Son of Hitler, Image Comics
Upgrade Soul, Lion Forge
Woman World, Drawn & Quarterly
Best Anthology
Action Comics: 80 Years of Superman, DC Comics
All We Ever Wanted: Stories of a Better World, A Wave Blue World
Femme Magnifique: 50 Magnificent Women Who Changed the World, Black Crown/IDW Publishing
Grief, Source Point Press
Twisted Romance, Image Comics
Where We Live, A Benefit for the Survivors in Las Vegas, Image Comics
Best Humor Comic
Bluechair, Line Webtoon
Get Naked, Image Comics
Love Advice from the Great Duke of Hell, Line Webtoon
MAD, DC Comics
Rick and Morty vs. Dungeons & Dragons, IDW Publishing
Best Comic Strip or Panel
Amazing Spider-Man, Stan Lee/Larry Lieber, King Features Syndicate
Bloom County, Berkeley Breathed, Andrews McMeel Universal
Doonesbury, Garry Trudeau, Andrews McMeel Universal
Garfield, Jim Davis, King Features Syndicate
Luann, Greg Evans, Andrews McMeel Universal
Nancy, Olivia Jaimes, Andrews McMeel Universal
Pearls Before Swine, Stephan Pastis, Andrews McMeel Universal
Best Webcomic
Best Non-fiction Comic Work
All the Answers, Simon & Schuster
The Bridge: How the Roeblings Connected Brooklyn to New York, Abrams ComicArts
Hey, Kiddo, Graphix
I Moved to Los Angeles to Work in Animation, BOOM! Studios
Let's Make Comics!, Watson-Guptill
Where We Live, A Benefit for the Survivors in Las Vegas, Image Comics
Best Kids Comic or Graphic Novel
Aquacorn Cove, Oni Press
Be Prepared, First Second Books
Jupiter Jet, Action Lab Entertainment
The Nameless City: The Divided Earth, First Second Books
The Prince and the Dressmaker, First Second Books
Punk Taco, Adam Wallenta Entertainment
Best Presentation in Design
Absolute Sandman Overture, DC Comics
Berlin, Drawn & Quarterly
Madman Quarter Century Shindig, IDW Publishing
My Heroes Have Always Been Junkies, Image Comics
Only Living Boy Omnibus, Papercutz
Persephone, BOOM! Studios
Terry Moore's Strangers in Paradise Gallery Edition, Abstract Studio/Graphitti Designs
Yellow Negros and Other Imaginary Creatures, New York Review Comics