In House Of X, we learned that mutants, when brought back to life by The Five of Krakoa, are naked. And seem to remain naked when paraded in front of the rest of the population of Krakoa while everyone screams out that they are mutants. Rather than that they are naked. Does Krakoa need someone to look at the Emperor and point this out?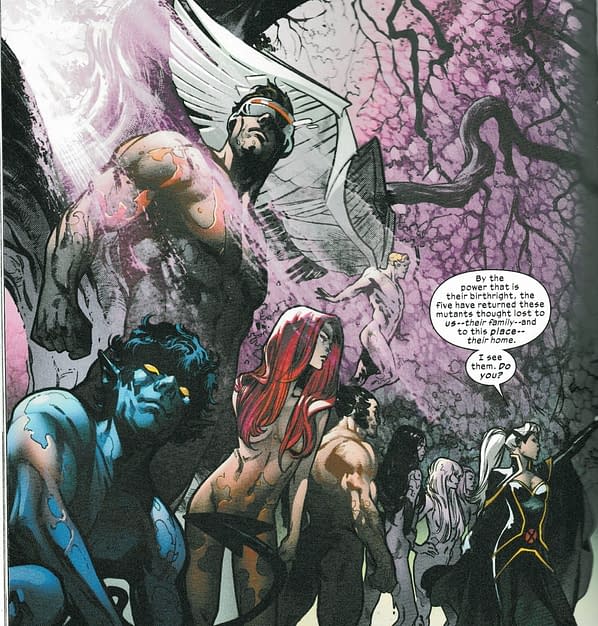 In today's Dawn Of X, we return to that theme. In Marauders, Sebastian Shaw brings back his son, Shenobi Shaw but, as any proud father would, he gives him a gown straight away.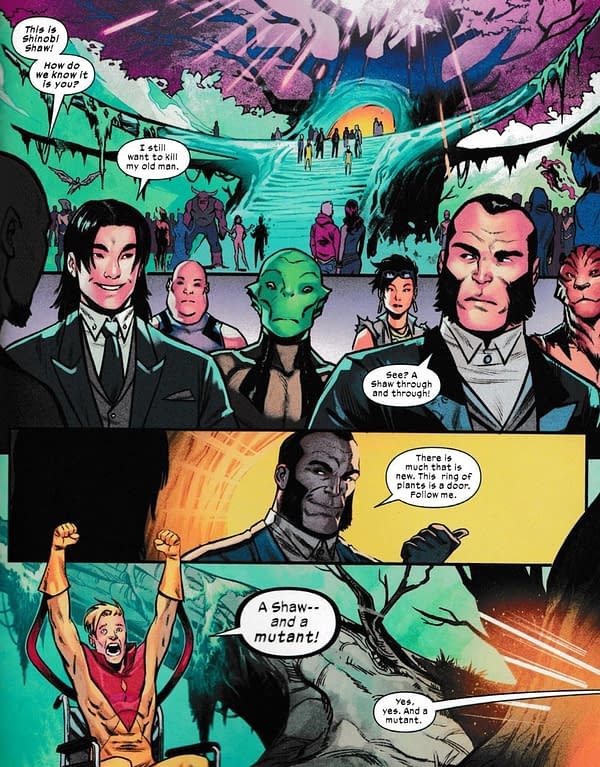 Now we know that Debastian killed Shenobi the first time… but was brought back to life in X-Necrosha.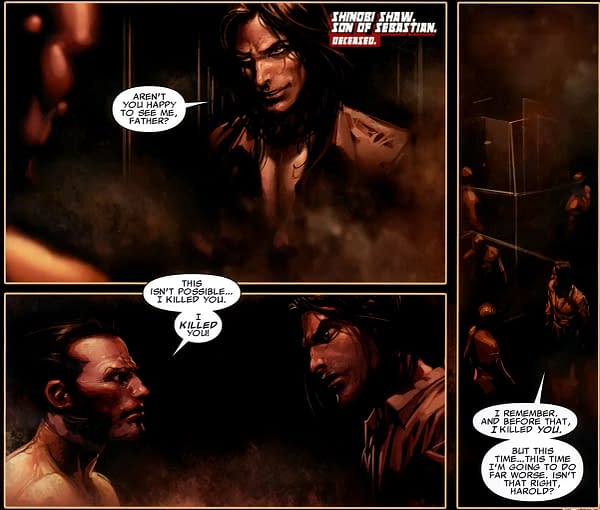 Before killing himself in the previous run of Uncanny X-Men, rather than be defeated and be captured.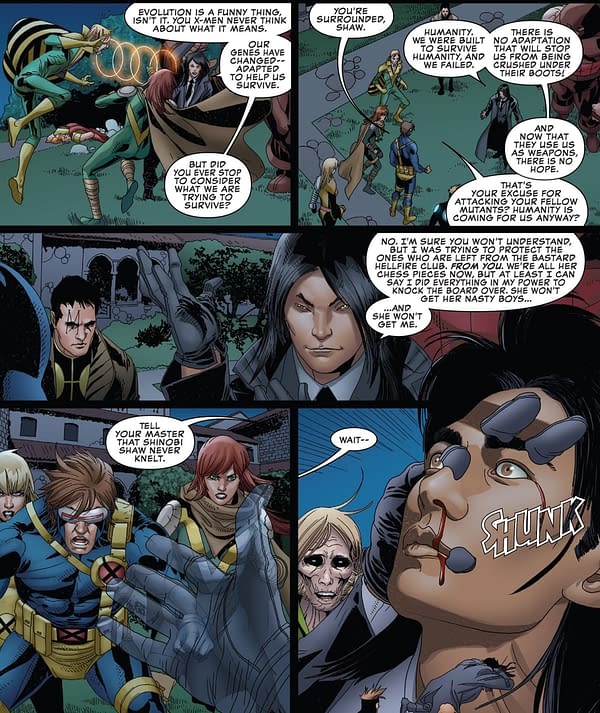 Not that Shenobi seems to have any memories of this. But it's useful to put Sebastian Shaw's words into context…
While over in Excalibur, as Rictor is dealing with his own issues, it seems like nudity is being associated with Krakoa but the world population as well, as mutants are removing their 'human' clothes before going through the gate for the first time.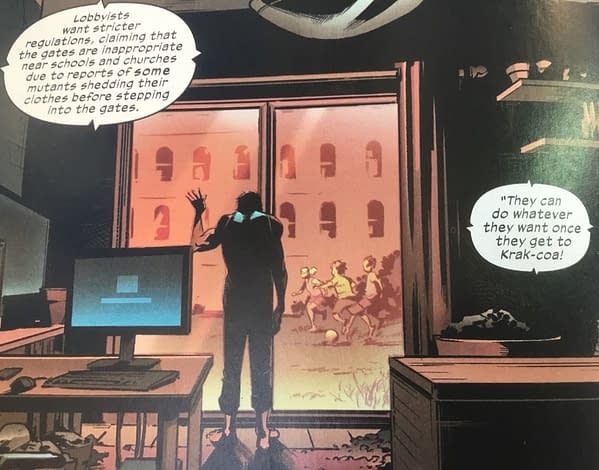 Maybe compulsory nudity will be added to the Krakoa constitution – tie it into that Make More Mutants edict?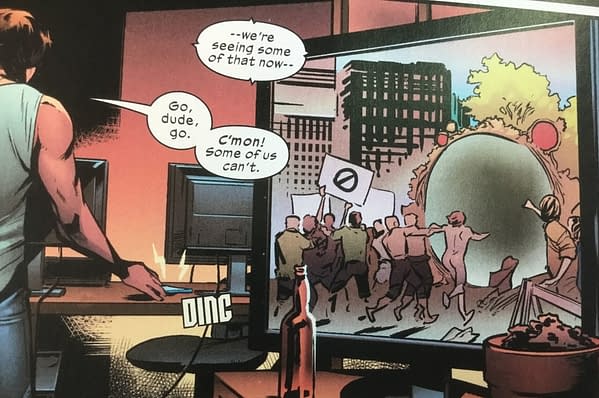 There seems to be some discordance regarding how those gates are looking… over in Excalibur, the Central Park gate looks like this…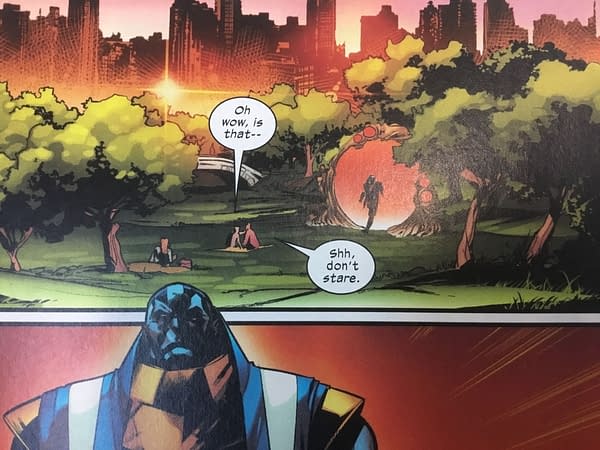 While in Marauders, it seems to have been militarised up…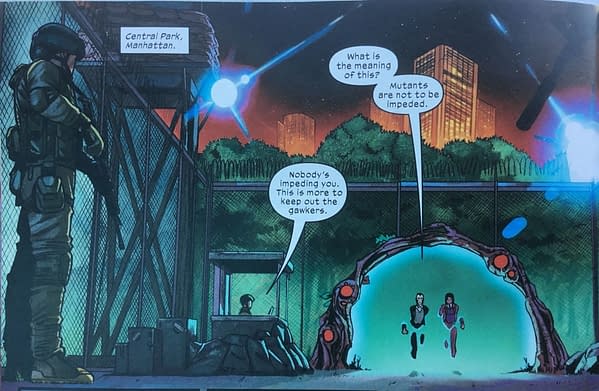 Giving Shaw a chance to, well, make it look more like it looks in Excalibur.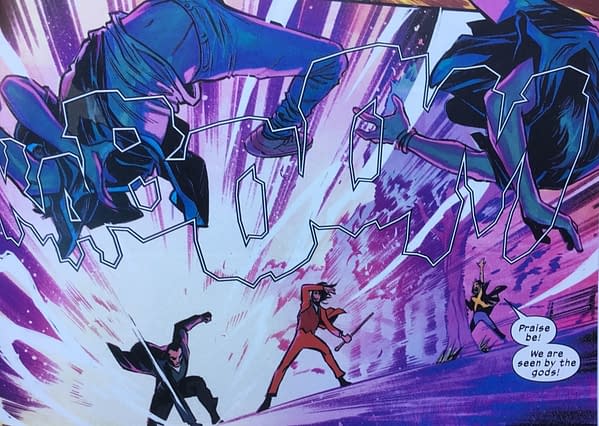 Sebastian Shaw is a little more diplomatic over in X-Men #3/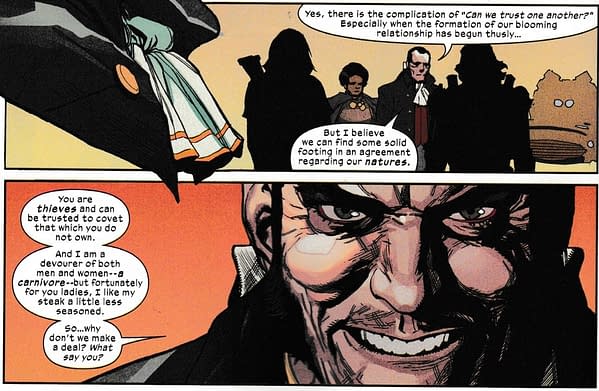 With a new enemy of the mutants and Krakoa – villains with a point – who have their own interpretation of X-nudity as well. Or, at least, Emma Frost's continual flirtation with it.
Excalibur #3, X-Men #3, Marauders #3 are published by Marvel Comics today in all good comic shops. I bought mine from Piranha Comics in Kingston-Upon-Thames. Piranha Comics is a small south London comic store chain with a small south-east store in Kingston-Upon Thames's market centre, which runs Magic The Gathering nights on Fridays, and a larger south-west store in Bromley, which also runs Magic nights and has an extensive back issue collection and an online store. If you are in the neighbourhood, check them out.
EXCALIBUR #3 DX
(W) Tini Howard (A) Marcus To (CA) Mahmud Asrar
THE GREEN EARTH TREMBLES!
THE HARD TRUTH OF THE CAPTAINS BRITAIN!
Captain Britain must face the truth about her brother and choose her path forward as MI-13 and the agents of the crown become aware of her ascension. As the lighthouse grows, Apocalypse and Rictor must master the earth beneath their feet. Rated T+In Shops: Dec 04, 2019 SRP: $3.99

X-MEN #3 DX
(W) Jonathan Hickman (A/CA) Leinil Francis Yu
EARTH'S MOST POWERFUL! CYCLOPS STORMS THE SAVAGE LAND!
The most powerful heroes of the dominant species on the planet, the X-Men rise to protect the world against any threat. From a new foe in the Savage Land to an old nemesis' surprising return… Rated T+In Shops: Dec 04, 2019 SRP: $3.99

MARAUDERS #3 DX
(W) Gerry Duggan (A) Michele Bandini (CA) Russell Dauterman
SALT WATER & HELLFIRE! THE NEW BLACK BISHOP OF THE HELLFIRE CLUB!
Sebastian Shaw recruits a new Black Bishop continuing with his machinations against the two Queens of the Hellfire Club! Meanwhile, Captain Kate and her Marauders wreak havoc on the high seas from the Atlantic to the Pacific in the name of the mutant cause! Rated T+In Shops: Dec 04, 2019 SRP: $3.99
Enjoyed this article? Share it!