"L.A. Is the Dark Heart Of Hardboiled Crime" – Nancy Collins Talks Swords Of Sorrow
Shannon Eric Denton, writer of Lady Rawhide/Lady Zorro #3, talks with writer Nancy Collins about Swords of Sorrow: Jennifer Blood/Vampirella #2, both on sale now. Cover art by Billy Tan.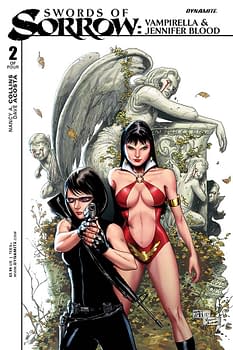 SHANNON ERIC DENTON: Nancy, your story takes place in my current hometown of Los Angeles. How do you feel setting your story in the city of angels affected your story?
NANCY COLLINS: L.A. is the dark heart of hardboiled crime—It's where Raymond Chandler set his Philip Marlowe stories, after all. I've also been to L.A. a few times over the last 25 years. It has a unique energy to it.
SED: You're bringing together two powerful women who are used to working alone. What opportunities are you looking forward to exploring in a story with two female leads?
NC: Writing a story with two female leads is no different than writing one with two male leads. You deal with their individual characters and characteristics and go from there. I wanted to utilize characters that were on opposite ends of the 'reality' spectrum and see how they react to one another. Of the two, Vampirella has proven quicker to adjust, so far—after all, she's used to having weird things happen to her every day. Jennifer Blood, on the other hand, prides herself on being strong-minded and rooted in the grim and gritty reality of the criminal underworld, so shifting gears to accept what she used to dismiss as make-believe is going to be a bit harder for her.
SED: Vampirella has years of comics continuity where as Jennifer Blood is a relatively new character. What are the challenges inherent in both legacy characters as well as new ones?
NC: When you do a team-up, you have to boil your leads down to their core essence and play to their strengths. In this case it comes down to Vampire and Vigilante. In Jennifer Blood's case, since she's a relatively recent character, I don't have to worry over much about contradicting continuity. In Vampirella's case, being in a reality without the supernatural is making her vampiric nature come to the fore, and, at times, we see her as Jennifer Blood does—as a dangerous monster.
SED: In our current comics climate of practical costumes versus the joyously ridiculous we have characters in this story that represent both. In another 25 years where do you think we'll be as an industry in terms of this discussion?
NC: Hopefully it will be a moot point by 2040. I know it will be one for me, by that time.
SED: Halloween is less than half a year away. Which of these two powerful ladies do you take trick-or-treating with you and why?
NC: Vampi, definitely. That's her time to shine.
SED: You've been doing a ton of fun stuff with Dynamite as of late. Which character in their library are you anxious to take a crack at?
NC: I've got an idea for a Jennifer Blood mini-series, and I'd love to try my hand at Pantha, another Warren-era character from my youth.
SED: Thanks again for your time and look forward to seeing you on the Con circuit soon!
NC: Same here—I'll be at Florence Comic Con this September, Monsterama, Fayetteville Comic Con, Jet City Comic Show in October, and Comiquecon in November!
For more information on Swords of Sorrow: Vampirella / Jennifer Blood #2, click here.