For those of you who supported the previous Lady Death Kickstarter, you'll be aware of the benefits of having a comic already existent with rewards created and in hand for backing a Kickstarter–you get your pledge rewards that much more quickly and in more generous amounts.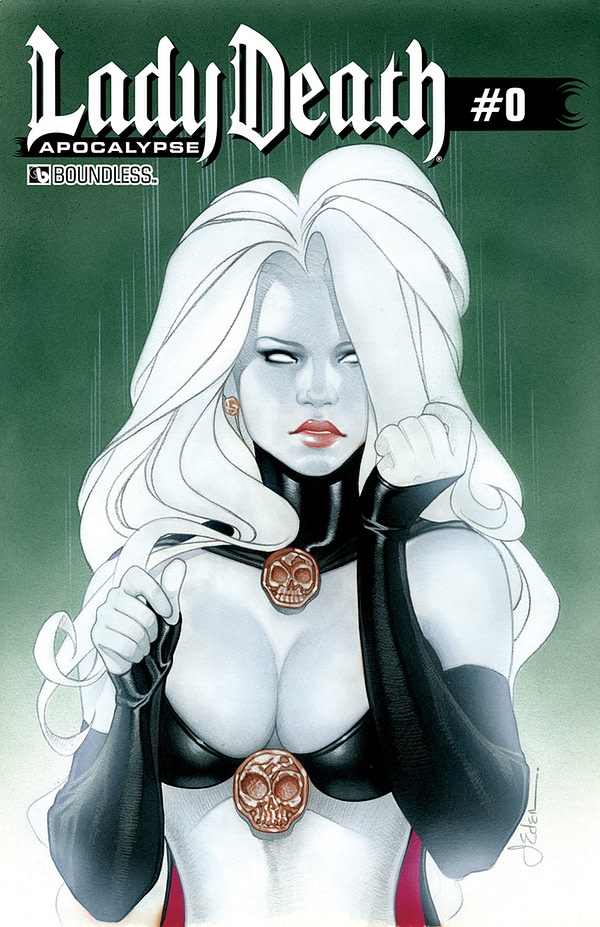 Lady Death has returned for a final Kickstarter from Boundless, and only for 12 days. In a single day of crowdfunding on Monday, it raised nearly its full modest goal of 5k. This last chance to get on board comes with almost embarrassingly expansive rewards packages, and for big fans of the series, the top tier is actually the wildest value at $650 for $2800 worth of books. The whole reward tier system is based around plenty of product.
The current Kickstarter is for the Lady Death: Apocalypse 0 issue, a "super-sized, self-contained issue" gathering several stories. The contents are:
…a 33 page all-new story from Brian Pulido titled "Merciful Fate". The first chapter features the stunning fully-painted art of Carlos Valenzuela! Series artist Marcelo Mueller lavishly illustrates the second chapter. This special also features the long-lost Lady Death: Dark Horizons story drawn by Wellington Alves that has to date only been seen in B&W. Now it will run in full color for the first time!
Boundless also promise that as the fundraising exceeds its goal, the issue will expand in content while maintaining the original cover price. The Kickstarter is also a double-product fundraiser, though, for the Digital Origins Library, however, of Lady Death #1-21. This will be the first gathering of its kind for all the pre-Boundless material and "all issues will be in one order, with re-mastered lettering and production".
Now, the project is about to hit its first stretch goal of $8,000, which will mean that the zero issue book retains its cover price but expands to 64 pages to include unseen sketch art and original inking from participating artists. If the Kickstarter reaches its second stretch goal of $18,000 which given the fact that it's nearly hit its first stretch goal in 36 hours, it may, then every copy of the zero issue will stretch to 96 pages of content.
The target date for fulfilling all rewards is in October 2015, at a quick turnaround. Make sure to check out the Kickstarter while it's still running in its short term campaign.
Boundless is a subsidiary of Avatar Press. Avatar Press is the parent company to Bleeding Cool.