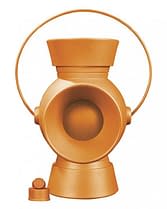 DC Comics has posted this video as an example of something to do with an Orange Lantern Power Battery prop. The video says its #1 of 31… so we may be seeing many more of these. And look below to see #2 of 31.
Funny that they picked the Orange battery which is the one the owner never wants out of his hands. I personally would've of used a Blue Lantern Power Battery as it seems kind of useless on its own… I mean the ring is kind of useless without a Green Lantern around. The blue ring of moral support…
I may have thought about this too much.
[youtube]http://youtu.be/Q1DLmoJM8ys[/youtube]
Oh… and they put a second one on their Facebook page.
Enjoyed this article? Share it!