Writer's Commentary – Leah Moore Talks Sherlock Holmes: The Vanishing Man #1
Dynamite has sent us a new writer's commentary from Leah Moore talking about Sherlock Holmes: The Vanishing Man #1, the new comic she co-wrote with John Reppion that has art by Julius Ohta and a cover by John Cassaday.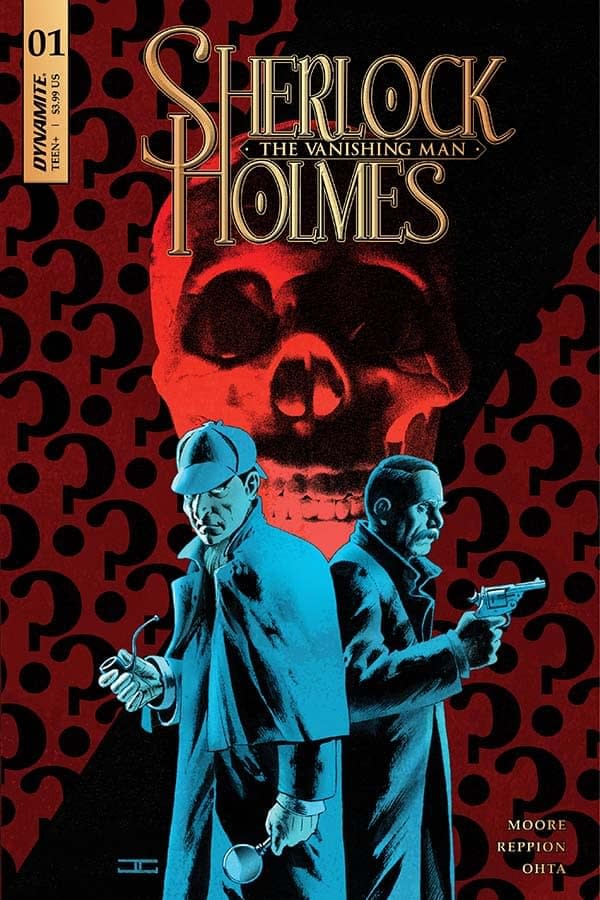 Page 1:
This is our third Sherlock Holmes book, and the thing we always make sure of is that the reader gets all the details up front.
If this were prose, we could describe a scene happening and then have Holmes come in and notice a detail and start deducing, but with a comic, the reader is always trying to outdo Holmes, and beat him at his own game, and solve the mystery for themselves, so we have to show everything right from page one.
We also have to make sure when the reader finishes the whole book, they get a different pleasure from the second read, because they can go through knowing what's behind it all, and match up the clues, and check what they got right on the first read.
It's a lot of pressure, but it's also a lot of fun!
What do we learn? Michael Williams has the afternoon off work! Yes. I know. Pretty gripping so far right?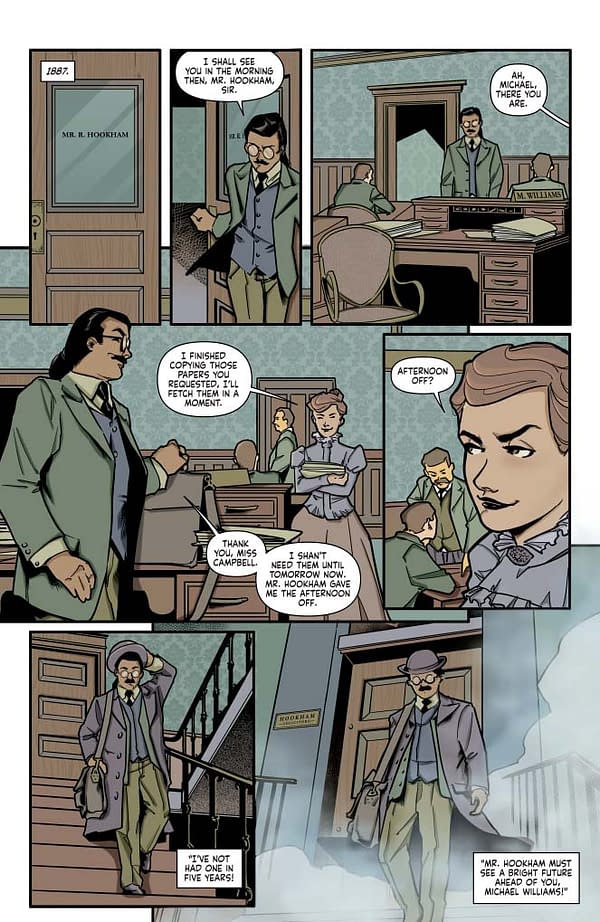 Page 2:
Michael Williams's commute. Despite his commitment to a healthy diet, his popularity takes a nosedive at this point. The book would be a whole lot shorter if Mr Williams didn't have the presence of mind to break his assailant's nose. Full marks, Williams! Now leg it quick!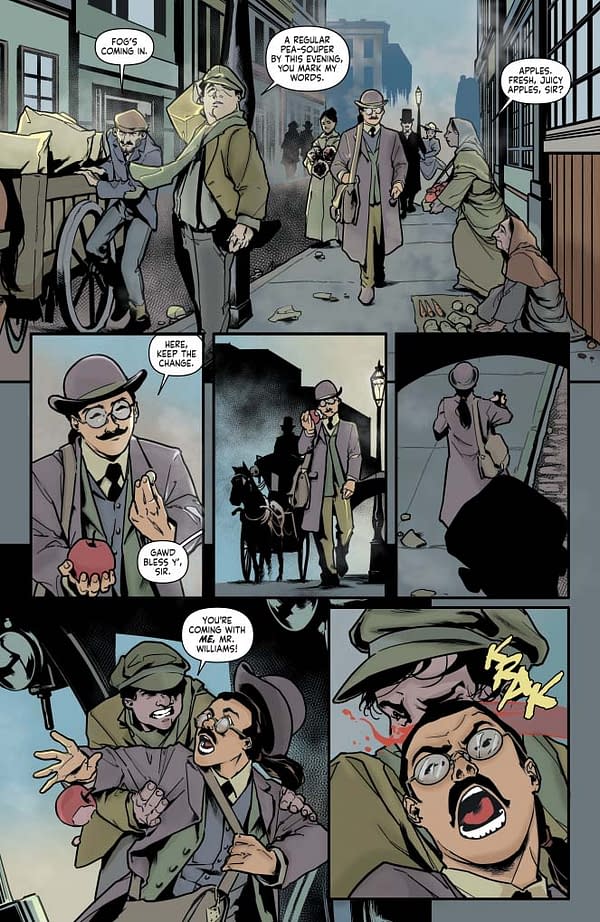 Page 3:
He has to find an escape, but is a laundry yard going to provide one? The guy isn't far behind him after all, and what does Michael have in his bag?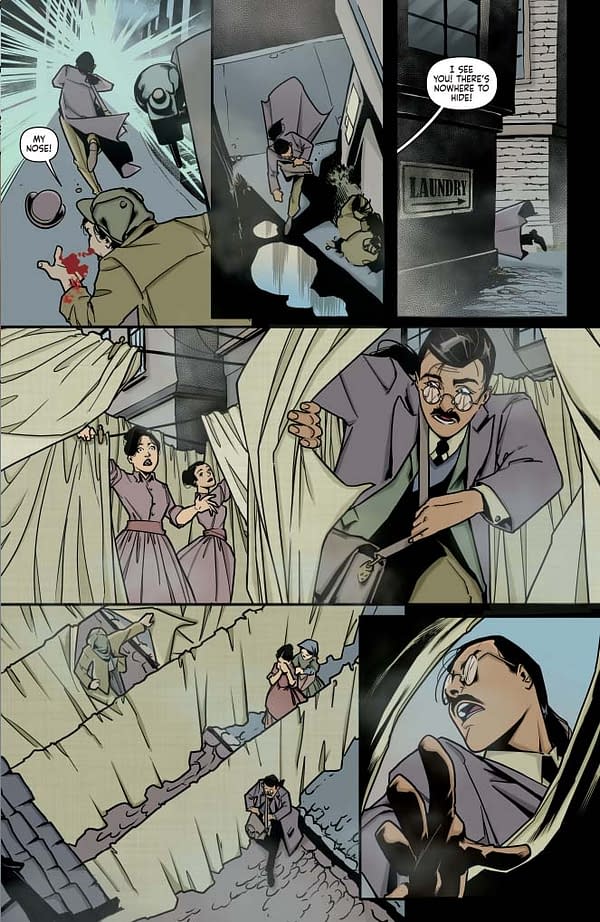 Page 4:
Okay that's your lot! Pretty intriguing, right? We need to leave Michael because otherwise you'd know the whole story, and that would be zero fun.
Think of this spread as a hop on hop off bus tour of the story world we are operating within.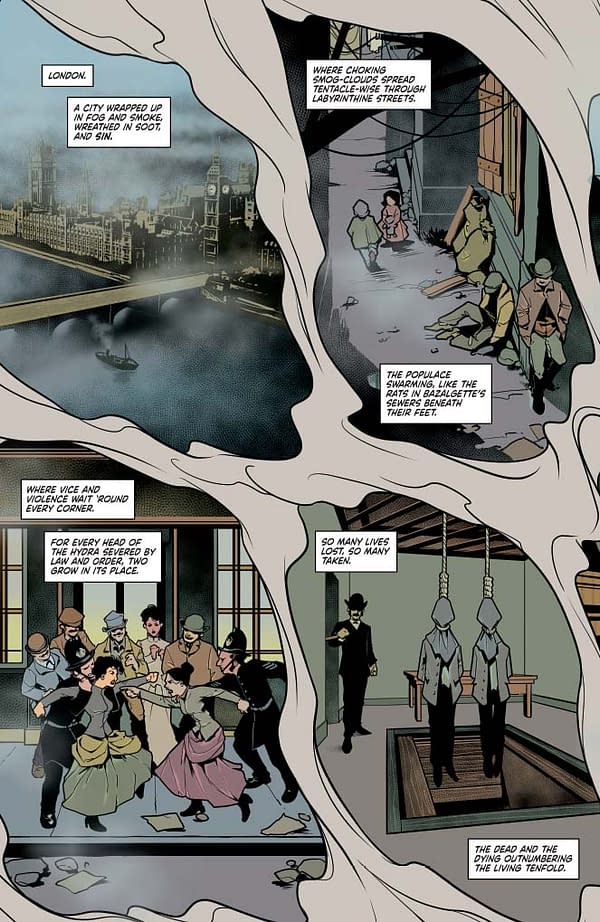 Page 5:
Your cheeky tour bus guide and narrator? None other than Mr. Sherlock Holmes! Alight here for Baker Street and Madame Tussauds please…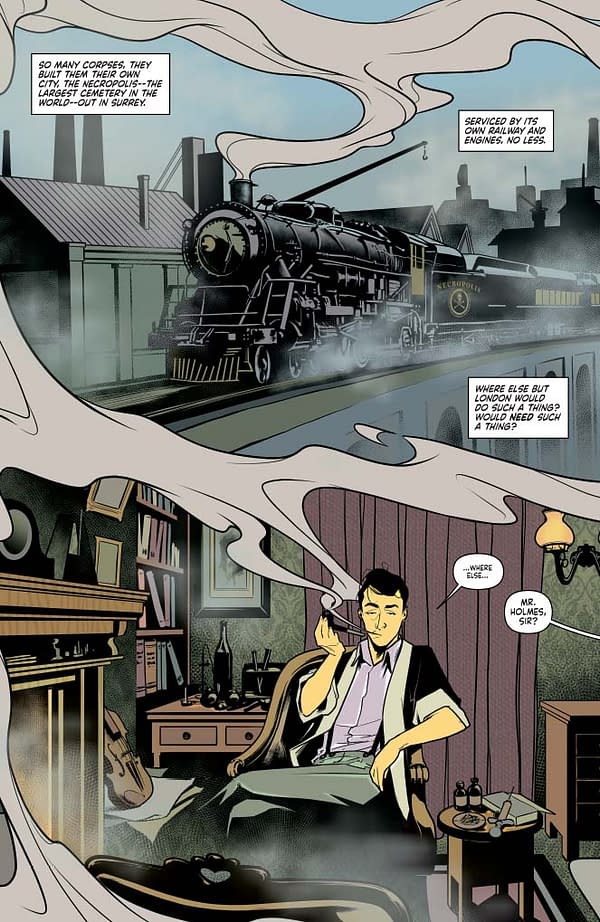 Page 6:
We realized after the last two books that we'd never used the Baker Street Irregulars, a gang of lovable little ruffians who help Holmes sometimes with his cases. They are rarely focused on for long, and seem to be always only a fruit barrow away, lurking ready to be of service for a coin or two.
Let's have a go of that then. Here we have one likeable urchin. Wiggins! Holmes has an errand for him. A pretty routine kind of thing, and handy for a man like Holmes not to have to interrupt his thoughts for worldly things such as shopping or paying his gas bill. He has people to do all that. Wiggins is one such person…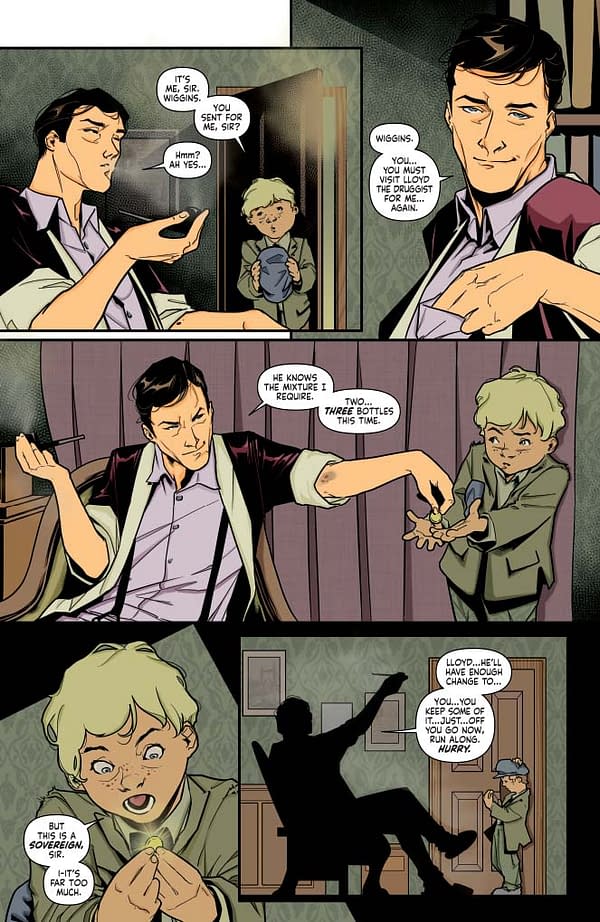 Page 7:
…and Watson is another. The good doctor arrives in time to chastise Holmes for sending a small boy out for his narcotics. To be honest, that does seem a bit much. Would you send your five-year-old to the off license for whisky? If you did, would you give them a fifty-pound note to buy it with? Holmes, man! What are you thinking? It's almost as if lethargy and substance abuse has clouded your usually acute sensibilities!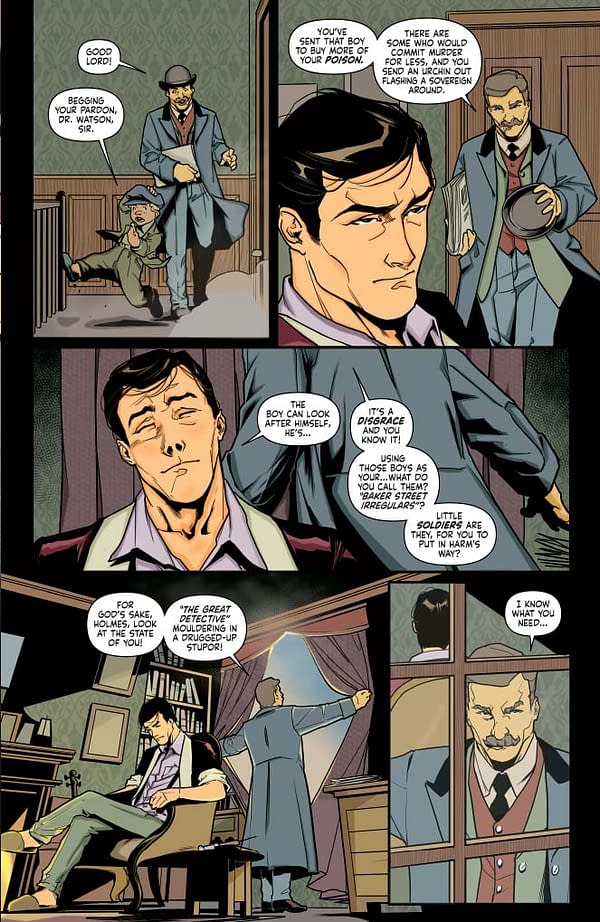 Page 8:
I love Watson. Watson is me trying to get my kids to do their homework. Watson is firm but fair, he's all heart, he's the long-suffering girlfriend, the sensible friend at the stag do. Watson is the best. I feel for the guy.
Page 9:
This page we see not only the third member of Holmes's little entourage, Mrs Hudson, but also his New Client. Surely, after rejecting all the crimes Watson suggested, then this lady won't last two minutes! Brace yourself for an acerbic termination to the conversation!
Page 10:
Hmm. Holmes hasn't pressed the ejector seat button yet, so he must have retained a particle of interest. But why? Surely there must be some dirt on this missing husband, right?
Page 11:
The very idea! May Williams is offended! Holmes is barking up the wrong tree, but clearly something is getting the cogs turning!
Page 12:
Okay, so now Holmes has a chance to catch up to the reader. He gets to see the office and works his deduction magic… surely he'll solve the whole thing right there and then? What were we thinking putting this in the first issue?
Page 13:
One of the pleasures of writing a Holmes story is the possibility of ridiculous Victorian facial hair. Luckily for us, Julius is as adept at drawing whiskers as he is everything else. Mr. Hookham and Mr. Withers are good enough to spare the Detective a few minutes to talk about their missing colleague. Holmes looks set to have this all solved before Mrs. Hudson has his dinner on the table.
Page 14:
Wiggins! Errand achieved! +1 Baker St Irregular XP and you get to keep the change for going. Well done that urchin! Oh… wait… hang on.
Page 15:
Now, of all the chemists in all the world, that Wiggins could be standing in, he had to stand in this one. Which is fine, right? Wiggins is fine. Everything is cool. It's a chemist. What could go wrong?
Ah. Yes.
Page 16:
Let's leave the little blighter for a moment, shall we? Why not. Seems perfectly safe to me.
Holmes and Watson are pretty cosy here. Hookham seems pretty helpful. They even have tea!
Page 17:
So what happened to Michael then? What's the odds-on bet? Hookham is a bit of an amateur sleuth himself, so let's entertain his theories. Why not? It costs us nothing, after all?
Page 18:
This is more like it, right? More exciting already. This is a bonafide Sherlock Holmes case that doesn't involve laundry, or paperwork, or urchins. Much better. At last! Good old Moore and Reppion!
Page 19:
Better and better! We have our bags packed. Suncream. Sandals. Let's go!
Page 20:
Comic Writing tip: When writing period drama, always set your scenes somewhere really exciting to draw so your artist really engages with the script, and the reader feels immersed in that world. If possible, make that setting a place with innumerable tiny drawers and bottles, packets, boxes, shelves, jars, panes of glass and, if possible, crown moulding. Artists absolutely love that stuff. They say to me, "I literally never tire of drawing labels!"
Also: EEEK. Wiggins!
Page 21:
Baker Street Irregular side quest. Defeat Level 900 Necromancer. Accept Y/N?
Page 22:
Watson, you beautiful man. You deserve better than that. I have a cousin, I'll set you up. It doesn't have to be like this.
---
---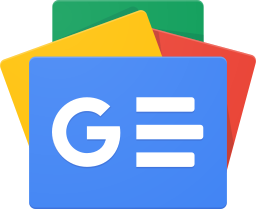 Stay up-to-date and support the site by following Bleeding Cool on Google News today!