Legenderry Red Sonja #2 Review: Red Sonja is a Steam-Punk Pirate
Red Sonja helps Tesla to save D'Nar, the son of Gath, from his cruel wizard father. The rescue is a success, and that leads these three and Sonja's crew to another location that contains a great power. Elsewhere, Tesla's father makes plans of his own. Plus, Gath is not deterred by the freedom of his son.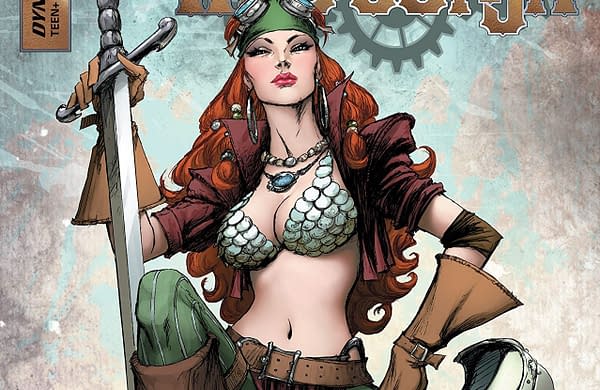 This comic pulls the slightly odd move of showing the successful completion of that rescue mission at the beginning of the issue instead of teasing at any possible casualties. That's not an inherently bad move, but it doesn't really do anything for the narrative.
That said, this is still a fun little sci-fi/fantasy comic starring the ever-beloved Red Sonja. The plot is generic; the steampunk-themed setting is the only thing that differentiates this from your regular Red Sonja story or, indeed, any fantasy story with an evil wizard.
However, as is often the case, Red Sonja's cavalier and brash personality brings up the quality by a couple of pegs. She's a great lead, and she oddly fits as a pirate captain. Tesla and D'Nar don't bring anything to the table. They're just lovers, but Sonja herself offsets them by being actually, you know, interesting.
The action itself is mostly dodging traps, swimming, and running. However, there is a nice scene of Sonja putting her sword through someone's head, and that's just awesome.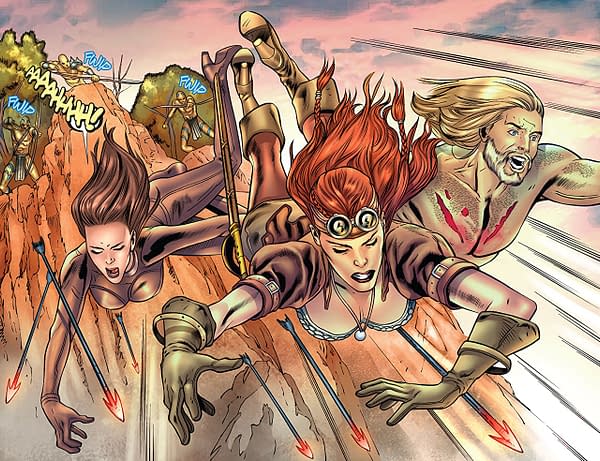 Igor Lima's artwork is an appealing style that leans on the side of realism. Everything is highly detailed, the world has a decent depth of field, and the characters are expressive. The overall visual design isn't especially creative or interesting, but it's not outright muddled or ugly either. Adrano Augusto's color art is solid, if similarly unexciting.
Legenderry Red Sonja #2 is just that: solid. It's fun, Sonja is a good lead, and there is some excitement to be had. The art is good, and the book earns a recommendation. Feel free to check it out.