Enchanted Chest and Oothar the Blue are released in hardcover releases, and Wormwood Saga Vol. 1 gets a release. Plus, the Catalyst Prime family of titles continue their superhero packed-action. All this comes courtesy of Lion Forge's May 2018 solicits. More details below.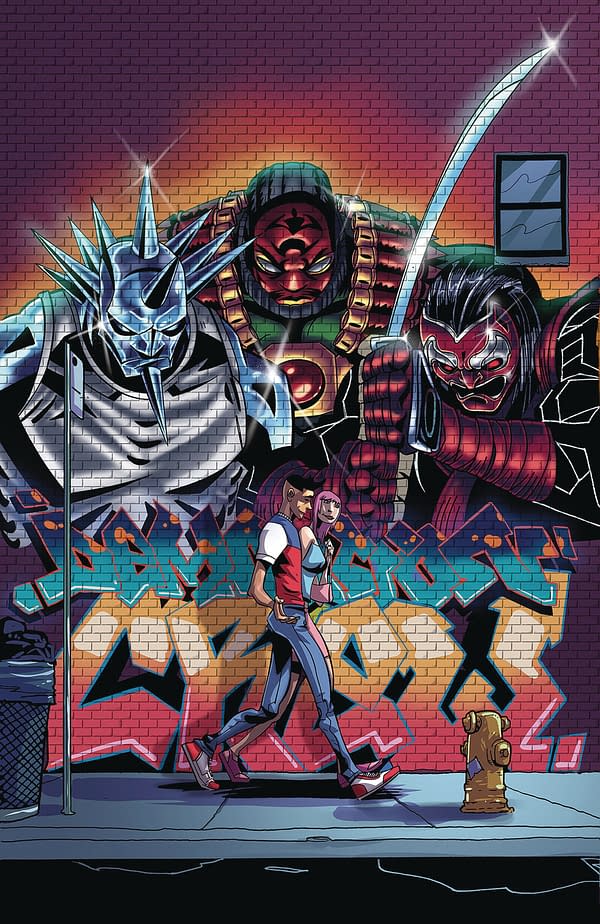 CATALYST PRIME ACCELL #10
MAR181763
(W) Joe Casey (A) Damion Scott, Robert Campanella, Sigmund Torre (CA) ChrisCross, Paul Mounts
Daniel Dos Santos has been through a lot since he got his powers from a meteor rock that he found after "The Event": fighting against a barrage of colorful villains, learning the limits of his powers, and trying to hold together his relationship with his girlfriend, Monica Hayes. Life hasn't been easy for Daniel, and right now, he just wants to be normal and maybe make some money. But what is "normal" when you have the power to speed through layers of space and time?
In Shops: May 09, 2018
SRP: $3.99
CATALYST PRIME ACCELL TP VOL 02
MAR181762
(W) Joe Casey (A) Damion Scott, Robert Campanella, Sigmund Torre (CA) ChrisCross, Paul Mounts
Running faster than the speed of sound and beating up bad guys on the weekends sounded like the high life, right? That's what Daniel Dos Santos first thought when he put on the costume. Now Daniel is finding out things aren't so simple. With new faces showing up on the block offering both aid and harm, is Daniel ready for the next set of challenges that face him?
In Shops: May 09, 2018
SRP: $14.99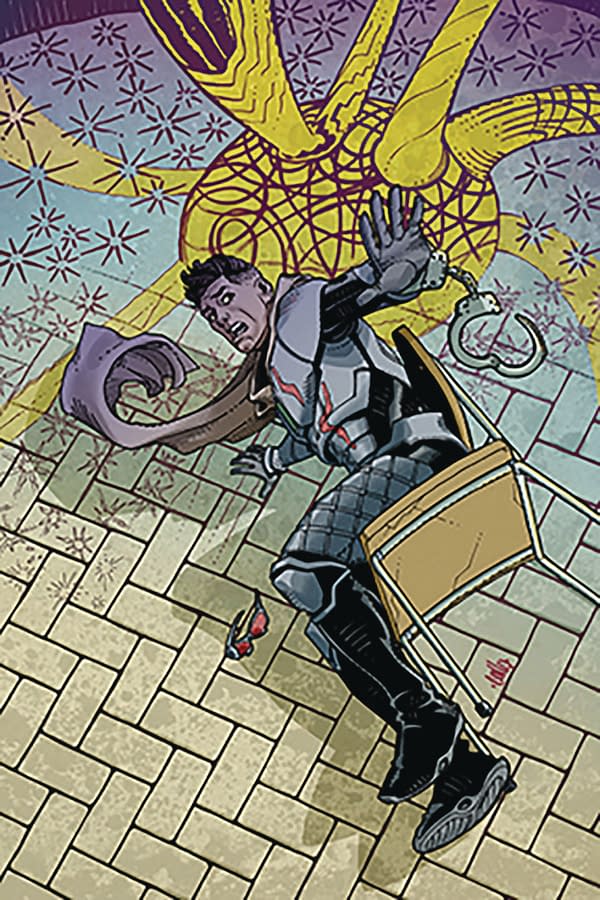 CATALYST PRIME ASTONISHER #7
MAR181765
(W) Alex De Campi (A) Pop Mhan, Jessica Kholinne (CA) Cully Hammer
Magnus is on the outs with his only two supporters, Sasha and Adila, after his reckless actions last issue. Charles, the FBI Branch Seven agent who's taken Magnus under protective custody, offers a distraction in the form of learning more about Magnus's powers. What follows is more mind bending horror; as Magnus opens his mind, he learns more about the real demons lurking in the shadows.
In Shops: May 09, 2018
SRP: $3.99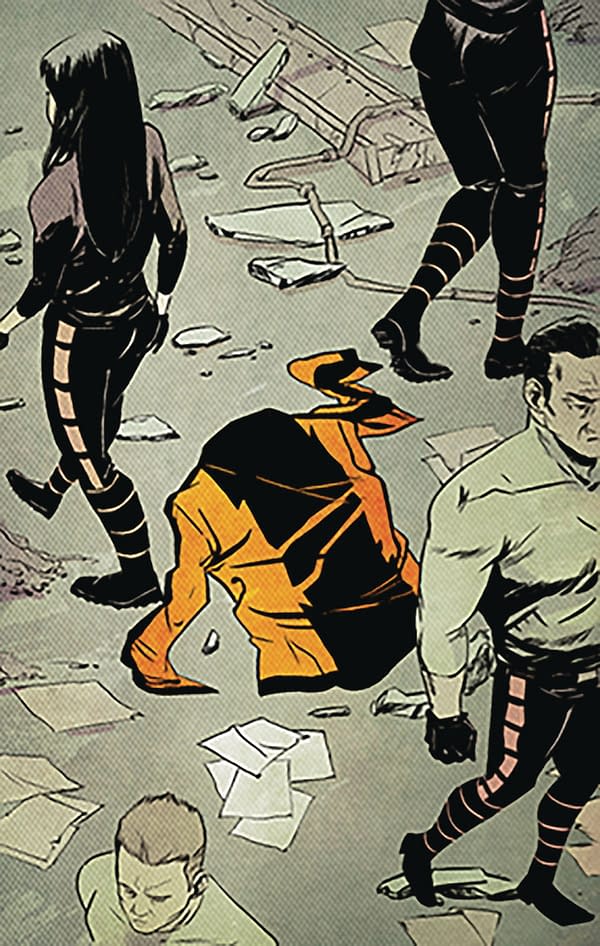 CATALYST PRIME INCIDENTALS #9
MAR181764
(W) Joe Casey (A) Will Rosado, Snakebite Cortez (CA) Sanford Greene
Taylor, Nuke, and Vanessa's latest mission was a failure, or at least it was according to Bo. The old team is growing further and further away from their leader, while the new team is still not fully on board with what Bo and Marko are selling. In an attempt to bring together their team, ?Marko and Bo devise a plan that will hopefully fix the fractures. Will their solution breach the gaps between the group or only drive them all further apart?
In Shops: May 23, 2018
SRP: $3.99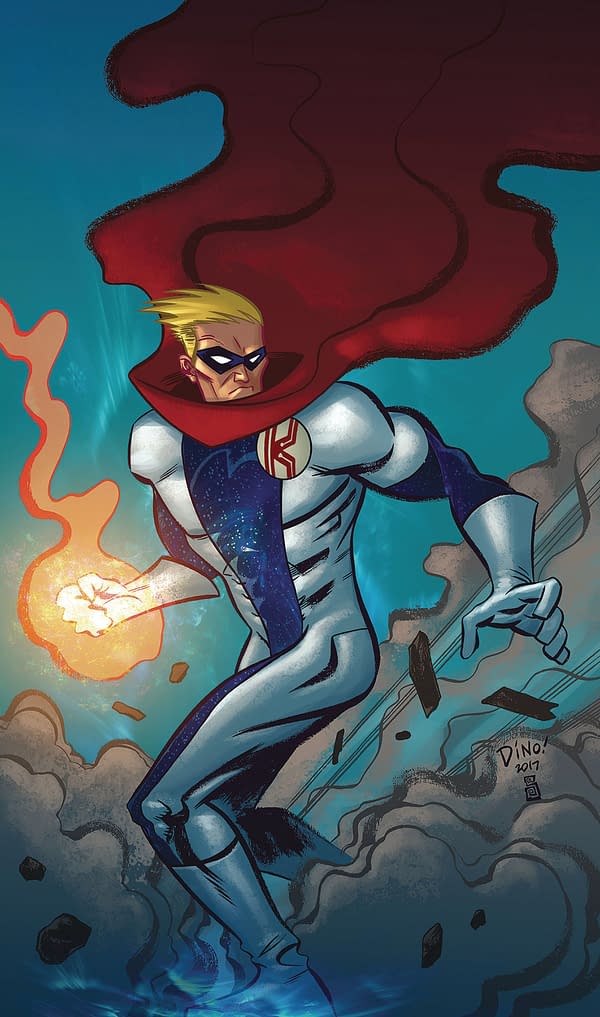 CATALYST PRIME KINO #6
MAR181766
(A) Alex De Campi, ChrisCross, Jessica Kholinne, Rob Stull (CA) Dean Haspiel
Just when he thought he escaped, Alistair Meath finds himself within another virtual world built by Aturo, the scientist who stole his body from Foresight and has since been conducting experiments to brainwash Alistair by using the identity of superhero KINO. Can Meath escape and return to his family? Or does Aturo have more up his sleeve than realized?
In Shops: May 30, 2018
SRP: $3.99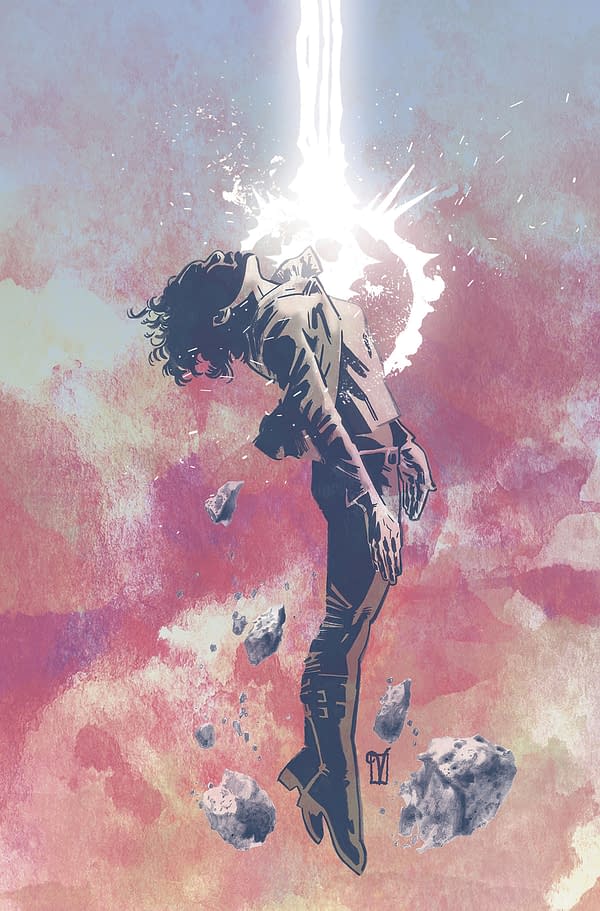 CATALYST PRIME SUMMIT #5
MAR181768
(W) Amy Chu (A) Federico Dallocchio, Chris Sotomayor (CA) Jan Duursema
After saving Fiona from the hands of mercenaries and beginning to heal from the loss of her team and her girlfriend Kay, Val has begun teaching at MIT. J.B.'s team of young scientists is eager to learn more about Val's powers, but Val is less eager about being a "superhero." But when a giant robot strikes the campus, well, what's a genius scientist with superpowers to do?
In Shops: May 16, 2018
SRP: $3.99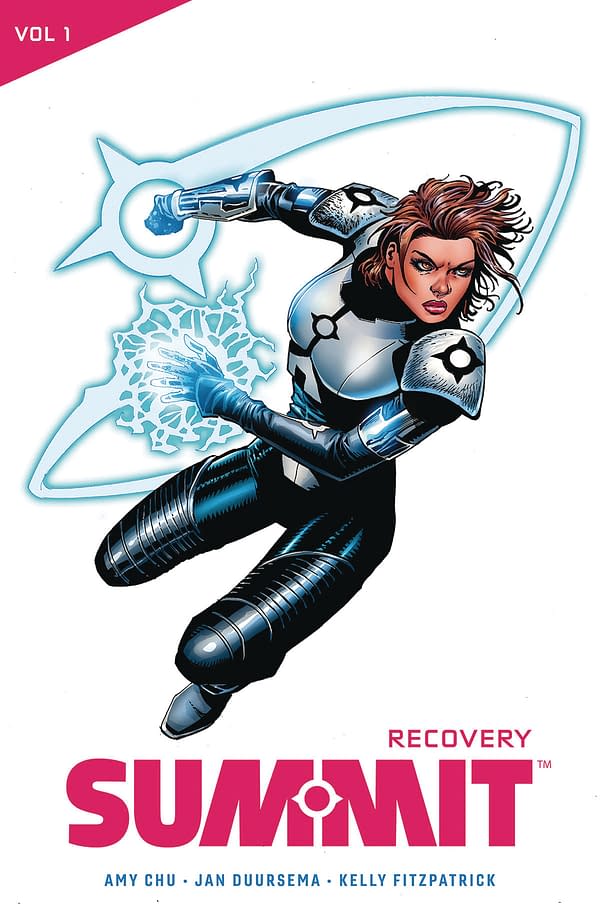 CATALYST PRIME SUMMIT TP VOL 01
MAR181767
(W) Amy Chu (A) Paul Mounts, Kelly Fitzpatrick (A/CA) Jan Duursema
It's a long, hard road toward recovery. In the aftermath of The Event, Valentina "Val" Resnick Baker, the sole survivor of The Event space mission, is now haunted by the loss of her teammates and her girlfriend Kay. Val also discovers her survival had the shocking side effect of bestowing her with superpowers. While the rest of the world begins to move on, Val finds she still has a long road ahead of her.
In Shops: May 16, 2018
SRP: $14.99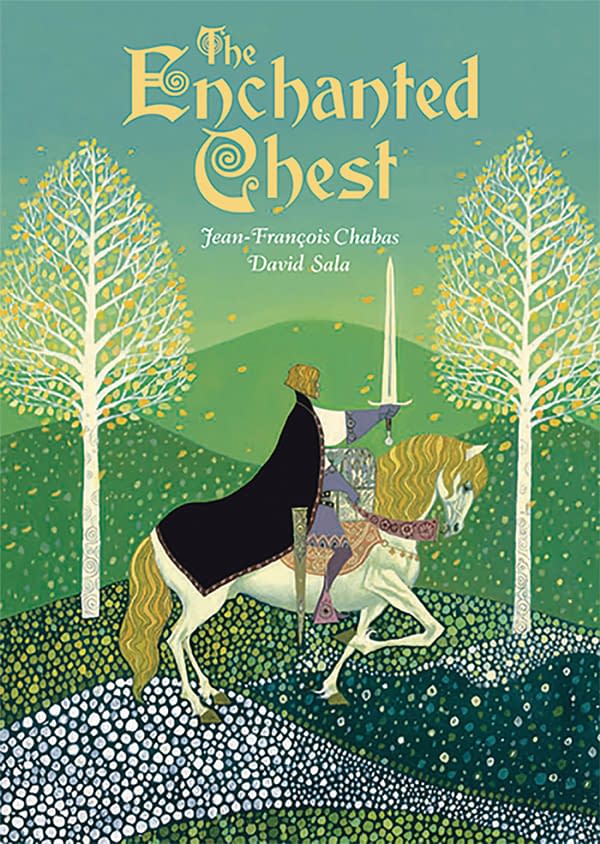 ENCHANTED CHEST HC
MAR181753
(W) Jean-Francois Chabas (A/CA) David Sala
Raised by a fisherman from the depths of the sea, an ornate chest soon attracts the attention of the greedy King, always searching for more treasure. But the King has a problem: nothing and nobody can open the chest. A thousand keys, a thousand tools, and a thousand swords were tried. He calls his most talented subjects to open it: the Locksmith, then the Strong Man, the Magician, and even the Alchemist-they all try their skills, and none can do it! Only the Lynx, whose magical eyes allow her to see through anything, can finally satisfy the King's curiosity. The story, like the chest, contains a beautiful and mysterious core for the intrepid reader to open, about how the treasures we crave may not be what we truly desire.
In Shops: May 09, 2018
SRP: $17.99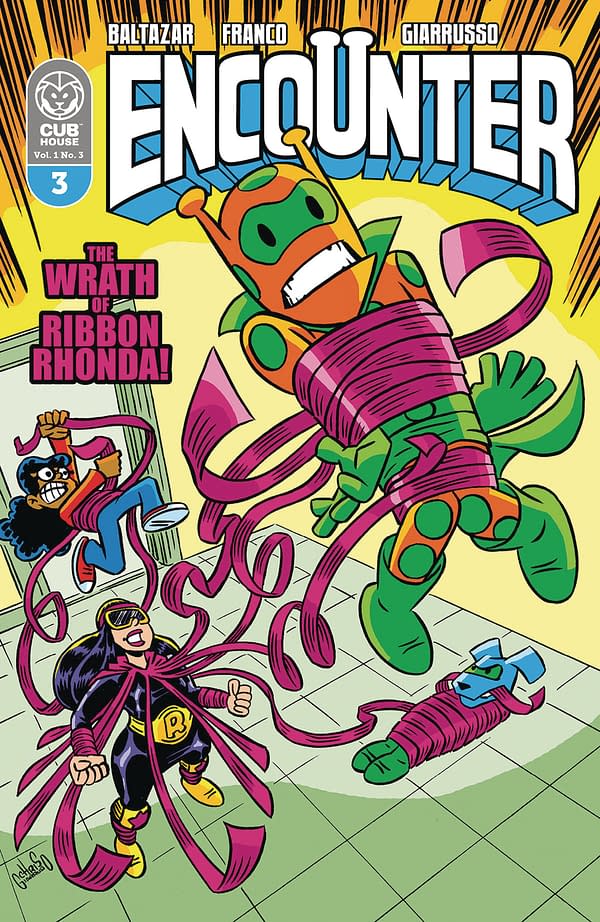 ENCOUNTER #3
MAR181756
(W) Art Baltazar, Franco (A) Art Baltazar, Stephen Mayer (A/CA) Chris Giarrusso
Who knew ribbons could be a secret weapon? But these aren't just ribbons; these are electric, telepathic ribbon tentacles controlled by a fearsome villain dead set on stealing the pods! Encounter is on the case, and this superhero, along with his sidekick Barko, will do anything to protect his friends . . . and the pods!
In Shops: May 16, 2018
SRP: $3.99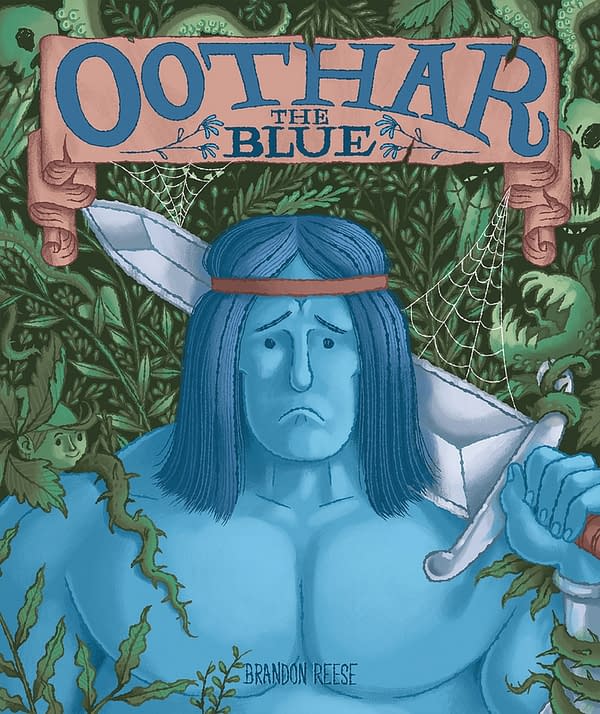 OOTHAR THE BLUE HC
MAR181755
(W) Brandon Reese (A/CA) Brandon Reese
Oothar the Barbarian is blue. He just doesn't feel like slaying dragons today. He can't bring himself to banish uberwraiths to the ninth dimension. His gauntlet of a thousand souls has lost its luster. What is a melancholy barbarian to do? Join Oothar on his quest for happiness and maybe find a new purpose of your own.
In Shops: May 02, 2018
SRP: $16.99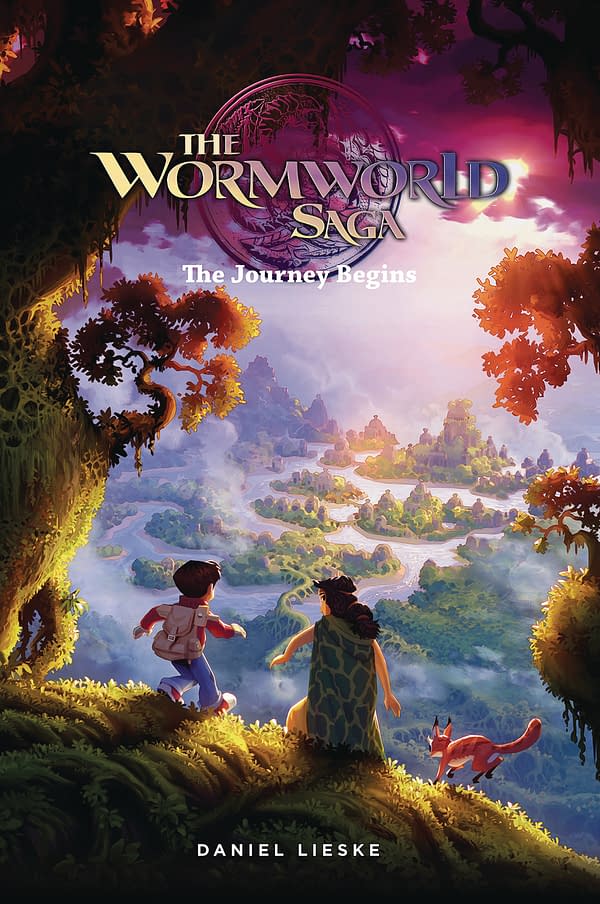 WORMWOOD SAGA TP VOL 01 SAGA BEGINS
MAR181754
(W) Daniel Lieske (A/CA) Daniel Lieske
This gorgeous fantasy epic follows Jonas, a young boy from our human world, who stumbles into an alternate universe through a painting in his grandmother's attic. When the portal closes behind him Jonas must find another way home and begins a journey through this strange and fascinating land. Along the way he meets Raya, who becomes his guardian in the new world. But there are many things Raya is not telling Jonas, and this world is not peaceful.
In Shops: May 23, 2018
SRP: $9.99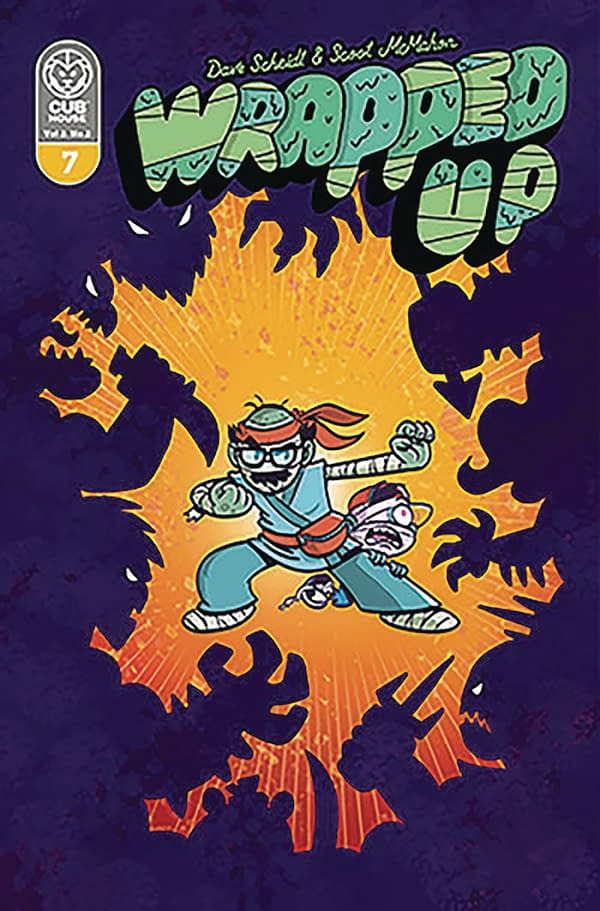 WRAPPED UP #7 MAIN MCMAHON CVR
MAR181757
(W) Dave Scheidt (A) Yehudi Mercado, Sean Dove, Mason Dickerson (A/CA) Scoot McMahon
What happens when you combine mummies, ninjas, and fighting dads? Find out in "Dadliest Warrior"! When Milo sneaks on board a ship, he discovers his dad isn't just a mummy, he's Master Mummy, expert in martial arts. But will the evil ninjas also aboard the ship be too tough to defeat on their escape back home?
In Shops: May 16, 2018
SRP: $3.99
Enjoyed this article? Share it!