Bleeding Cool reported last week that comic book retailers had been asked by Diamond Comic Distributors to destroy any ordered copies of Magical Girl Special Ops Asuka GN Vol. 2 by Makoto Fukami and Seigo Tokiya from Seven Seas Entertainment that shipped to comic book stores last month. The publisher will replace all copies with a new print run in July.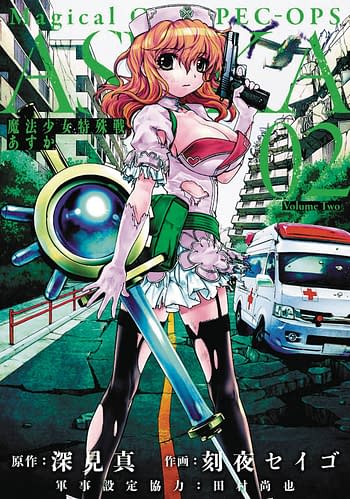 So what went down? Whatever it was, it wasn't meant to be a story issue.
Well, Bleeding Cool readers Rod Baxter and Matt Moylan had an idea. That is it was all down to the use of a Red Cross on the cover, a trademark image for the organisation.
Moylan has had direct experience of that, telling us 'When I worked at Dreamwave in the early 2000s, we pulped an entire print run of Transformers due to the same issue.'
And he wrote about that here,  regarding the Transformer Ratchet, based on a transforming ambulance.
At the time, Hasbro had recently been taken to court by the Red Cross for using the trademarked Red Cross emblem on the Armada Red Alert toy. So Hasbro had to make sure the red cross was removed from any toy or licensed product (like a comic) including G1 Ratchet. This is also why they changed the cross logo to some made-up gear logo for the Armada Red Alert repaint:

So, starting with TFG1 Vol.2 #2 we had to start coloring Ratchet a little differently, no big deal. When it BECAME a big deal was actually the above-shown TF G1 Vol.2 #3. During production of this issue the change was forgotten and Ratchet was colored the old way with red crosses showing. This actually happened while I was on vacation, and when I came back I saw the early print samples of the issue had just come in. After a quick review I noticed the mistake, and everybody scrambled trying to figure out what to do. I remember we tried begging Hasbro to let is slide just this once, but no go (their hands were really tied after the lawsuit). So the whole print run of the issue was pulped and reprinted. Not sure what the exact number of copies was, but it would have been at least 70,000 comics destroyed. Ouch! For comparison to these days comics, that would be the full prints runs at least 4 or 5 IDW Transformers comics.
Matt even made a cartoon of the incident…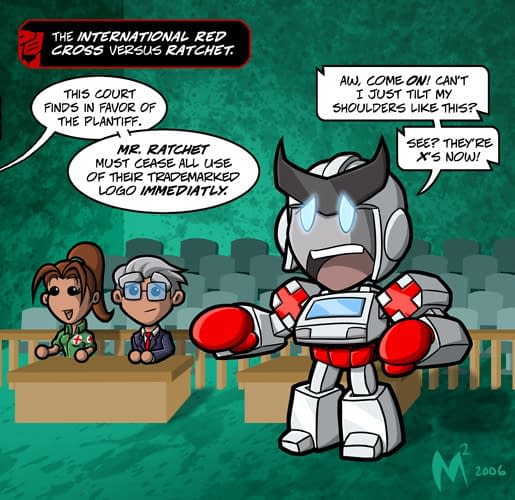 Looks like the issue is still in effect…
Enjoyed this article? Share it!