Today sees the publication of X-Men #4 by Jonathan Hickman (#9 on the power list)and Leinil Francis Yu which, as we pointed out in a preview, sees the X-Men going to a global summit at Davos, with political and economic world leaders. We suggested that this might not be too exciting. How wrong we were. With the Professor, Magneto and Apocalypse representing the nation of Krakoa, which has been creating political and economic ructions of late, the comic gives Magneto the opportunity to give the leaders of the USA, China and Wakanda, as well as observers from India, Brazil and Italy a lesson in just those subjects. First, how the modern Western economy has worked.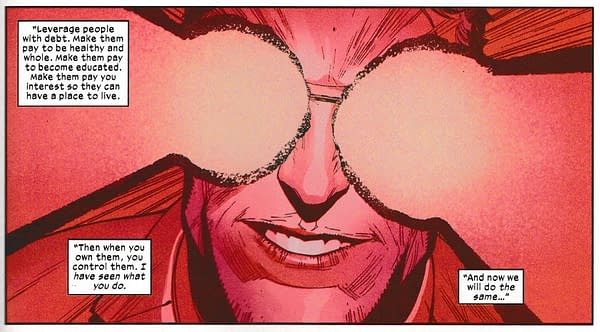 So Magneto as a Marxist, but more of the 'if you can't beat them, join them' school. And leveraging the same of Krakoan-developed drugs that will extend lives, cure dementia and cure more diseases.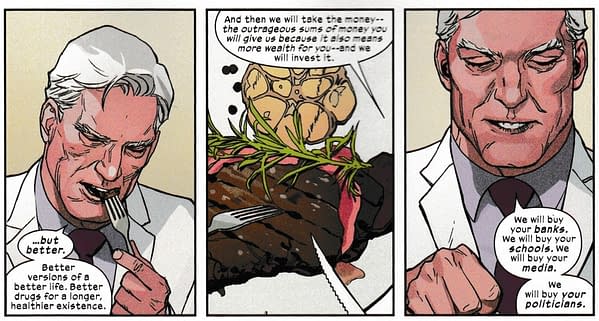 Cocacolonization refers to the globalization of American culture pushed through popular American products such as soft drink maker Coca-Cola, first documented in 1949 in France, by the French Communist Party, specifically against Coca-Cola's operation in the country post-war would bring no capital to help with French recovery, but would likely to drain profits back to United States, and stating that Coke distribution system would double as an espionage network. Much of this would later become reality, with Reinhold Wagnleitner reporting half a century later that the US attempted cultural imperialism by expanding American ideals through the spread of consumer goods such as Coca-Cola and Levi jeans, and through cultural symbols like rock and roll, Marlon Brando's black leather jacket and the like, as a direct US government policy, which has only increased further still with Disney, Warners, Amazon, Netflix, Facebook, Google and more. An increase in soft power, a destabilising of targetted regimes and a decrease in wars – at least, wars that directly affect the USA. And it looks like Magneto was taking notes.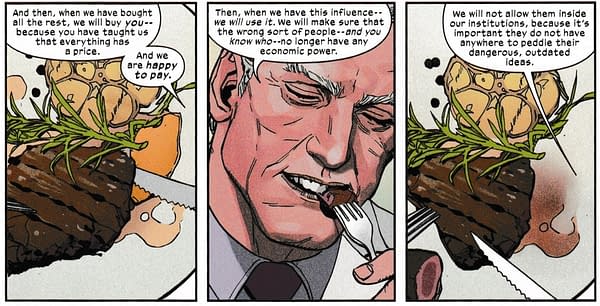 World War III without a shot being fired.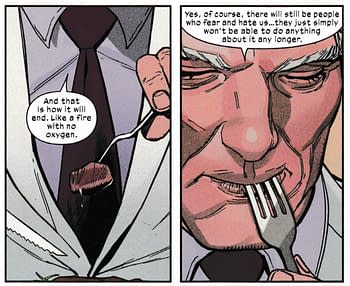 So that's the politics and economy. Well, what about the history? Also round the table with Charles and Erik is the oldest mutant, there at the moment of conception of Krakoa, there for the Egyptian empire, and one who has seen it all. And adding a little menace to the proceedings as he rewrite history in the fashion that has Mark Waid throw down his pen in annoyance saying 'couldn't you have done this before I wrote the History of The Marvel universe??'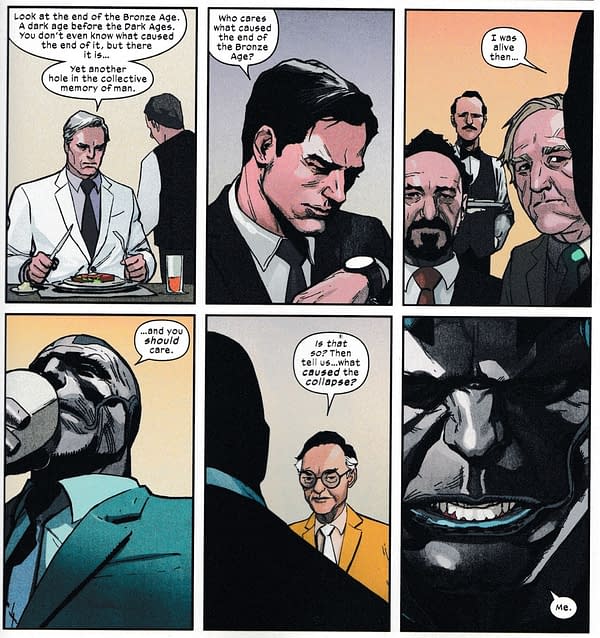 Originally, the Late Bronze Age collapse around 1200AD saw the palace economy of the Aegean region and Anatolia disintegrated, transforming into small isolated village cultures, the cultural collapse of the Mycenaean kingdoms, of the Kassite dynasty of Babylonia, of the Hittite Empire in Anatolia and the Levant, and of the Egyptian Empire, the destruction of Ugarit and the Amorite states in the Levant, the fragmentation of the Luwian states of western Asia Minor, and a period of chaos in Canaan. The deterioration of these governments interrupted trade routes and severely reduced literacy in much of the known world and in the first phase of this period, almost every city between Pylos and Gaza was violently destroyed, and many abandoned, including Hattusa, Mycenae, and Ugarit.
Apocalypse got busy…
X-MEN #4 DX
(W) Jonathan Hickman (A/CA) Leinil Francis Yu
The Krakoan leaders attend and economic forum to show the humans what real power looks like
Rated T+In Shops: Jan 01, 2020 SRP: $3.99
X-Men #4 is published today by Marvel Comics in all good comic shops. I bought mine from Piranha Comics in Kingston-Upon-Thames. Piranha Comics is a small south London comic store chain with a small south-east store in Kingston-Upon Thames's market centre, which runs Magic The Gathering nights on Fridays, and a larger south-west store in Bromley, which also runs Magic nights and has an extensive back issue collection and online store. If you are in the neighbourhood, check them out.

Enjoyed this article? Share it!