Marc Andreyko Talks About Wrapping Up Legenderry: Red Sonja
As the spinoffs from Bill Willingham's Legenderry: A Steampunk Adventure come to a close, Byron Brewer got to catch up with Marc Andreyko and talk about the fifth and final issue of Dynamite's Legenderry: Red Sonja. Cover art by Sergio Davil.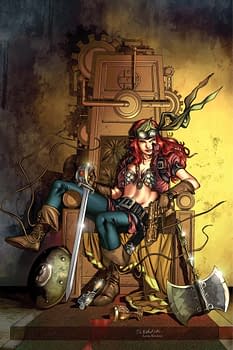 BYRON BREWER: In June, this great steampunk look at the She-Devil with a Sword comes to an end. How fun has it been to put everyone's favorite red head through her paces in this world, Marc?
MARC ANDREYKO: It has been a blast and getting to play in the steampunk world created by the great Bill Willingham has been an added bonus. I love Red's voice and would love to revisit this world and her again!
BB: How did you ever come up with poor ol' Victor Frankenstein as the big-bad for Sonja's seemingly very nautical and swashbuckling morality play?
MA: I was looking for someone with a familiar backstory for the reader that I could turn on its head and Victor and his "science" felt like a perfect fit. Making him a megalomaniac seemed in keeping with his God Complex.
BB: You really have done some good character work with Elizabeth. How important has she been to this story, in your opinion?
MA: Her story is the truly tragic one: a victim of her husband's ambition and, later, his guilt, she now has to be proactive in her unlife since she wasn't when she was alive.
BB: Franken-Nemo? Where did THIS concept come from?
MA: Too much espresso? (smiles) I wanted to show how powerful Victor was and by having him defeat the imposing, dangerous Nemo seemed a great way to do that. And how could I not use the Nautilus?
BB: Has artist Aneke delivered for you on this mini?
MA: More than delivered: She has aced it. She is going to be a superstar. Her art is so expressive and smart and her storytelling skills are top notch. I'd love to work with her again … on anything!
BB: Since we are coming to a close with June's issue, did you get to tell the story you set out to tell and where next will we see Legenderry Red?
MA: I did. The story had it all: monsters, high seas adventures, betrayals and redemption. I'm not sure where Legenderry Red will end up, but the last few pages of this mini set her up well for some new and unexpected adventures. Hopefully, the readers will clamor for more!
For more on Legenderry: Red Sonja #5, click here.