When the History of the Marvel Universe series by Mark Waid and Javier Rodriguez is collected in February it won't be in any old collection format, oh no, But in the classic oversized 'Treasury Edition' format of the seventies. Just a bit thicker.
136 pages long, thirteen inches high by nine inches wide and thirty bucks in price. Out on February 25th. Which works out as the same price at the original issues, just a stretching out on the page a bit more…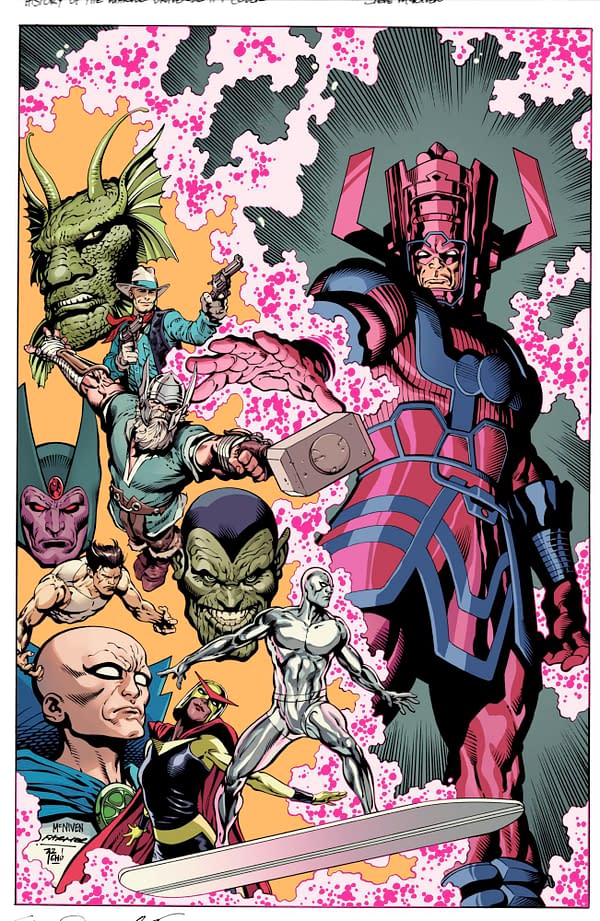 HISTORY OF MARVEL UNIVERSE #1 (OF 6)
(W) Mark Waid (A) Javier Rodriguez (CA) Steve McNiven
ALL-NEW STORY BY LEGENDARY CREATOR MARK WAID! Everything you ever wanted to know about the Marvel Universe – in one lavishly illustrated series! From the Big Bang to the twilight of existence, HISTORY OF THE MARVEL UNIVERSE chronicles completely, for the first time, everything that was, is or will be! Lushly illustrated text tells the complete story of the Marvel Universe, revealing previously unknown secrets and serving as the ultimate reference book for Marvel fans! Witness the greatest tale ever told – and be prepared for some shocking revelations!
Rated TIn Shops: Jul 24, 2019
Final Orders Due: Jul 01, 2019
SRP: $4.99
HISTORY OF MARVEL UNIVERSE #2 (OF 6)
(W) Mark Waid (A) Javier Rodriguez (CA) Steve McNiven
From the dawn of the 20th century to the first meeting of Mr. Fantastic and Doctor Doom, learn the secrets of Marvel's history! Who was John Steele? Which Western gunslinger helped inspire the first Heroic Age? All this and more – revealed!In Shops: Aug 21, 2019
SRP: $4.99
Enjoyed this article? Share it!