Posted in: Comics | Tagged: google, marvel, marvel unlimited
---
Marvel's Website Breaks Up with Facebook, Plans to Dump Google Soon
If you've read any of our various treatises on the X-Men, you know that we're big supporters of Marvel Unlimited here at Bleeding Cool. The digital comics subscription service allows access to a very large chunk of the backlog of Marvel Comics, with a window before new comics are released. As far as we can tell, everything that Marvel has available digitally that didn't come out in the past six months can be read as part of a Marvel Unlimited, amounting to more than 20,000 comic books.
To make it easier to sign up, Marvel has in the past allowed users to sign in with either their Facebook or Google accounts. But the former practice has come to an end, and the latter will be ending by August 28th, at least according to emails that have begun going out to existing users, like this one that was sent to us:
We're reaching out to let you know that beginning on 8/28/18, sign in and registration via social sign-on through Google will no longer be supported on both Marvel.com and the Marvel Unlimited app.

As a Google sign-on user we wanted to let you know that in order to access your Marvel.com account and/or Marvel Unlimited subscription (if applicable) beginning on 8/28/18, you will need to sign in with your username.
You can still sign in with your Google account for now, though Facebook is no longer an option, according to the website's login page.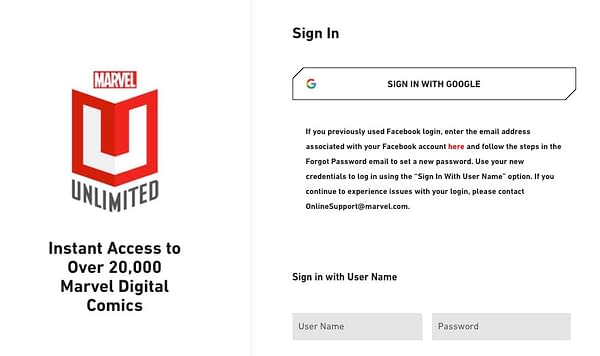 New registrations are available only with email.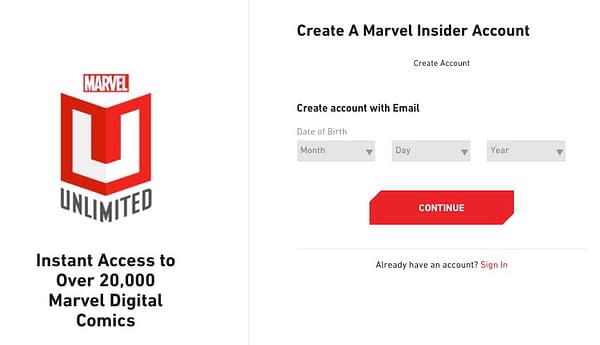 No reason is given for the change, but it's not the first time Marvel has removed features from the service without giving a good reason why. It used to be possible to purchase Marvel Unlimited subscriptions as a gift for others, but that option was removed last year, "temporarily," and hasn't come back. That's really your loss, readers, because we'd be buying and giving away gift subscriptions on a regular basis as contest prizes if it were possible.
Functionally, this change probably won't make a big difference for most users, though authenticating with Google or Facebook does offer the convenience of not having to remember multiple passwords while still benefiting from the two-factor authentication those sites offer. Of course, the downside is that those companies are probably mapping your DNA like Mister Sinister while you're enjoying your single sign-in, so it's definitely a trade-off.
We reached out to Marvel with a few questions about their plans, and if they respond, we'll post an update.
---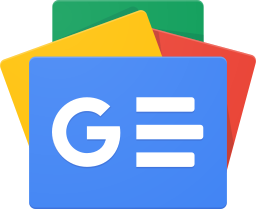 Stay up-to-date and support the site by following Bleeding Cool on Google News today!