King Thor #4 is not the only comic book that is getting a… helping hand on the artwork from non-solicited comic book creators. Though maybe these are slightly less headline worthy. Nevertheless, this is who are helping those Marvel comic books get published on time.
Conan: Serpent War #3 will be drawn by Luca Pizzari, along with the previously solicited Vanesa Del Rey.
Ruins Of Ravencroft: Carnage #1 will be drawn by Angel Unzueta, along with the previously solicited Guiu Vilanova.
Ghost-Spider #5 will be drawn by Ig Guara along with the previously solicited Takeshi Miyazawa.
And Scream: Curse Of Carnage #2 will be drawn by Garry Brown, along with the previously solicited Chris Mooneyham.
Any more unnoted changes out there?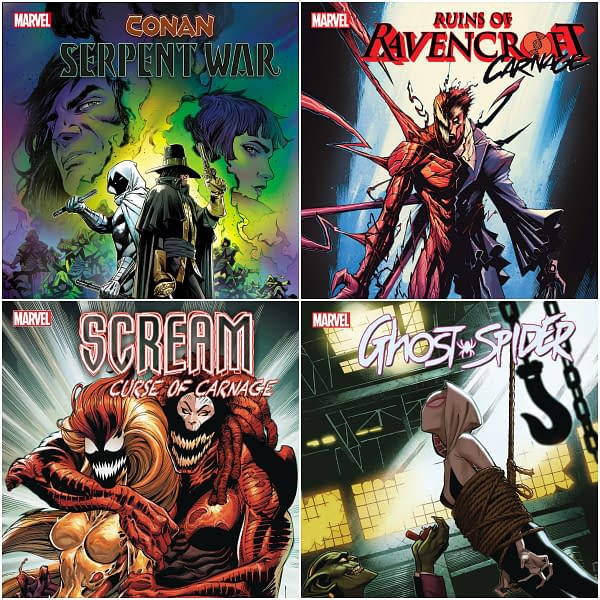 CONAN SERPENT WAR #3 (OF 4)
(W) Jim Zub (A) Luca Pizzari, Vanesa R. Del Rey (CA) Carlos Pacheco
THE LAST STAND OF CONAN, DARK AGNES, SOLOMON KANE & MOON KNIGHT!
• CONAN and DARK AGNES face off against the servants of SET in STYGIA!
• SOLOMON KANE and MOON KNIGHT encounter a bizarre relic – but will it aid their quest, or doom their compatriots?
• And what deadly secret lurks in the mind of JAMES ALLISON?
Parental Advisory In Shops: Jan 08, 2020 SRP: $3.99

RUINS OF RAVENCROFT CARNAGE #1
(W) Frank Tieri (A) Guiu Villanova, Angel Unzueta (CA) Gerardo Sandoval
CARNAGE, USA!
In the aftermath of ABSOLUTE CARNAGE, the Marvel Universe still needs a place to treat and rehabilitate the criminally insane, and efforts to reconstruct RAVENCROFT are well underway. But Ravencroft is no ordinary facility, and untold secrets may yet be waiting to be unearthed in the destruction Carnage left after his attack on the facility.
Rated T+ In Shops: Jan 08, 2020 SRP: $4.99

GHOST-SPIDER #5
(W) Seanan McGuire (A) Takeshi Miyazawa, Ig Guara (CA) Jorge Molina
GWEN STACY AND THE JACKAL – 'TILL DEATH DO 'EM PART!
Rated T In Shops: Dec 18, 2019 Final Orders Due: Nov 18, 2019 SRP: $3.99

SCREAM CURSE OF CARNAGE #2
(W) Clay McLeod Chapman (A) Chris Mooneyham, Garry Brown (CA) Mark Bagley
• Spinning directly out of the events of ABSOLUTE CARNAGE and Donny Cates' and Ryan Stegman's VENOM comes the saga of the newest symbiote in New York – SCREAM!
• In Carnage's wake, a darkness has formed in the waters surrounding New York -something evil that beckons the Scream symbiote with a siren song…
Rated T+ In Shops: Dec 18, 2019 Final Orders Due: Nov 18, 2019 SRP: $3.99
Enjoyed this article? Share it!