Marvel Comics #1000 Second Printing Will Have a Miracleman Cover
I know the power of a Miracleman cover. Mark Buckingham drawing him on the cover of Dirtbag #2, published by my own Twist & Shout Comics back in the early nineties, means it now sells on Amazon for plenty money. Especially after Mike Meyer and I pulped the remaining 2000 copies of the initial 3000 copy print run.
Well, as Bleeding Cool predicted, it looks as if Marvel Comics are going for something similar with the second printing cover to Marvel Comics #1000, which featured a one-page Miracleman story by Neil Gaiman and Mark Buckingham. With Mark Buckingham drawing the cover with Miracleman front and centre, with a gamut of Marvel Comics characters behind him … and a list of all the contributor to the comic book on the back cover. Like this…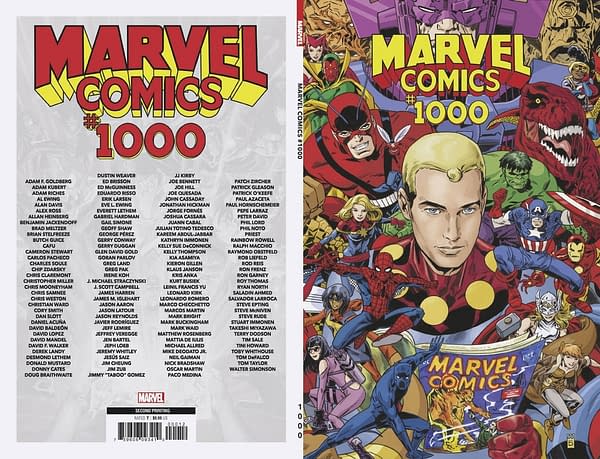 Marvel Comics #1000 Second Printing will be out on October 2nd.
MARVEL COMICS #1000
(W) Various (A/CA) Various
THE GREATEST TALENT EVER ASSEMBLED FOR ONE STORY!
THIS IS THE BIG ONE! In celebration of Marvel's 80th Anniversary, we have gathered together the greatest array of talent ever to be assembled between the covers of a single comic book! Names from the past, from the present, and even the future! Every page is filled with all-new work from this cavalcade of comic book luminaries!
There is a mystery that threads throughout the Marvel Universe – one that has its origins in MARVEL COMICS #1 and which unites a disparate array of heroes and villains throughout the decades! What is the Eternity Mask, and who is responsible for the conspiracy to keep it hidden? And what new player will make their startling debut as these secrets are peeled away?
Featuring the entirety of the Marvel Universe of characters!
Rated T PERFECTBOUND FORMAT! SRP: $9.99