Marvel Comics Register a Ton of Captain Marvel Trademarks
Okay, so you may have seen a certain film last week. And in that film, somewhere, you may have seen a certain logo. And you already know that another certain film is coming. And Marvel's trademark lawyer Steve Acker is ready, working overtime.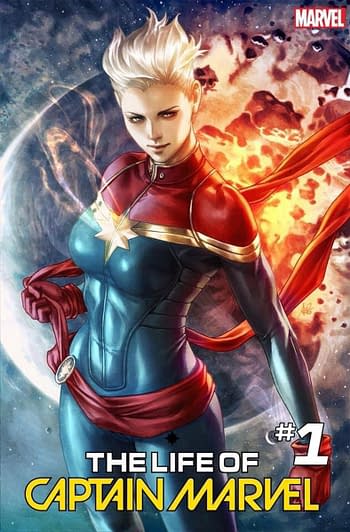 He has just trademarked the phrase 'Captain Marvel' for Marvel Characters under the following categories. Breathe in…
Education and entertainment services
Toys, games and playthings; gymnastic and sporting articles (except clothing); hand-held units for playing electronic games for use with or without an external display screen or monitor; skins for covering and protecting apparatus; paper party favors; paper party hats; Christmas stockings; Christmas tree ornaments and decorations; snow globes
Clothing, footwear and headwear
Textiles; fabric; bath linen; bed linen; household linen; kitchen linens; table linen; textile articles not included in other classes; plastic table covers; plastic flags; plastic banners; plastic pennants; sleeping bags
Bakeware; beverageware; brushes; busts; coasters; combs; containers; cups; decorative glass; dinnerware; dishware; drinking straws; figurines; glassware; housewares; kettles; kitchenware; lunch boxes; lunch kits comprising of lunch boxes and beverage containers; mugs; plates; portable coolers; removable insulators for drink cans and bottles; servingware; tea pots; toothbrushes; trays; waste baskets
Cushions; decorative glitter; decorative mobiles; figurines and statuettes made of plaster; figurines and statuettes made of plastic; figurines and statuettes made of wax; figurines and statuettes made of wood; furniture; gift package decorations made of plastic; hand fans; mattresses; mirrors; non-Christmas ornaments made of plaster, plastic, wax or wood; party ornaments of plastic; picture frames; pillows; plastic cake decorations; plastic name badges; plastic novelty license plates; plastic tissue box covers; wind chimes; interior window blinds; goods of plaster, plastic, wax or wood
Bags; backpacks; calling card cases; coin purses; fanny packs; key cases; luggage; luggage tags; purses; umbrellas;
Paper and paper articles; cardboard and cardboard articles; printed matter; publications; books; photographs; portraits; paintings; photo-engravings; stationery; office and school supplies; school supply kits; temporary tattoo transfers; foam stamps; party bags; plastic sandwich bags; shopping bags
Clocks; jewelry; jewelry boxes; jewelry cases; key rings; key chains; decorative key fobs; coins; watches; watch bands
Apparatus for recording, transmission, processing, and reproduction of sound, images, or data; digital media; audio books; audio and visual recordings; video game software; computer programs and software; downloadable electronic publications; downloadable game software; downloadable mobile applications; consumer electronics and accessories therefor; eyeglasses and sunglasses and accessories therefor; binoculars; decorative magnets; graduated rulers; microphones; helmets; flotation vests; protective face masks not for medical purposes; snorkels; swimming goggles; swim masks
Non-medicated cosmetics; non-medicated dentifrices; non-medicated toiletry preparations; fragrances; perfumes
Okay, so who wants a Captain Marvel perfumed clock?