Marvel Comics to Relaunch Captain America #1 On the Fourth Of July, 2018
Bleeding Cool first reported the rumour that award-winning author Ta-Nehisi Coates would be the new Marvel writer on Captain America back in June last year, but that Mark Waid and Chris Samnee would have a run on the character first. And that their run had gone down so well, it had been extended. And this week we were told that the official announcement that Coates would be the new writer on Captain America will be coming next week, and that his debut chapter would be in May's Free Comic Book Day giveaway.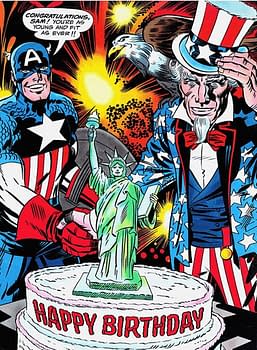 Well, Marvel Comics felt they had to tell the comic book retailers assembled at the retailer summit ComicsPRO being held in Portland today, something.
And that something is, as expected, Marvel will be relaunching Captain America with a new #1. But that this will take place on Wednesday, 4th of July 2018. Independence Day.
We mentioned Coates famous essay about America and reparations. Well, this is what Ta-Nehisi Coates wrote for The Atlantic three years ago for the fourth of July in an article, Letter To My Son. "Here is what I would like for you to know: In America, it is traditional to destroy the black body—it is heritage."
This year, on the 4th of July 2018, if our sources are correct it appears that Coates will have a new Captain America #1 on the stands published by Marvel Comics. I suppose fireworks are traditional.
It feels like a really good time to be reading comic books.