Marvel Comics Solicitation For Jonathan Hickman's X-Men: Inferno
Amazon has thrown up a listing for an Inferno By Jonathan Hickman hardcover out in March, collecting Inferno #1 -#4, to be drawn by Stefano Caselli, Valerio Schiti, and RB Silva.
Inferno by Jonathan Hickman Hardcover – March 8, 2022 by Jonathan Hickman, Stefano Caselli, Valerio Schiti
He changed everything for mutantkind with HOUSE OF X and POWERS OF X. He explored the new Krakoan era in X-MEN. Now the keeper of the mutant flame, Jonathan Hickman, presents his next incendiary saga! Mystique, former mutant terrorist and espionage agent supreme, is loyal to Professor X's Quiet Council for one reason only: the promise that someday, he will resurrect her beloved Destiny. But when Moira MacTaggert helped Professor X and Magneto realize their lifelong dreams for mutantkind, it came with one condition — do not allow any precognitive mutants on the island of Krakoa. What will Mystique do when she realizes that she is being strung along? Vengeance burns hot — and Mystique is about to ignite an Inferno! And where has the elusive Moira MacTaggert been all this time, anyway? COLLECTING: Inferno (2021) 1-4
And clearly answering the question we've been asking all along. This is what they said when announcing the series, starting in September.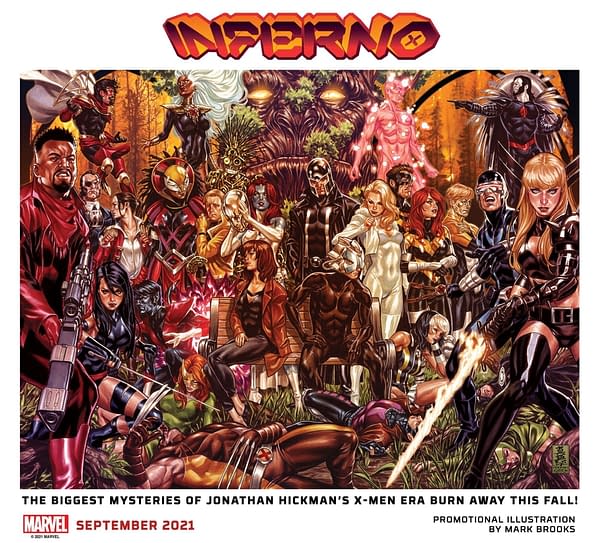 Promises were made and broken. The rulers of Krakoa have been playing a dangerous game with a dangerous woman, and they are about to see how badly that can burn them. Having been denied her wishes yet again, Mystique is ready to follow through on her promise to burn the nation of Krakoa to the ground. Mutantkind's bright future is threatened like never before as Hickman brings his game-changing plans to a head. Fans can expect more revelations from the lives of Moira MacTaggert, Nimrod's revenge, vicious power plays, and more in this pivotal chapter in X-Men history. Throughout this four-issue limited series, Hickman will be joined by an incredible lineup of artists beginning with acclaimed illustrator Valerio Schiti. Known for masterfully depicting large-scale action alongside intense human drama, the S.W.O.R.D. and EMPYRE artist is perfect for bringing this heartbreaking saga to life.