Written by Joe Glass
Hosted by Nick Lowe, the panel of Ed Brisson, Charles Soule, Matthew Rosenberg, Rainbow Rowell, Javier Garron, Erica Henderson and Gerry Duggan to discuss upcoming elements of their comics.
Sorry, but I did come late to this panel, and missed a bunch, as I was at the thoroughly entertaining and informative Representation Matters! Panel. Charles Soule talks about the upcoming plot for Daredevil, which sees Kingpin working to become Mayor of New York, and will build towards issue 600, which Soule promises will be huge.
Rosenberg talks about his Punisher arc, and how Frank Castle will get his hands on the War Machine armour in order to go after a target outside of New York he deems worthy. Rosenberg and Lowe praise the books artist.
Lowe briefly discusses The Punisher: Platoon, and how it is something a little different and very powerful.
Onto Secret Warriors, Garron talks about the change of position the Inhumans are facing after Inhumans vs. X-Men, he talks about the wild mix of characters in such a crazy time, and how it attracted him to the book. And he says they work together as a team, as they are facing something greater than themselves, but also how that is easier said than done. Rosenberg adds how they are adding Magik to the team to help them face Mister Sinister.
Onto Runaways, which actually gathered applause from the crowd. Lowe pulls up a fan who hadn't read the first issue yet to read it on stage, Rowell talked about how Runaways was her favourite comic, it was the book she looked forward to every month. Rowell says it's a getting the band back together story, but this time they get to choose if they want to be Runaways. She talks about how artist Kris Anka shares a deep, deep love for the characters, and she absolutely praises his work and design on the series. Lowe points out the original Runaways 1 is available for free as part of Halloween Comicfest.
Erica Henderson talks Unbeatable Squirrel Girl, which again got huge applause. The hero is going to space! About a group of scammers painting themselves silver and going planet to planet and telling them Galactus is coming unless they give them lots of money. Henderson also talks about the upcoming zine issue, including shorts by characters within the Marvel Universe by a host of creators, including a secret guest she is super excited to have coming in.
The fan reading Runaways thought it was fantastic, so Lowe gets someone up to read The Punisher: The Platoon's first issue.
Worth noting now, Lowe seems to be his usual jovial self, apparently unaffected by the ugliness at the retailers breakfast meeting.
Duggan talks about the Guardians of the Galaxy joining the Nova Corps, and within that they will get a clue about the location of another Infinity Stone, and Duggan says he's excited for people to see where that is. Lowe says again this is the chance for fans to see these characters (the Guardians and Ant-Man) coming together before they do in the movies. Duggan then discusses how the issue with Star-Lord and Nova finding together again is a fun issue but also hugely important to the overall story in the book and the Infinity Stones.
Duggan says in the Adam Warlock return issue there's actually more than one return, and that it adds a new wrinkle to the Infinity Quest.
Moving onto Deadpool, or rather The Despicable Deadpool, Duggan discusses how unfortunately for Wade Wilson he was following Captain America during the whole Secret Empire debacle, and he's now not trusted and is hated by the people. Stryfe comes to call in his debt with Deadpool, and gives him four names to kill for the four lives he saved for him. The Time Variance Authority will be playing a role, too.
Lowe then announces in March 2018, there will be a Weapon H series, spinning out of the recent Totally Awesome Hulk and Weapon X crossover, Weapons of Mutant Destruction, where a Hulk/Wolverine mashup was created.
Rowell promises that Nico's witch arm, or lack thereof, in the comic may well be being addressed in the Runaways comics. Rowell points out that she is far more interested in continuity than Nick would like.
Will Guardians of the Galaxy and Squirrel Girl team up? Duggan says that's a very good idea.
A questioner called Mike talks about being a fan of Marvel for ages, and when Legacy was announced he was excited to bring his friends in. But he found his friends found it difficult to follow with the renumbering and and also that one friend found Marvel Legacy 1 very hard to follow. Lowe says recap pages is something they've had for over a decade and it is a must have with their books that they demand on. He also took the moment to reiterate how they are certainly not abandoning the new characters.
Lowe says for newer fans he might point them at books like Unbeatable Squirrel Girl and Runaways. Lowe says a lot of the fun for him when starting to read comics was finding out about these characters by hunting stuff out, when he read his first comic it was between creative teams and mid arc.
Rowell talks about do they create scenes or stories on the books that are having TV or film versions soon with the idea that they may do them someday, and Rowell talks about how they kind of keep it all separate. Rowell doesn't think people will be that messaged up by different versions of the same character across media.
Lowe says in general Marvel Comics tries to see themselves as thinking ten years ahead. Sure they may try and make costumes look more similar, but they never try to adapt the movies. Lowe talks about how things happening in the comics ten to fifteen years ago which are now happening in the movies, how he started working at Marvel around the time Ed Brubaker pitched The Winter Soldier, and then to see it on the big screen over a decade later.
A question about Marvel's First Family – Lowe says they're very busy out there in the Multiverse, but they do say check out Marvel Two-in-One.
Lowe says they had a creative summit earlier this week, and the name Beta Ray Bill did come up. Duggan promises you will see Beta Ray Bill in the future of Guardians of the Galaxy.
Any chance of Black Widow coming back any time soon, which it turned out someone on the panel didn't know, to which Rosenberg says 'Spencer killed her', and recommends his new book with Winter Soldier and Hawkeye, Tales of Suspense, and investigating a string of murders of people who die in Black Widow type ways. The fan however then asks about is that really a story about her, or about men using her as a plot device, Rosenberg points out that's an excellent question but without spoiling it, it's a bit of both.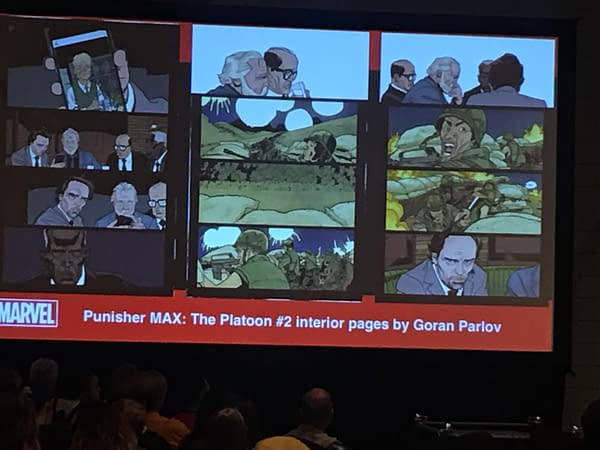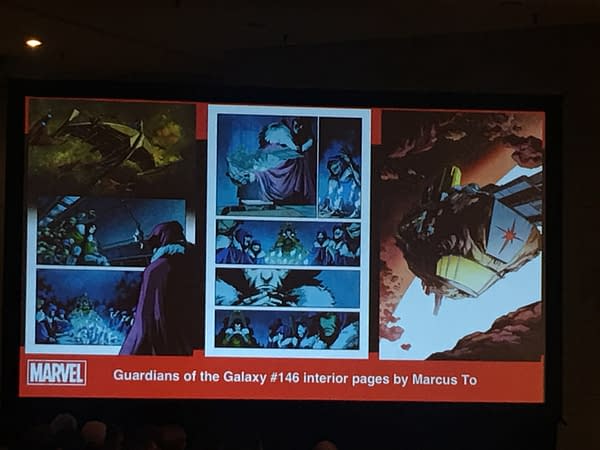 Enjoyed this article? Share it!