Bleeding Cool has been covering the Ardian Syaf situation with Marvel Comics in depth since the weekend. The artist hid a number of secret messages in the artwork of X-Men: Gold #1, published a week ago.
Referencing Indonesian political issues, particularly the "212" protest against Jakarta's Christian governor Ahok, the messages included references to a Qu'ran verse unfavorable toward Jews and Christians as leaders in the Indonesian translations. The messages were reported on by Bleeding Cool this weekend,, prompting a response from Marvel promising disciplinary action as well as the removal of the messages from future printings and digital copies. Ardian Syaf was then dismissed from the X-Men: Gold comic, though the completed subsequent issues will be printed. Because of the controversy, the comic has shot up in value on the collector's market. Syaf stated that he no longer had a career in comics, and has reiterated that he believed his messages were peaceful, and that he has no hate to Christians or Jews.
However, in an interview with local Jakarta newspaper Jawa Pos published today and translated by Coconuts, Ardian stated that he had tried to explain his side to Marvel. "But Marvel is owned by Disney. When Jews are offended, there is no mercy."
However, he then reiterated that he wasn't anti-Semitic or anti-Christian because, if he was, he wouldn't have worked for a foreign publisher. You know, the one owned by Jewish people.
He also dismissed worries that other Indonesian creators had had regarding their own work from Marvel, saying that if they don;t make mistakes like he did, they won't be fired.
Syaf also posted a photo to Facebook, deleted but preserved on Reddit by redditor heliumlight showing a meeting with the leader of the hardline Islamic Defenders Front FPI, Rizieq Shihab. The FPI is a hard-line Indonesian Islamist organisation in Indonesia, known for hate crimes and religious-related violence and are one of the groups behind the 212 marches. Syaf says that after the controversy blew up, he received an invitation to meet, which he accepted.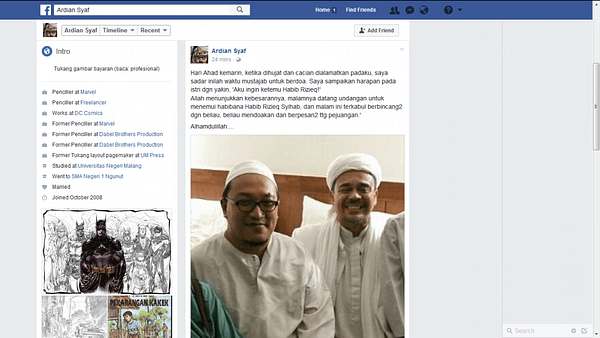 When contacted, Ardian Syaf told Bleeding Cool "no comment".
Related Posts
Enjoyed this article? Share it!