Marvel Reveals Alex Ross Cover to Rise of Ultraman #1
It looks like things really are returning back to normal. Though the comic book industry has been in peril thanks to the coronavirus pandemic and an industry-wide shutdown, followed by DC Comics breaking up with Diamond, Marvel comics has the medicine to make it well again: sweet, sexy new number one issues! And with that comics Alex Ross's cover for The Rise of Ultraman #1, in stores this September.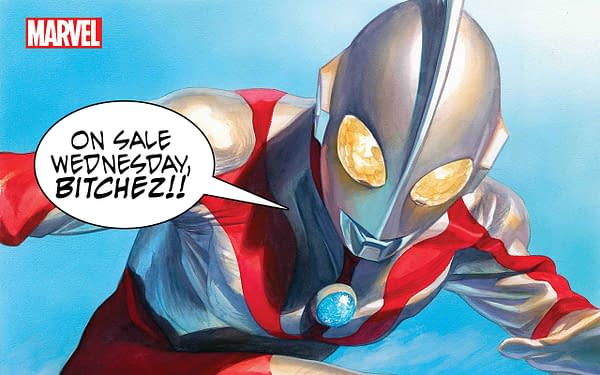 And in a move that truly shows that comics are settling into the new status quo, this comic doesn't even feature a variant cover that's a thinly veiled petty dig at Marvel's competition, DC Comics, while simultaneously serving as a show of support for a failing monopoly. Instead, it's just a regular old boring cover by regular old boring Alex Ross in his regular old boring photorealistic painting style. It's safe. It's comforting. Most importantly, it will make Marvel profits, and what could better say "comics are back to normal" than that?
First announced back in February, when everyone was still hoping this whole thing would blow over, Rise of Ultraman is now set for release in September. A press release from Marvel provides more details:
Storytelling masters Kyle Higgins (Mighty Morphin Power Rangers, Winter Soldier) and Mat Groom (Self/Made), together with superstar artists Francesco Manna (Avengers, Fantastic Four) Michael Cho (Captain America) and Gurihiru (The Unstoppable Wasp) will take fans back into the days of darkness, where the terrifying Kaiju lurk. When these unfathomable monsters threaten all life as we know it, the only thing standing in their way…is the United Science Patrol! Who are these enigmatic defenders, and how do they perform their miracles? Shin Hayata and Kiki Fuji have spent half a lifetime trying to find out – and their quest is about to drive them toward a decades-old dark secret and put them on a collision course with a mysterious warrior from beyond the stars!
Ultraman started as a spinoff of the Mighty Morphin Power Rangers, or at least that's what I'm assuming and I don't care enough to research it any further and don't bother @ing me about it. I'm just glad for all the Powerbronies out there will be thrilled to see their hero Ultraman in the pages of Marvel comics this Fall… assuming the comics industry makes it that long. Just kidding! Haha! Everything is fine.
THE RISE OF ULTRAMAN #1 (of 5)
Written by KYLE HIGGINS & MAT GROOM
Art by FRANCESCO MANNA with MICHAEL CHO and GURIHIRU
Cover by ALEX ROSS