Marvel Will Ship 15 X-Men Comics in April, But None of Them Twice
It looks like, despite Jonathan Hickman's protestations, Marvel has heard the grumblings that they may possibly be putting out more monthly X-Men comics than any fan can reasonably afford. Yes, there will still be fourteen X-Men books out in April (fifteen if you count Deadpool, which we do), but in a remarkable show of restraint, Marvel only plans to ship one issue of each that month.
Of course, they've got to make up some of that lost revenue somewhere, so both Children of the Atom #1 and X-Factor #1 will be oversized issues that cost an extra dollar, as will X-Men: God Loves, Man Kills Extended Cut #1, Marvels Snapshot: X-Men #1, and Giant-Size X-Men: Nightcrawler #1. So if we're being technical about it, that's really fifteen X-Men comics and change in terms of how much they cost (sixteen if you count Deadpool, which we do).
Sixty-one dollars worth of X-Men comics. To be clear.
Check out the solicits below, and Marvel's full April solicitations here.
X–MEN #10
JONATHAN HICKMAN (W) • Leinil Francis Yu (A/C)
MARVEL ZOMBIES VARIANT COVER BY Ryan Brown
EMPYRE VARIANT COVER BY TBA
CONFRONTATION VARIANT BY PATCH ZIRCHER
EMPYRE TIE–IN!
The Summers family has grown a Krakoan home on the moon. Now some new neighbors have moved in.
32 PGS./Rated T+ …$3.99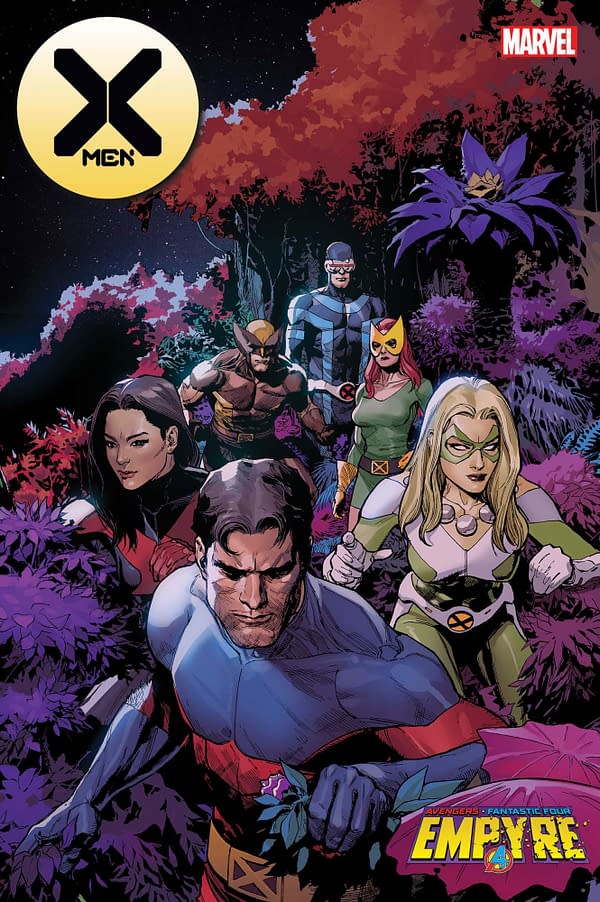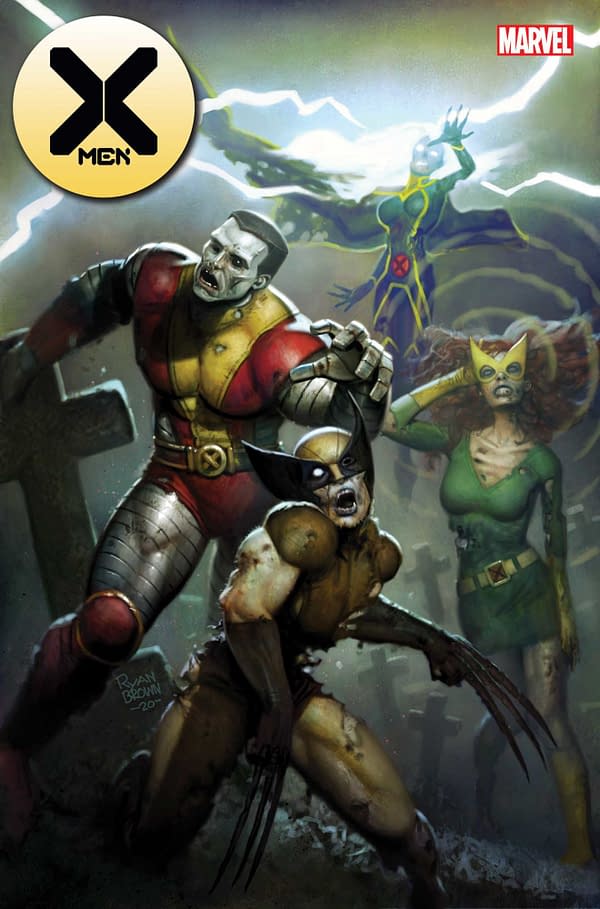 CHILDREN OF THE ATOM #1
VITA AYALA (W) • BERNARD CHANG (A) • Cover by R.B. SILVA
Hidden Gem Variant by JIM LEE
VARIANT COVER BY TODD NAUCK
VARIANT COVER BY BERNARD CHANG
DESIGN VARIANT COVER BY TOM MULLER
WHEN DID THE X–MEN GET SIDEKICKS?!
Now! Don't miss the debut of the greatest teenage super hero team of all time! They've learned from the best, now they're ready to be put to the test! But who the heck are these kids, and where do they come from? Guest-starring the X–Men!
48 PGS./Rated T+ …$4.99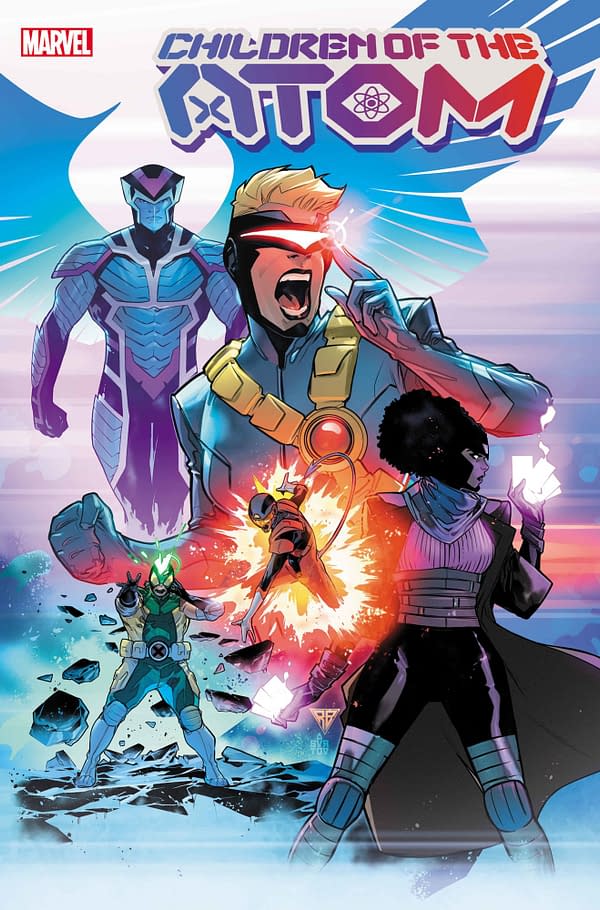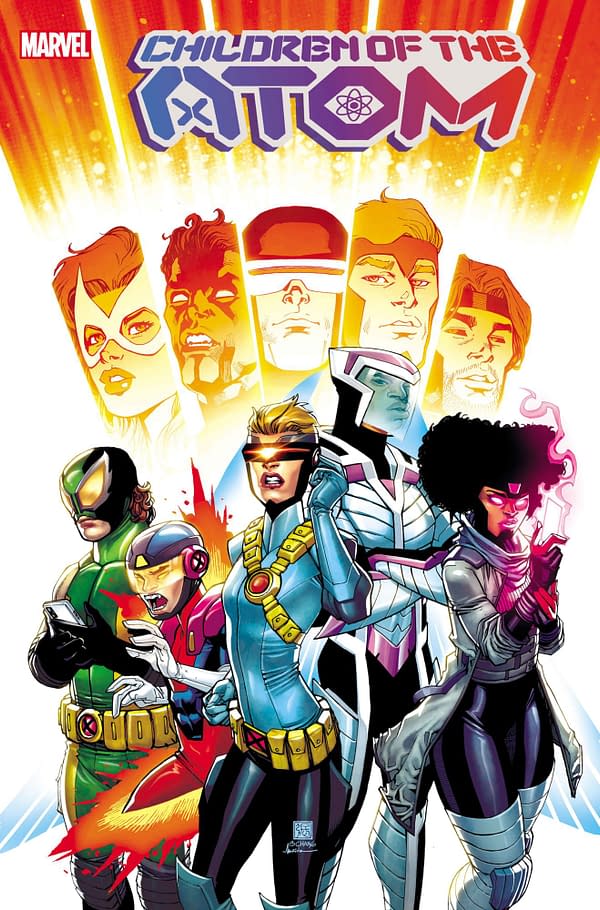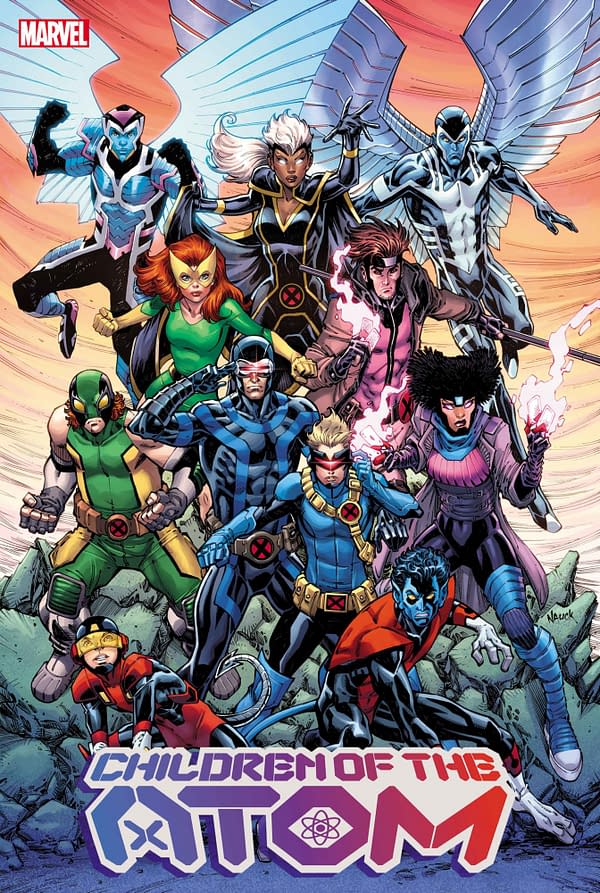 X–FACTOR #1
LEAH WILLIAMS (W) • DAVID BALDEÓN (A) • Cover by IVAN SHAVRIN
VARIANT COVER BY OTTO SCHMIDT
HIDDEN GEM VARIANT COVER BY TBA
VARIANT COVER BY EMA LUPACCHINO
VARIANT COVER BY David Baldeon
DESIGN VARIANT COVER BY TOM MULLER
YELLOW VARIANT COVER ALSO AVAILABLE
MUTANTS HAVE CONQUERED DEATH!
By the grace of The Five, the resurrection protocols can bring back any fallen mutant. But such a huge enterprise isn't without its problems and complications… When a mutant dies, X–Factor is there to investigate how and why to keep the rules of reincarnation. Writer Leah Williams (AMAZING MARY JANE, X–TREMISTS) and artist David Baldeón (DOMINO, WEB WARRIORS) take Northstar, Polaris, Prodigy, Eye-boy, Daken and Prestige into the world of murder and missing persons…
48 PGS./Rated T+ …$4.99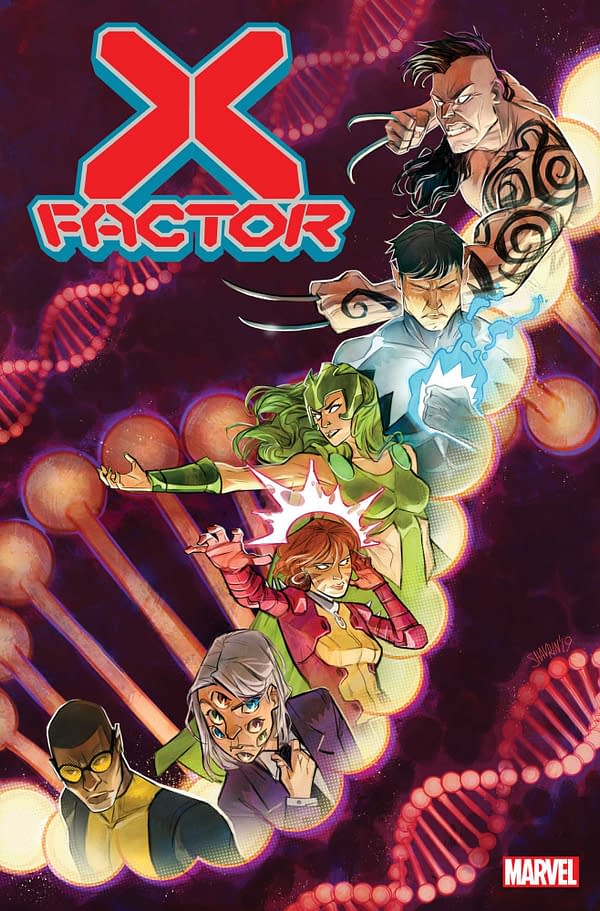 HELLIONS #2
ZEB WELLS (W) • STEPHEN SEGOVIA (A/C)
VARIANT COVER BY TBA
THE DOMINANT SPECIES?
The Hellions can barely keep from killing one another, let alone find a way to fit into Krakoan society. Of course, that might be just what Mister Sinister is counting on when he sends them to clean up his messes.
32 PGS./Rated T+ …$3.99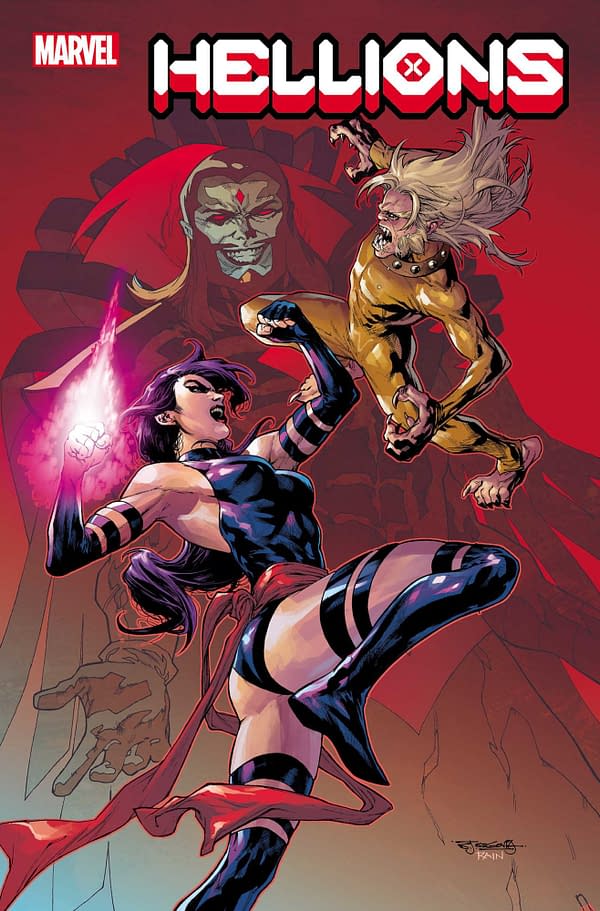 CABLE #2
GERRY DUGGAN (W) • PHIL NOTO (A/C)
VARIANT COVER BY Ariel Olivetti
MARVEL ZOMBIES VARIANT COVER BY DAVID YARDIN
LOVE AND VIOLENCE!
When mutant babies are going missing, Cable takes it personally. Almost as personally as his love life…
It's not easy dating five girls, even if they are clones.
32 PGS./Rated T+ …$3.99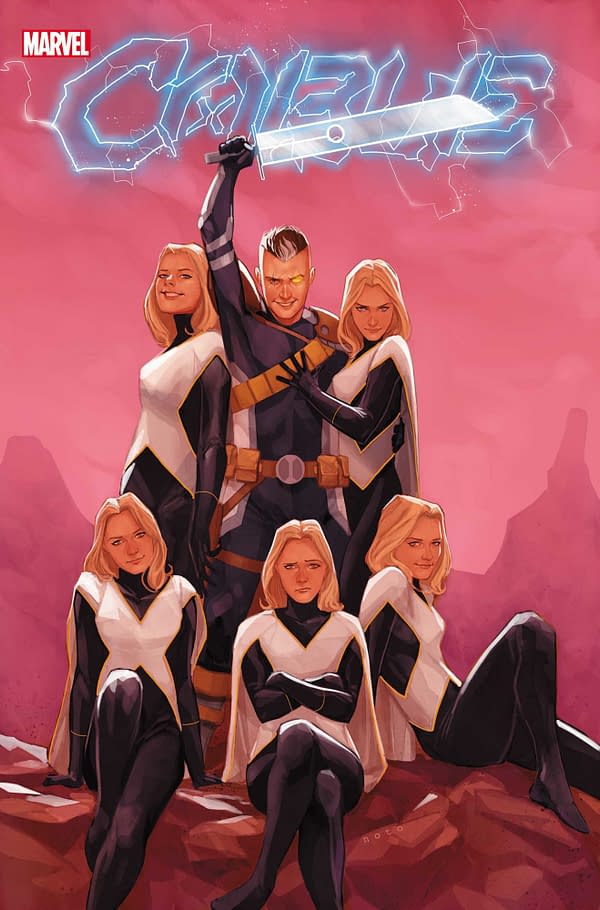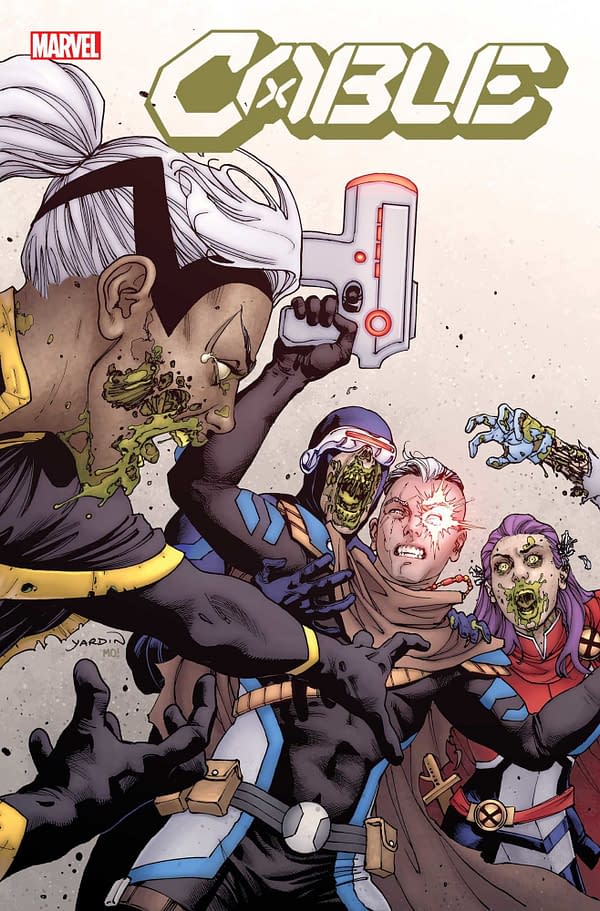 X–MEN/FANTASTIC FOUR #4 (of 4)
CHIP ZDARSKY (W) • TERRY DODSON (A/C)
Connecting Variant Cover by MARK BROOKS
FLOWER Variant Cover by MEGHAN HETRICK
Variant Cover by CHRIS ELIOPOULOS
The exciting finale! On an island of doom, the X–Men and Fantastic Four fight to save the future! Lines will be drawn in the sand and enemies will be made, upending the Marvel Universe!
32 PGS./Rated T+ …$3.99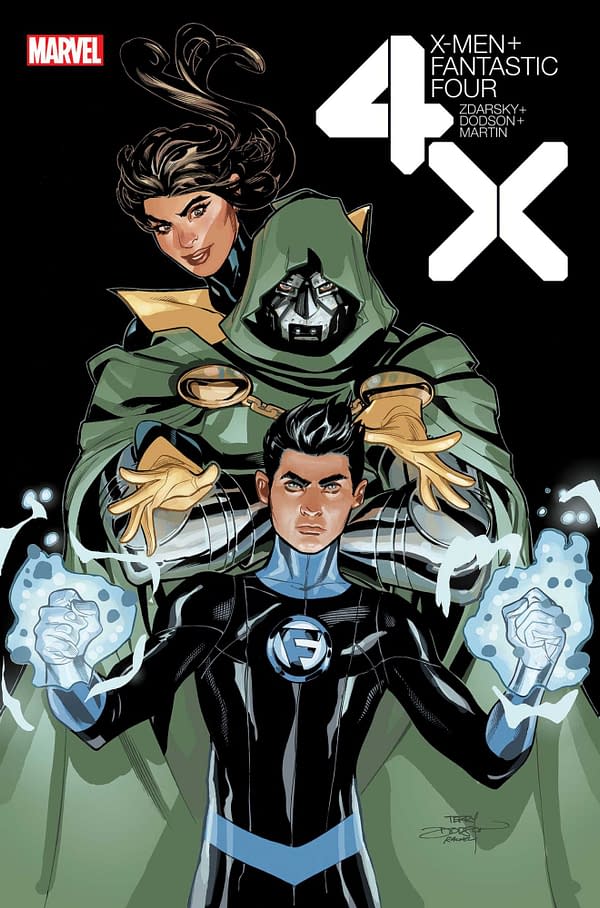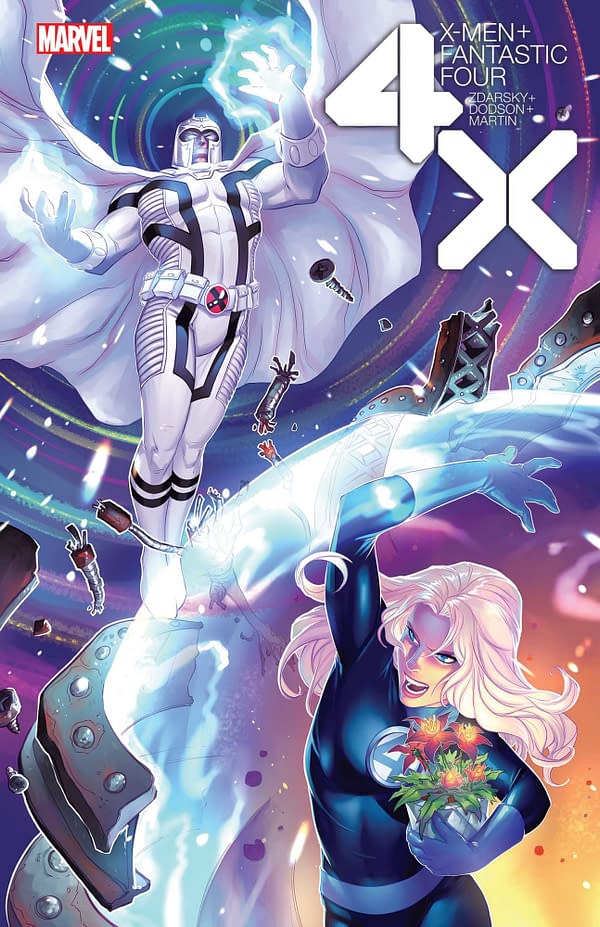 WOLVERINE #3
BENJAMIN PERCY (W) • ADAM KUBERT (A/C)
Variant Cover by TONY DANIEL
VARIANT COVER BY ADAM KUBERT & GREG HILDEBRANDT
MARVEL ZOMBIES VARIANT COVER BY GERARDO ZAFFINO
WOLVERINE DIGS IN!
The Flower Cartel and the Pale Girl seem to be one step ahead of Wolverine, but he has a plan. It's a risky gamble that will take him into the heart of a larger criminal conspiracy even as it puts many mutant lives at risk.
32 PGS./Parental Advisory …$3.99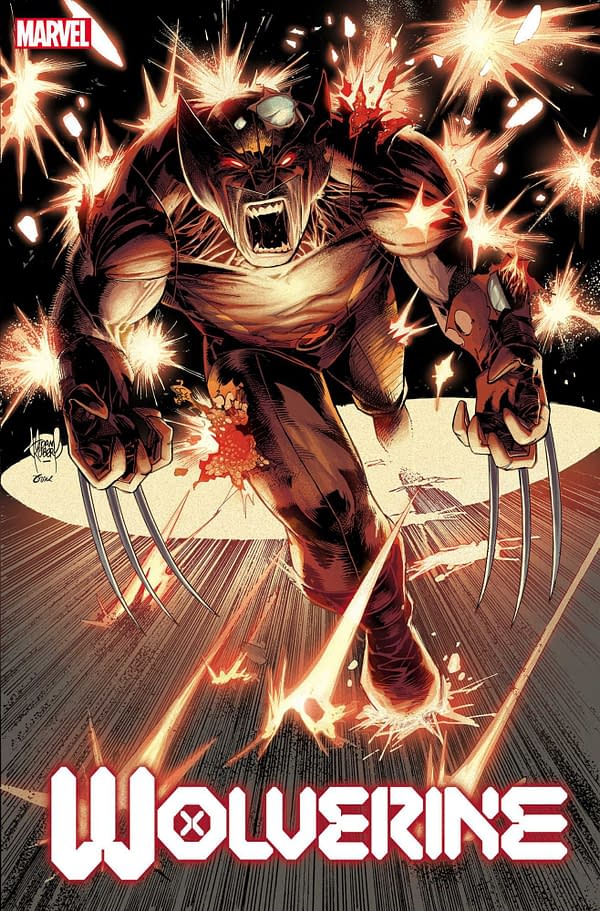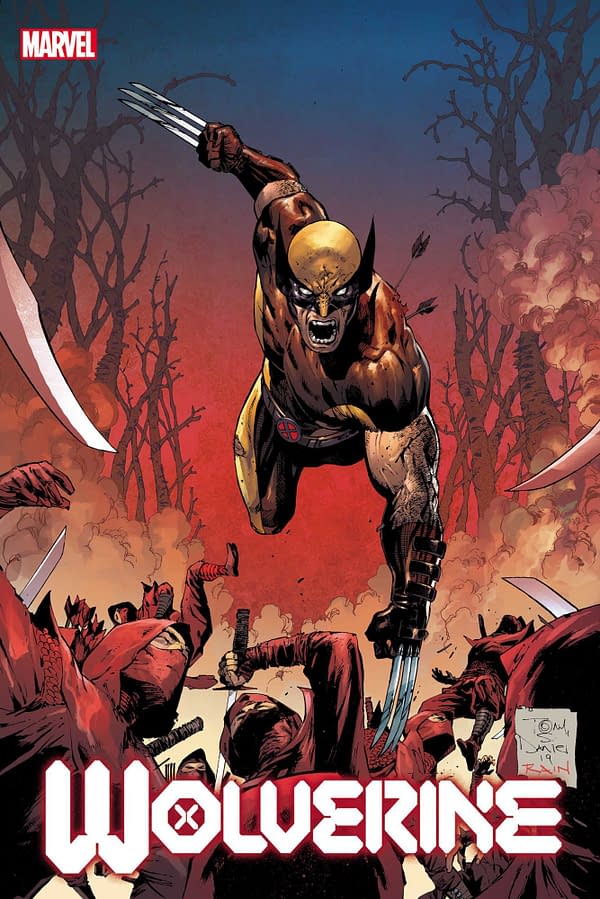 X-MEN: GOD LOVES, MAN KILLS EXTENDED CUT #1 (OF 2)
Chris Claremont (W) • Brent Anderson (A/C)
Variant cover by Salvador Larroca
VARIANT COVER BY TBA
VARIANT COVER BY TBA
The Uncanny X-Men. Magneto, master of magnetism. The bitterest of enemies for years. But now they must join forces against a new adversary who threatens not only mutantkind, but all of humanity beside it…in the name of God. The members of the Stryker Crusade are poised to cleanse the earth, no matter how much blood stains their hands. Chris Claremont and Brent Anderson's influential X-Men story is re-presented with all-new pages from the legendary creators themselves!
48 PGS./Rated T+…$4.99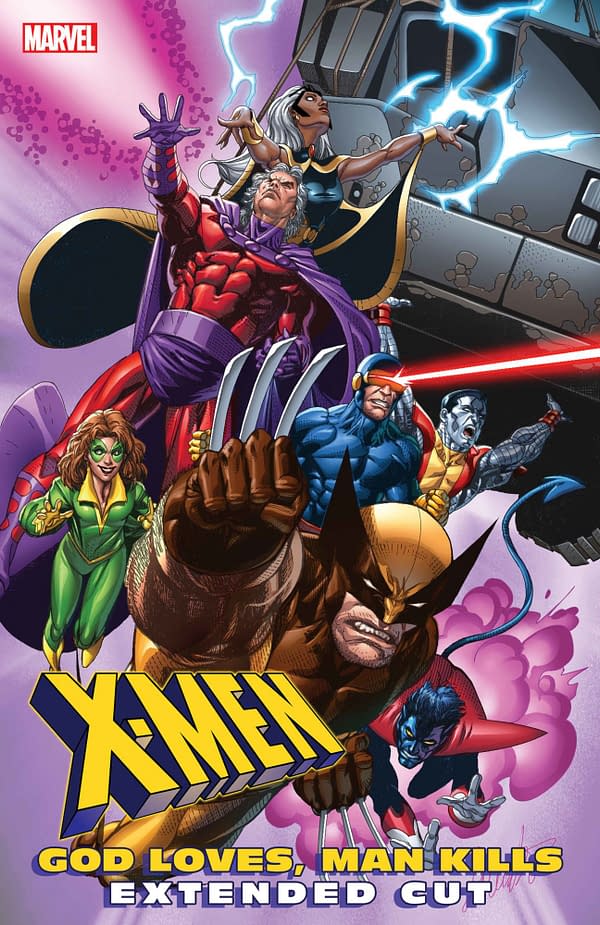 GIANT–SIZE X–MEN: NIGHTCRAWLER #1
JONATHAN HICKMAN (W) • ALAN DAVIS (A/C)
VARIANT COVER BY Ben Caldwell
HICKMAN AND DAVIS HAUNT THE XAVIER SCHOOL!
Superstar writer Jonathan Hickman teams with legendary artist Alan Davis (X–MEN, EXCALIBUR, AVENGERS) for an eerie tale of adventure! When the X–Men lose contact with the Greymalkin Habitat, it falls to Nightcrawler to lead a mission into the unknown!
40 PGS./One–Shot/Rated T+ …$4.99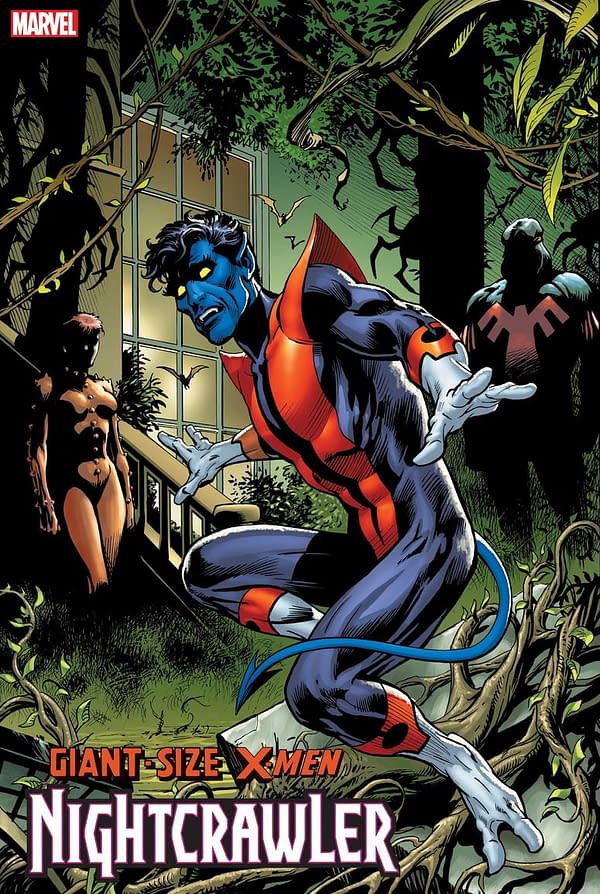 EXCALIBUR #10
TINI HOWARD (W) • MARCUS TO (A)
Cover by MAHMUD ASRAR
LONDON IS BURNING!
Captain Britain is faced with her hardest decision yet as Britain goes to war with Krakoa. Can Excalibur survive being torn between two worlds?
32 PGS./Rated T+ …$3.99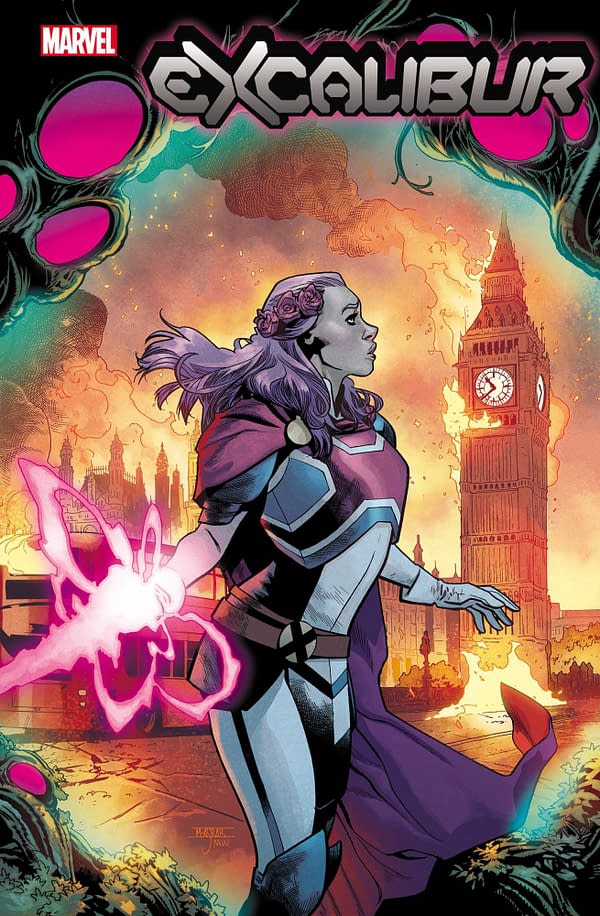 NEW MUTANTS #10
ED BRISSON (W) • FLAVIANO (A) • Cover by MIKE DEL MUNDO
BY THE SKIN OF THEIR TEETH!
The NEW MUTANTS know it's tough to adjust to having powers, especially with the new Krakoan paradigm. They've been there – and they're able to help, no matter how weird, wild and dangerous the case may be! …Right?
32 PGS./Rated T+ …$3.99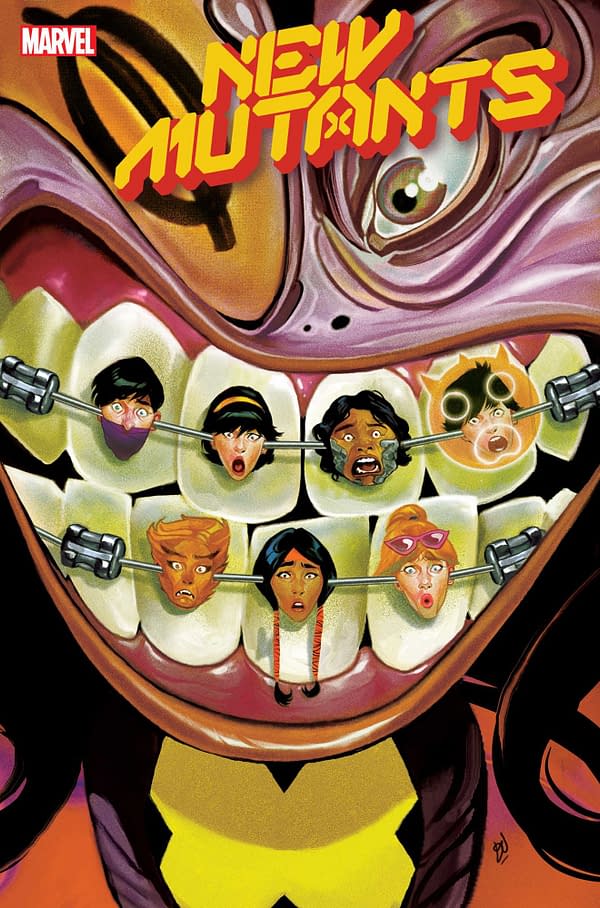 X–FORCE #10
BENJAMIN PERCY (W) • JOSHUA CASSARA (A) • Cover by Dustin weaver
THE DEADLY GARDEN!
As one of the team members struggles with their secrets unraveling, the rest of X–Force has to fight to stay alive long enough to salvage their mission.
32 PGS./Parental Advisory …$3.99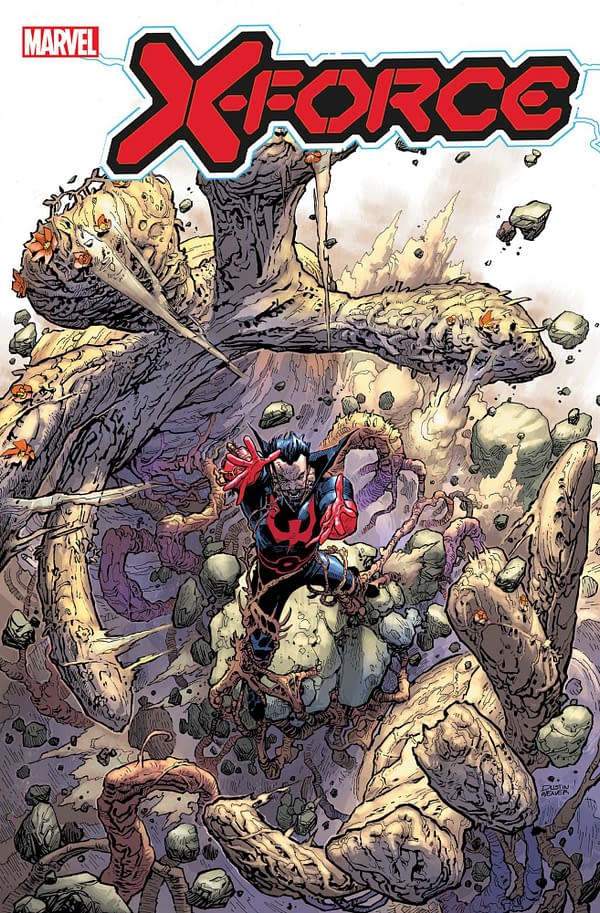 MARAUDERS #10
Gerry Duggan (W) • Stefano Casseli (A) • Cover by RUSSEL DAUTERMAN
A SHOW OF POWER!
The Marauders set their sights on the power-dampening technology that seems to have made its way into far too many hands – most notably, the Russian Army. The Hellfire's wrath with be swift and harsh.
32 PGS./Rated T+ …$3.99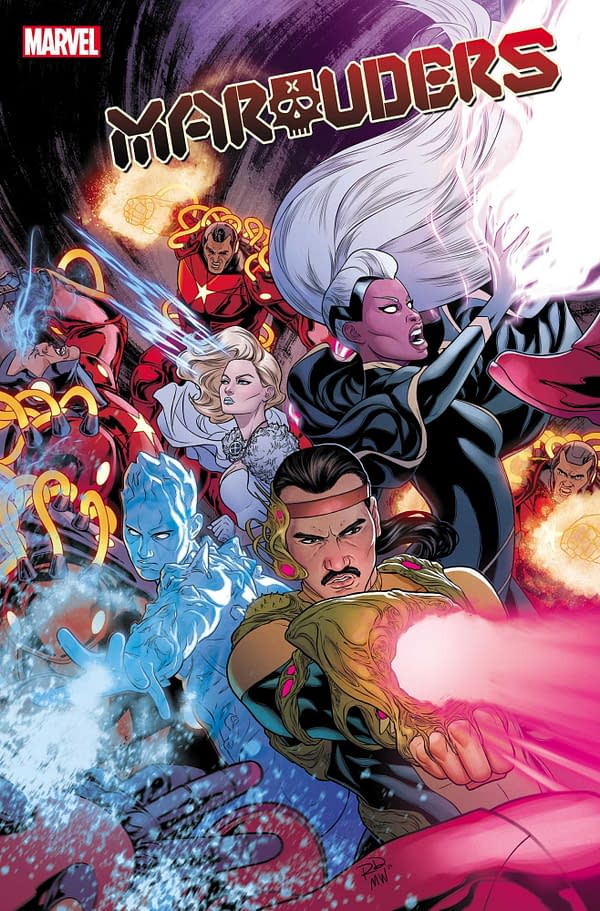 X–MEN: MARVELS SNAPSHOT #1
JAY EDIDIN & KURT BUSIEK (W) • Tom Reilly (A) • Cover by ALEX ROSS
VARIANT COVER by Tom Reilly
VARIANT COVER BY TBA
The Marvels Snapshot tour through Marvel history continues, showcasing Marvel's greatest characters through the eyes of ordinary people! Or does it? In this case, the "ordinary person" is teenaged Scott Summers, witnessing the dawn of the Marvel Age from a Nebraska orphanage and wondering what his place in it might be. What was it like to experience the debut of the FF, the Hulk, Iron Man and more? To wish you could be a part of it all? Writer Jay Edidin (Thor: Metal Gods, Jay & Miles X–Plain the X–Men) makes his Marvel comics debut, teamed with Tom Reilly (Immortal Hulk), to tell a story of upheaval and decision that would shape the X–Men (and the Marvel Universe) forever after.
40 PGS./One–Shot/Rated T+ …$4.99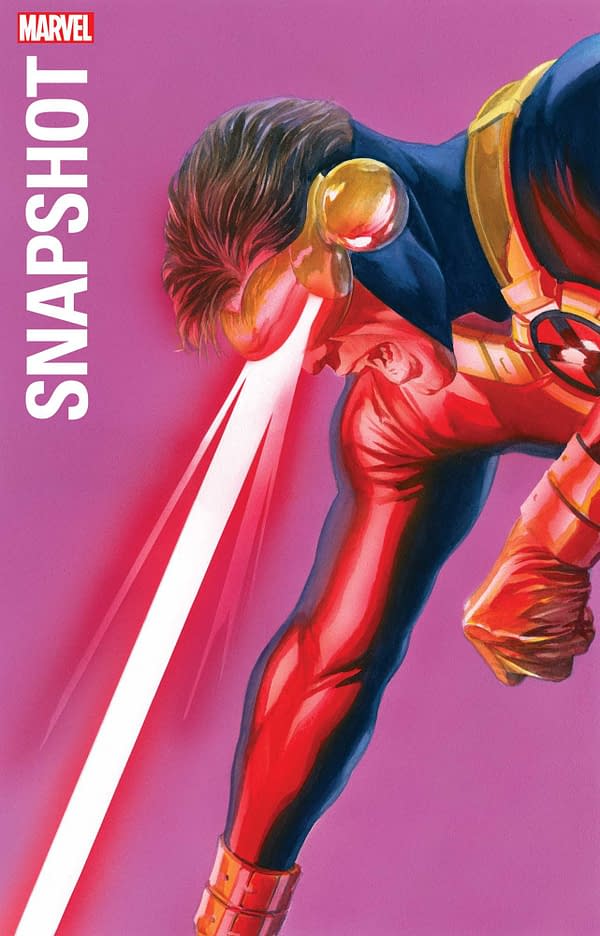 DEADPOOL #6
KELLY THOMPSON (W) • KEVIN LIBRANDA (A) • Cover by GREG LAND
MARVEL ZOMBIES VARIANT COVER BY KHOI PHAM
DEADPOOL INVADES THE X-MEN!
• When the X-Men won't return Deadpool's calls for a Krakoa portal on Monster Island, Wade decides to drop by for a visit.
• Apparently, the new X-Men home isn't taking visitors. RUDE.
• It's an entire nation of biological weapons and mutant warriors versus a merc with a mouth. GAME ON!
32 PGS./Parental Advisory …$3.99