A New Look for Mary Jane in Friendly Neighborhood Spider-Man #1
Tomorrow sees the release of Friendly Neighborhood Spider-Man from Marvel Comics, and new series stepping in the spot vacated by Peter Parker, Spectacular Spider-Man. And while Spidey has always been what one might refer to as a street-level superhero, this takes it further, to the specific neighborhood where he and Aunt May live. To that degree, it bears comparison with Matt Fraction and David Aja's Hawkeye but this is less concerned with an examination of the form or a critique of the character, it remains a superhero title. Just a very localized version of one. With two stories, the first by Tom Taylor, Juan Cabal, Nolan Woodard and Travis Lanham, the second by Tom Taylor, Marcelo Ferreira, Robert Poggi, Jim Campbell and Travis Lanham.
So the big bad guy to kick off the issue is traffic, and the accidents that can be caused. As well as a reminded of the origin of Spider-Man, initially dismissed by the Marvel publisher as being far too icky a name and image for a superhero. A lot of people really don't like spiders.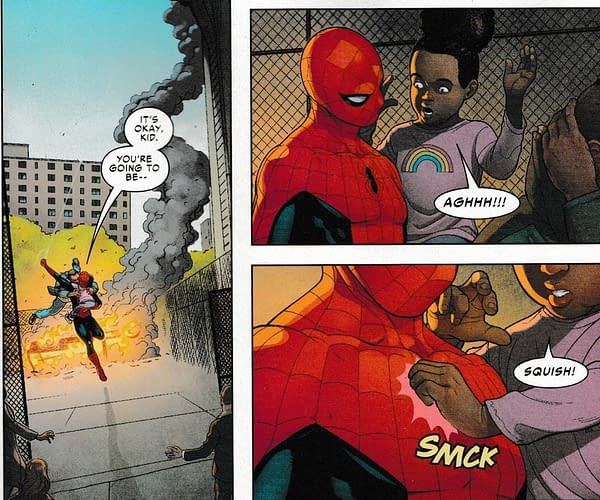 And there is a demand for them to be squished. Never got the whole arachnophobia thing, the spiders in our home are loved, cherished and their presence enjoyed. But then I suppose, they are sweet little English spiders. I understand that Australians have a very different perspective. And there is a general disrespect for the species…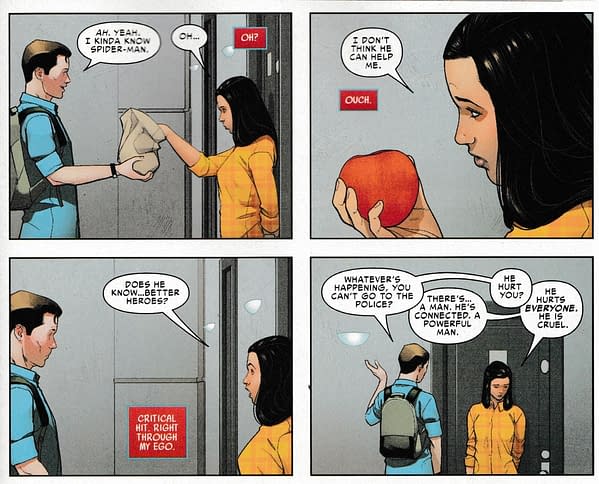 …and the superhero. Squished again. But this is a place where Peter Parker gets to be the superhero as well as his counterpart. And people want to pay him back for just being him.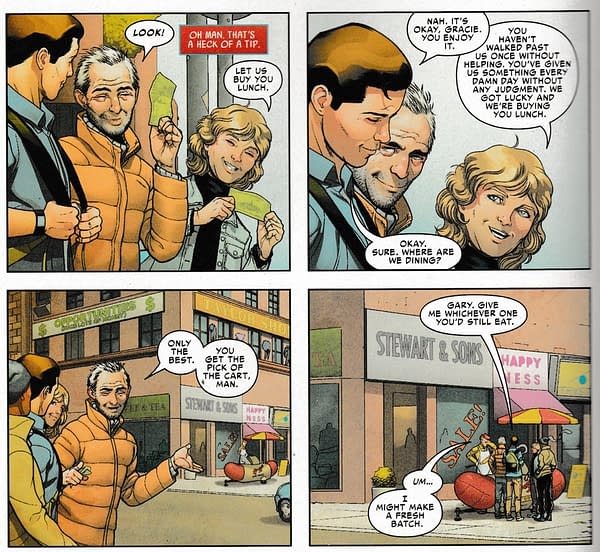 So far as it goes. Oh and those of you wanting the latest on Spider-Man and Mary Jane, this comic doesn't disappoint either.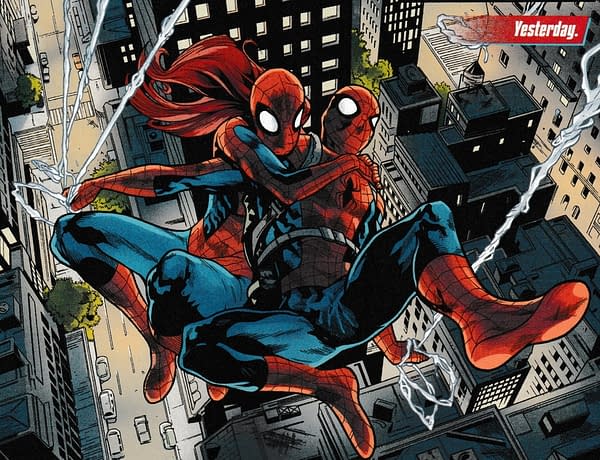 Even when it climbs the heights of New York, this comic has a knack of keeping it local and grounded.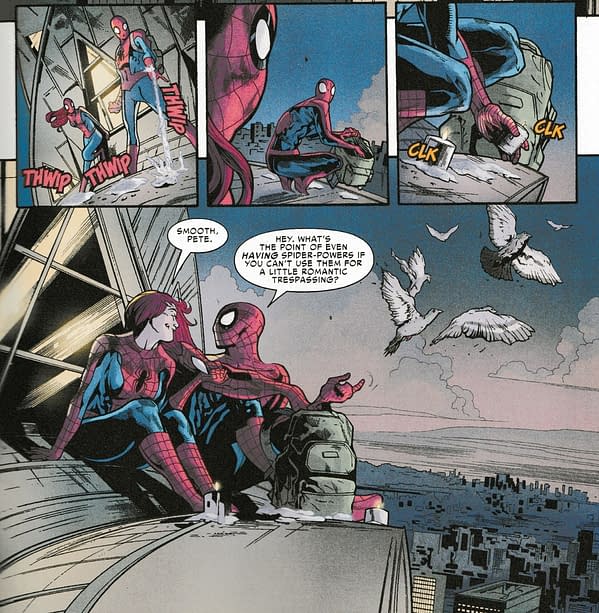 But amidst all the light and froth, there is darkness. There is danger. Just being a local superhero comic book for local people doesn't distract from that. We may save one particular spoiler for another article…
FRIENDLY NEIGHBORHOOD SPIDER-MAN #1
(W) Tom Taylor (A) Juan Cabal, Marcelo Ferreira
Spider-Man is the worst neighbor EVER! There are always crazy villains and property damage and drama and…and he CATCHES the villains. And he tries to fix the damage and he helps carry your groceries and actually that property damage keeps the rents down. You know what? Spider-Man is the best neighbor ever and this book will give you a closer look at Spider-Man's (and Peter Parker's) neighborhood than any book ever. Also, it wouldn't be a Spider-Man adventure without a threat that could destroy not only Spider-Man, but all his neighbors. Superstar writer TOM TAYLOR (X-MEN RED, ALL-NEW WOLVERINE, Injustice) and rising art star JUANN CABAL (ALL-NEW WOLVERINE, X-23) give you the most local Spider-Man ever! Rated T In Shops: Jan 09, 2019 SRP: $4.99