Matt Fraction Only On Hawkeye TV Series Because He Knows Seth Meyers
Mike Ryan of Uproxx recently interviewed Rhys Thomas, director of the new Disney+ series Hawkeye launching tomorrow. And how writer Matt Fraction was involved in the series – because it didn't come from Marvel.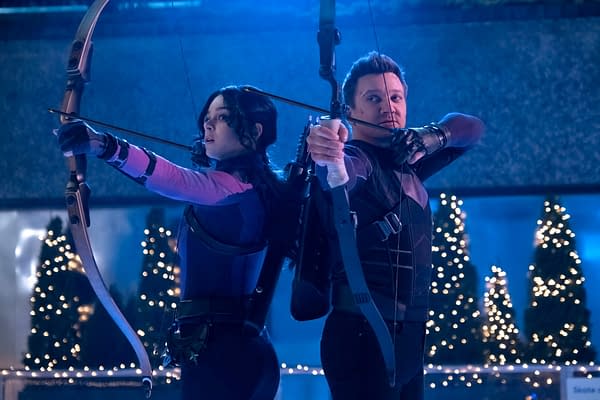 Matt Fraction and David Aja launched the Hawkeye comic book series in 2012 that saw the down-and-out Avenger involved with a local tenement building, organised crime, a neighbourhood, and a pizza-loving dog. It won every award going and was the principal influence on the new TV show. So Ryan asked Thomas about that.
Mike Ryan: So I didn't know until recently that Matt Fraction is involved in the production?

Rhys Thomas: Yeah, he's a consulting producer.

Mike Ryan: What does that mean? Do you talk to him? Because everyone loves his run with Hawkeye. How often do you actually consult with him?

Rhys Thomas: What's funny is, actually, I was introduced to Matt Fraction through Seth Meyers.

Mike Ryan: Oh really?

Rhys Thomas: Because they're friends.

Mike Ryan: Actually, that makes sense. Mike Shoemaker is a big comic guy, too.

Rhys Thomas: Yeah. So they're actually friends and so I kind of, Matt was just someone that I could reach out to and ask questions. He shared playlists with me. I was a huge fan of that run and so it was just kind of crazy to be able to go like, "Well, hey, what about this?" So I don't know, he's like a confidant slash correspondent.

Mike Ryan: So how does Seth make that introduction? is it over email? Or was it in person?

Rhys Thomas: No, it was an email thing. Because I started talking to Marvel about it and sort of, kind of, got in there, I think, through persistence. But I didn't know about the Seth connection. But I brought up Hawkeye with Seth and that I was kind of talking to them about it and kind of working and starting to figure it out. And he was like, "Oh, I know Matt!" And the next thing I know I'm emailing with Matt.
Matt Fraction has even been on Seth Meyers' TV show. Everything's connected. Now all they have to do is pay David Aja for using his covers and art style on their posters and promotions…