Matthew Rosenberg on Hawkeye Freefall Switching From Print To Digital
Matthew Rosenberg, wrote of 4 Kids Go Into A Bank, We Can Never Go Home, Uncanny X-Men, Punisher, and more, wrote on social media yesterday. He talked about Marvel's announcement that certain titles would no longer be continuing as print titles and would, instead, switch to digital-only for the remainder of their run. They would not be printed, aside from in upcoming collections. Narurally for some retailers and for readers who had been collecting the series in print, this was not great news. Matthew Rosenberg, whose Hawkeye: Freefall was one of the titles caught by this new policy, wrote on social media:
Regarding HAWKEYE FREEFALL. I wasn't going to say anything on here, but with the overwhelming number of tweets and messages that have come in, I felt bad not at least responding. For those who haven't heard yet, HAWKEYE FREEFALL is returning this month. It will be released digitally along with a bunch of other awesome Marvel books.

I am really happy the book is going to come out and Marvel is letting us finish the story we set out to tell. In times like these, nothing is certain. All decisions about this are way above the paygrade of me and the other folks on the frontlines of this book. I'm sure it was not an easy decision to make some of the books be digital releases. There are a lot of different people trying to figure out the best path forward for retailers, publishers, creators, & fans. And there is no real correct path. Lots of hard choices are being made.

Everyone involved, be it the creators, the retailers, or Marvel want nothing more than to figure out the best way to get books to people in safe and healthy ways. But things are very complicated right now. I think you'd be hard pressed to find many people as passionate about comic shops as I am. In the past 3 years I've signed at over 100 of them. I've donated thousands of dollars & hours to comic shops around the world. I'd be lying if I said I didn't want my books in comic shops.

But logistically speaking, it didn't make sense for HAWKEYE FREEFALL to be continued in print right now. It sucks, but it's true. But Marvel is doing what they can to figure out how to get the story out there, wether it be digital issues or collected editions or what. A LOT of us worked really hard on this book. Not just the people whose names are on the cover. Not just the people whose names are on the masthead. That's true for every comic. This isn't ANYONE'S ideal outcome. But global pandemics have a way of messing up plans I guess. I really appreciate every single comic shop who carried the book. And every single reader who picked up issues. Thank you. It means more to me, and all of us who work on HAWKEYE FREEFALL, than you will ever know.

I hope you will find a way to finish this story with us. We really put our all into it. I hope we will find a way to finish it in comic shops in one form or another. I really do. But thank you all for the support.
Hawkeye Freefall #5 will be published digitally on Wednesday, May 20th and #6 on Wednesday July 15th.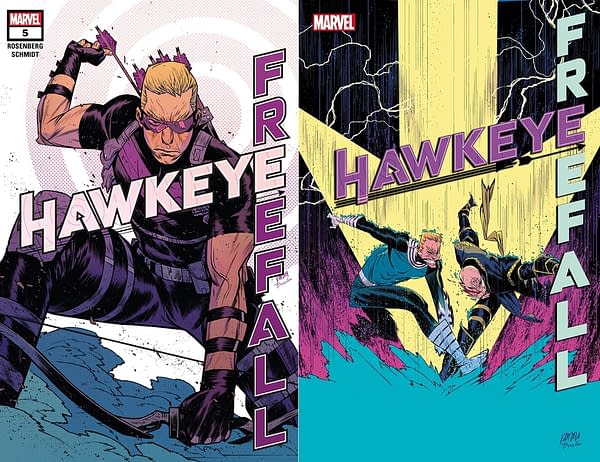 Hawkeye: Freefall (2020-) #5
Hawkeye's relationship to Ronin has even his friends turning against him. He's been lying about a lot of things. But you can't lie to Captain America. Meanwhile, his war with the Hood is beginning to spin out of control as the people close to him are put in real danger. Having to deal with the Hood was bad enough, but now Clint finds himself in the sites of another former Hawkeye. No. Not her… Enter BULLSEYE.
Hawkeye: Freefall (2020-) #6
Bullseye wants to hurt Clint in any way he can, so he's playing dress-up and taking the archer's (not-so) good name on a deadly tour of New York. Meanwhile, the Hood has had enough of Clint's games and decides to put an end to them once and for all. He puts a price on Clint's head so high that every villain, merc and thug in the city is going to line up to take a shot. With everything falling apart, Clint will be forced to make some choices he can't take back. Will he find a way to get through this with clean hands, or will he be forced to return to his criminal ways?