Michael Moreci is expanding his relationship with Vault Comics, the company revealed through an access journalism piece with Graeme "Graham" McMillan at The Hollywood Reporter Wednesday. In addition to continuing to produce issues of Wasted Space, Moreci and artist Hayden Sherman's creator-owned comic book series, Moreci will be working with Graphic Audio on an audio drama adaptation of Wasted Space. Wasted Space is expected to run for 25 issues as a comic book.
Moreci will also work on brand new projects at Vault, including one co-written with a "high-profile movie screenwriter," as Moreci has previously teased on Twitter. In addition, Moreci will join Tim Seeley and Eliot Rahal on an unnamed video game tie-in comic.
Just found out that two big announcements are coming tomorrow and Thursday. It's the culmination of a lot of hard work with some of my favorite people in comics. And, we're going to learn about a certain project with a certain *amazing* horror filmmaker that I've been teasing…

— Michael Moreci (@MichaelMoreci) May 14, 2019
Could this be one of those teases?
The IT Chapter 2 trailer has got me listening to the 'Salem's Lot soundtrack–one of my favorite scores from one of my favorite books.

Which reminds me that I have an announcement coming that has ties to 'Salem's Lot, and you all will be hearing about it real soon… pic.twitter.com/CdxC6UCsFp

— Michael Moreci (@MichaelMoreci) May 9, 2019
Hmm. Speculate away, folks.
The press release Vault gave EX-X-XCLUSIVELY to THR also included quotes from Vault Editor-in-Chief Adrian Wassel and Moreci, so here they are, first from Wassel:
Simply put, Michael Moreci is among the most talented, dedicated, and versatile storytellers working today. He's written nearly every contemporary icon out there, from Luke and Leia to Batman and Wonder Woman. He's worked in comics, prose, video games, and audio, across every imaginable genre, to glowing commercial and critical success. All of those accolades are stunning, truly, but the heart of the matter is this: Despite his rich history of excellent storytelling, Moreci has recently found a new voice — his voice — unlike anything in the market today.
And from Moreci:
Becoming part of the Vault family has been a transformative experience in my life. Their faith in me and passion for work has not only brought me a lot of happiness, but it's also made me a better writer. I'm absolutely thrilled to be building this partnership with them and collaborating on new, engaging stories for many years to come.
Wasted Space #10 will hit comic shops later this month.
Wasted Space #10
(W) Michael Moreci (A/CA) Hayden Sherman
It comes down to this: Billy, Dust, and Molly are in deep s**t-deeper than normal, though. They've got one shot to discover the location of the Creator, but an army of killer robots and old rich dudes stand in their way. It all leads to a shocking conclusion involving the return of a giant red god-thingy. Ya know the one.
In Shops: May 29, 2019
SRP: $3.99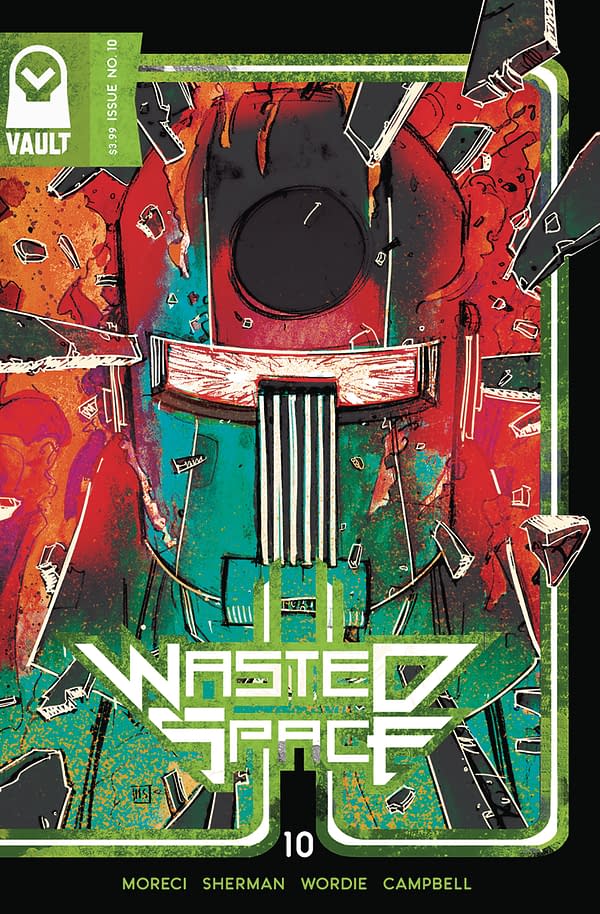 Enjoyed this article? Share it!