Mighty Barbarians & W0rldtr33 On Diamond Previews April 2023 Cover
Bleeding Cool has a first look at next week's Diamond Previews April 2023 catalogue. With Mighty Barbarians and W0rldtr33 featured on its front and back covers.
---
Diamond Previews time! Bleeding Cool previously mentioned The Mighty Barbarians by Michael Moreci and Giuseppe Cafaro from Ablaze, coming out in April 2023. "Sword-and-sorcery heroes from across time and space, including Robert E. Howard's Kull, are drawn together by Morgan le Fey to battle a threat greater than them all." As well as W0rldtr33 by James Tynion IV, Fernando Blanco, Jordie Bellaire and Aditya Bidikar from Image Comics. "A group of friends discover the secret architecture underneath the Internet, but their discovery may destroy them." Both titles are on the front and back cover of next week's Diamond Previews.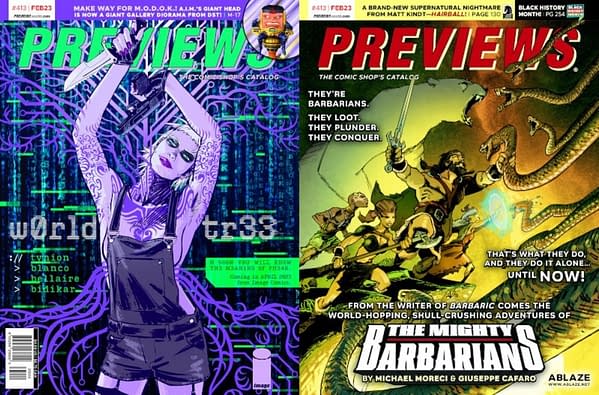 While Diamond Select Toys' Rick and Morty Gallery Deluxe PVC Statue, the first piece in DST's new line of merchandise based on the animated series, is on the Customer Order Form and Diamond Select Toys's Teenage Mutant Ninja Turtles Minimates Blimp Deluxe Box Set is on the catalogue spine.
Diamond Gems of the Month include:
· BOOM! Studios' The Expanse: The Dragon Tooth #1 ( FEB230275) and The Seasons Have Teeth ( FEB230281)
· Dark Horse Comics' The Great British Bump-Off #1 ( FEB230355) and Hairball #1 ( FEB230351)
· Dynamite Entertainment's 007: For King and Country ( FEB230486) and Disney Villains: Scar #1 ( FEB230465)
· Image Comics' Deep Cuts #1 ( FEB230009), Terrorwar #1 ( FEB230012), and w0rldtr33 #1 ( FEB230015)
· Marvel Comics' Guardians of the Galaxy #1 ( FEB230646)
Deluxe Publishers: Among the Featured items for the Deluxe Publishers this month:
· ABLAZE Publishing' Elle(s) Volume 2: The Elle-Verse ( FEB231042)
· Frank Miller Presents' Ancient Enemies: The Wraith & Son One-Shot ( FEB231056)
· Titan Comics' Blade Runner 2039 #5 ( FEB230996) and In Search of Gil Scott-Heron HC ( FEB230996)
Other notable Diamond books include: Kyle Higgins and Joe Clark explore the rich history of an American artform — jazz music — in their new Image Comics series, Deep Cuts ( FEB230009). Plus, Chuck Brown and Trevor Fraley reveal the villainy at the heart of The Lion King's Scar in Dynamite Entertainment's Disney Villains: Scar ( FEB230466); a broken photographer might heal his damaged soul in Dan Watters and Sebastian Cabrol's fantasy for BOOM! Studios, The Seasons Have Teeth ( FEB230282); cozy mysteries meet British baking competitioins in John Allison and Max Sarin's The Great British Bump-Off ( FEB230356) from Dark Horse Comics; legendary wrestler Ric Flair reveals his secret life as a CIA spook in Scout Comics's autobiographical (maybe?) series, Codename Ric Flair: Magic Eightball ( FEB231691); and Opus Comics launches a new series based on the artwork of Frank Frazetta, Frank Frazetta's Worlds of Science-Fantasy ( FEB231624).